Arizona Projects 12-31-19
Awards and Accolades

1. At the annual awards breakfast held by Local Initiatives Support Corporation (LISC) Phoenix, Foundation for Senior Living, a frequent user of the Affordable Housing Fund, received the exemplary project award for its The Marist on Cathedral project in Tucson.
Groundbreakings
2. Monroe Gardens Apartments, a 78-unit affordable housing project at 1441 E. Monroe St., Phoenix, recently broke ground, replacing the old A.L. Krohn East public housing complex. Completion is scheduled to open in late 2020.
3. CORE Construction has broken ground on the $23M Cherokee Elementary School rebuild project. Phase one will run through July 17, 2020. CORE will finish the admin and multipurpose buildings during the second phase of construction, from August 2020 through the end of January 2021. Phase three will take place from February to mid-March in 2021.
Progress Reports
4. Waterfall Villa Residences, is under development and pre-selling in advance of model completion. The community is being developed by Ironwood Development Group and is slated to open Spring 2020.
5. Marvix, a 50KSF upscale entertainment hub, next door to Octane Raceway on the Salt River Reservation near Scottsdale is set to open in 2020.
6. Desert Diamond Casino West Valley, located at 9431 W. Northern Avenue in Glendale is scheduled to open Feb. 19. The construction cost is an estimated $400M, and the facility will be 2.3MSF, and employ over 2,000 team members.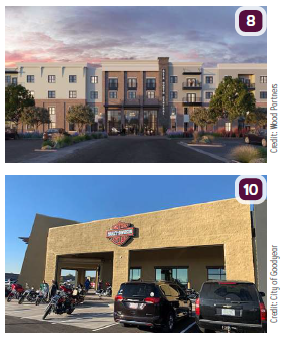 7. Hyatt Regency Phoenix, located at 122 N. Second St. downtown is undergoing a massive renovation of everything from its lobby and meeting rooms to the guest rooms, third-floor pool deck and rooftop. The entire project is expected to be completed in January.
Completions
8. Wood Partners announced the grand opening of its newest luxury residential community – Alta North Central, a 229-unit luxury residential community located at 777 E. Stella Lane, Phoenix.
9. HSL launched its newest luxury apartment community, Encantada at Continental in Marana, located at 6101 West Arizona Pavilions Drive, with local officials, financial partners, staff and Marana Chamber members participating in the ribbon-cutting event.
10. RoadRunner Harley-Davidson, located at 1402 N 159th Ave., Goodyear, recently held its grand opening.