Arizona Projects 12-14-2018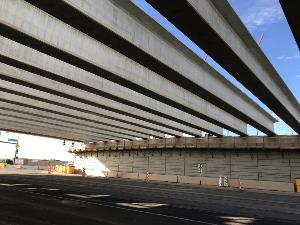 Awards & Accolades
1. The Arizona Masonry Guild recently presented its Excellence in Masonry Architectural Award to Somerton for its new City Hall building, which opened in 2017.
Groundbreakings
2. HonorHealth recently broke ground on its sixth hospital. The three-story, 210KSF HonorHealth Sonoran Medical Center will be built on the campus that currently houses the Sonoran Health and Emergency Center at Interstate 17 and Dove Valley Road in north Phoenix.
Progress Reports
3. As the Loop 202 South Mountain Freeway advances, bridge girders have recently been installed at two of the 14 planned traffic interchanges, marking the first time on this Arizona Department of Transportation project that these massive support beams are being set at two interchanges in the same week.
4. New westbound Interstate 10 lanes at Ina Road in Marana opened to traffic last weekend, another step forward for a two-year project at the busy interchange. For most of the past year, both directions of I-10 between Orange Grove and Cortaro roads have been sharing the future eastbound lanes, separated by concrete barrier, as the Arizona Department of Transportation creates a modern Ina Road interchange.
5. Great Wolf Lodge Arizona took a significant step in the construction process as Mortenson hoisted into place the final steel beam of the resort structure. The beam placed during the ceremonial "topping out" event is part of the resort's 27KSF Great Wolf Adventure Park.
Completions
6. Central Admixture Pharmacy Services, Inc., a B. Braun company and the nation's largest network of outsourcing admixture pharmacies, has opened a new 250KSF sterile compounding outsourcing facility at 2200 S. 43rd Ave, Phoenix.
7. Northrop Grumman Corp., which recently acquired Orbital ATK, has doubled its Mesa warehouse and production facility. The new 36KSF, $5M facility officially opened with 250 employees moving in this week.
8. Sagewood has opened the two-story Desert Willow Assisted Living, an expansion to its on-site Acacia Health Center and is currently accepting direct public admission.