Arizona Projects 10-11-19
Groundbreakings

1. Trammell Crow Co. and a fund managed by CBRE Global Investors have started construction on a four-building, 27-acre, 356KSF industrial complex, called Park Aldea, to be built near State Farm Stadium at 99th Ave and Cardinals Way, Glendale. Construction is expected to be complete by Q2 2020.
2. A new Marine Mart is coming to the Marine Corps Air Station in Yuma. A ground-breaking ceremony for the future Flightline Marine Mart was held September 26th. The new mart is set to open in the fall of 2020. It will contain a barbershop, Marine Corps Exchange shopping center and a drive-thru.
3. Construction began last month on The Bluffs of Flagstaff, a new 210.5KSF senior living facility on an undeveloped piece of land on East Butler Avenue between the Black Bart's RV Park and the Pinehurst at Flagstaff apartments. The project is being built by Desert Land Group and construction is expected to be complete by February 2021.
4. The Arizona Department of Transportation will begin construction on the $22.7M Pinto Creek Bridge project on the US 60 east of the Phoenix area on Monday. The new bridge will be 695.5 feet length and supported by three piers. Being built adjacent to the current bridge, which will continue to be used during construction, it will have one lane of traffic in each direction and an eight-foot-wide shoulders.
5. A joint partnership between NewcrestImage and LaPour Partners has begun construction on a 199-room hotel at the Arizona Center. The hotel, an AC Hotel by Marriott, will cost about $50M to build. It is part of the ongoing revitalization of the Arizona Center near Third and Van Buren streets in downtown Phoenix and is scheduled to be complete by the first quarter of 2021. Layton Construction is the general contractor, the architect is Axis GFA Architecture & Design.
6. The official groundbreaking ceremony for The Battery, Class A, 278-unit multifamily development was held last Wednesday at 310 E. Buchanan in the warehouse district of Phoenix. JMA Ventures LLC is leading the development, along with Jackson Square Properties and Seven Ventures. Hardison/Downey Construction Inc. is the general contractor and construction is expected to be complete in Q1 2021.
7. Ground has been broken on a new 64KSF, 111-room Home2 Suites by Hilton Mesa Longbow, 5643 E. Longbow Parkway, near the Loop 202 (Red Mountain Freeway) and Recker Road in northeast Mesa. The hotel is scheduled to open in November 2020. The hotel is being developed by Concord Eastridge, Inc. Landstone Companies and Somera Capital Management are the partners in the development. Allen + Philp is the architect with Porter Brothers as the general contractor. The hotel will be operated by Quorum Hotels and Resorts.
8. Esperanza en Escalante, a nonprofit organization that provides affordable housing to homeless veterans and their families, has broken ground on 50 new apartments, which are expected to be completed by next September. This is the second phase of a $10.5M housing project, also named Esperanza en Escalante, at 3710 S. Calle Polar, east of South Wilmot and south of East Golf Links Roads.
Progress Reports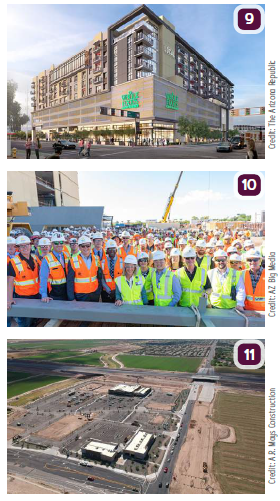 9. The upcoming 40KSF Whole Foods Market at the NWC of Ash Avenue and University Drive, Tempe will be open on November 6th. It will take up the ground floor of The Local.
10. Banner Health leaders and the nonprofit organization's construction partners gathered at the Banner Ocotillo Medical Center building site on October 4th to sign the final construction beam and witness it being hoisted into place to signify completion of exterior framing. Banner's newest 96-bed hospital is on track to open in November 2020 as planned. SmithGroup is the architect and Okland Construction is the general contractor.
Completions
11. Kitchell Development has completed construction on the $11.5KSF Laveen Park Place, a 56.2KSF retail center that included the construction and buildout of a 30KSF Sprouts Farmers Market and construction of three other retail buildings. Butler Design Group was the architect on the project located at 7700 S 59th Avenue, Phoenix, and A.R. Mays Construction was the general contractor.
12. Just a year after its groundbreaking, Lowell Observatory's $4M, 4.3KSF Giovale Open Deck Observatory (GODO) in Flagstaff has opened to the public.