Arizona Projects 09-13-19
Groundbreakings

1. Creighton University will hold a groundbreaking ceremony at their new $100M building within the redevelopment at Park Central, located at 3100 N. Central Avenue., on September 25th. Construction of the building started in July 2019.
2. Marwest Enterprises has commenced construction on the first phase of Landing 202. The first phase totals 605KSF of Class A, industrial space located in Mesa's Gateway Area, just south of Loop 202 and west of Hawes Road with 565 parking spaces. CBRE is leasing the project on behalf of the developer. This phase is expected to be completed in Q2 2020.
3. Construction has started on the AC Hotel by Marriott at the Arizona Center. La Pour Partners, Inc. is developing the 13-story, 199-room project located at Van Buren St. and Fifth St. The hotel is slated to open in early 2021.
4. Maricopa Associated Governments will start work on flood control upgrades to four underpasses along I-17 – Peoria Avenue, Cactus Road, Thunderbird Road and Greenway Road in the coming weeks. Existing pump stations will be replaced with a gravity drainage system.
5. Phase II of the Crismon Gateway Village has started construction in Mesa. Phase I was developed in 2017, and this latest endeavor will bring a mix of retail, restaurant and office buildings, as well as a 128-unit apartment complex to the site. SVN is handling the leasing assignments for the project.
Progress Reports
6. The new $1.6B, 22-mile segment of Loop 202 South Mountain will be completed in December 2019. The project is the largest P3 highway project in the state, utilizing the C202P joint venture of Fluor Enterprises Inc., Ames Construction Inc. and Granite Construction Co. More than 260 subcontractors were awarded contracts on the project and manpower peaked at over 1,000 workers. Altogether 41 bridges and 15 interchanges have been built.
7. Harkins Theaters is building a new 65KSF headquarters project located on McDonald Drive and the Loop 101 in Scottsdale. The project, built by Okland Construction and designed by Gensler, is expected to be complete in Summer 2020.
8. The 8.8-acre Akos Medical Center in Avondale is under construction. Venn Construction is leading the contracting effort. When the project is complete in early 2020, the two 70KSF medical office buildings will host a variety of healthcare offerings.
 Completions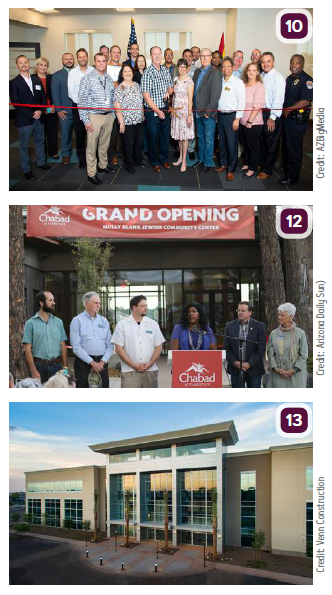 9. Able Engineering has completed a $9M expansion in Mesa, AZ. The 60KSF expansion will allow the company to hire up to 100 new employees and shorten repair times for customers.
10. Buena Vista at Chandler has opened a 50KSF space in Chandler to new patients detoxing from drugs and alcohol. This is the second campus in Arizona and the company plans to open a Tucson campus in late 2019 or early 2020.
11. After years of planning, fundraising, and construction efforts, the Chabad of Flagstaff's Molly Blank Jewish Community Center is now open. The two-story building with over 15 rooms is complete with a synagogue, mikvah, greeting room, children and university learning rooms, three overnight bunkrooms, a kitchen, and much more still expected for the future.
12. Landmark Properties has completed construction in time for students to move into The Standard in Flagstaff. The project included 252 apartment units with 763 bedrooms. An additional 16KSF of ground-level retail space was completed as part of the project.
13. Venn Construction recently completed a three-story, 153KSF tilt Class A office building for Mark IV Capital at the Chandler Freeway Crossing. Features of the project include a VIP roof deck, a 1.25-mile running path, designated food truck court, and a three-story glass-lined lobby.