Arizona Projects 06-21-19
Groundbreakings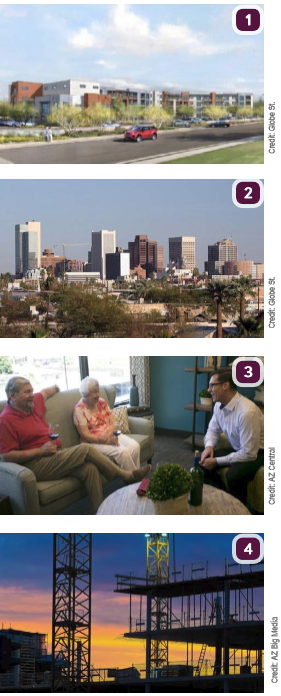 1. Virtua Partners has broken ground on a 90-unit entry-level apartment complex on a vacant lot at 1980 East Broadway Rd, Tempe. The apartment project will include 36 one-bedroom, 45 two-bedroom and 9 three-bedroom units along with parking and a fitness center, to be delivered in approximately 16 months.
2. Tower Capital has secured $44.5M in funding for the development of The Elux at Deer Valley, located at 19th Avenue and Happy Valley Road. A community of 212 single-family rental homes that underscores the demand for single-family rentals in the Phoenix market. The first units will become available mid-2020.
Progress Reports
3. 19th Avenue Operations, LLC, owner of The Palazzo located at 6250 N. 19th Ave., Phoenix, invested $10M in renovations and is expected to be completed this year. The senior living facility currently featuring 234 independent-living apartments with 37 certified as assisted living is looking to expand on its live-and-play environment, and add assisted living services and amenities, skilled nursing and memory care.
4. 2019 boasts plenty of new and exciting developments to look forward to, and you're probably curious about the biggest construction projects that are ongoing or soon to break ground:
Located in Glendale, Desert Diamond West Valley Casino is currently constructing $400M project that should be finished by the end of 2019.
Ritz-Carlton Paradise Valley Resort has invested $2B to upgrade their permanent 122-acre housing in Scottsdale.
As of June 2019, the Arizona Department of Transportation (ADOT) is beginning the construction of the organization's largest project of 2019: a $134M upgrade to State Route 189. This roadway acts as the connecting point between Interstate 19 in Nogales and the Mariposa Port of Entry. This is a two-year project that should be finished by 2021 if all goes according to plan.
Gilbert Regional Park, a 272-acre, $100M public park in the southern end of Gilbert, is being approached in phases with $18.4M being spent on the park in 2019 and $16.5M in 2020.
Arizona's biggest construction project ever: Loop 202 South Mountain Freeway is a three-year project currently running ahead of schedule and should be complete by 2020.
Completions
5. The Chicago-style food chain, Portillo's, is set to open its first West Valley location at 10331 W. McDowell Rd, Avondale, in August.
6. The Landing at PMG, a major industrial subdivision of 281KSF Class A industrial product consisting of six-buildings on approximately 20 acres, is about to open in Mesa's Gateway Area, just south of Loop 202 at the SEC of Ray and Sossaman Roads.
7. Florida-based data company Cyxtera Technologies Inc. has recently announced its second Phoenix-area data center opening, which includes 15KSF of office space for customers to come in and have workspace. The new location, opened last Tuesday at South Tempe's ASU Research Park, is a 37KSF industrial setup, that has the ability to deliver 4 megawatts (or 4 million watts) of power.
8. The grand opening and blessing of the new Virginia G. Piper Charitable Trust Community Life Center took place at the Franciscan Renewal Center, 5802 E. Lincoln Dr. in Paradise Valley, Sunday, June 9. Designed with meeting rooms, high-tech audio/visual and a catering kitchen, the building increases the center's capacity to meet the growing demand for nonprofit meeting and conference space on its 25-acre campus.