Arizona Projects 05-03-19
Groundbreakings

1. On behalf of SunCap Property Group, Graycor Construction Company has started construction on a new, 135.7KSF flex industrial building at the Gilbert Spectrum industrial project. The building kicks off development in the southern portion of the 63-acre project, which is situated at the SWC of Elliot and McQueen roads in Gilbert. Building One is scheduled to complete in late July. At build-out, Gilbert Spectrum will include more than 800KSF in eight to ten buildings ranging from 60KSF-200KSF.
2. The City of Peoria broke ground Tuesday on the 120-acre Paloma Park at Lake Pleasant Pkwy and the Loop 303. The $40.2M first phase, which will include: Baseball fields, soccer fields, fishing lake, splash pad, dog park, pickleball courts and more, will cover 85 acres and is expected to open at the end of summer 2020.
3. Ryan Cos. is gearing up to break ground on the first multi-tenant, six-story, 163KSF office building to be constructed in the Novus Innovation Corridor at Arizona State University. The ceremonial groundbreaking for the 777 Tower at Novus is set for May 2.
4. El Campo Center, anchored by Food City and located on the SWC of 22nd St and Country Club Rd, has commenced renovation. The work is slated to be finished by July 2019. Steve Shell is the project's architect. MW Morrissey Construction is the general contractor.
5. Agate Construction, on behalf of Chilton Properties, LLC, recently broke ground on a 20KSF Harley-Davison dealership at 159th Ave and McDowell Rd in Goodyear. Roadrunner Harley-Davidson is scheduled for completion this fall. Barry R. Barcus Architects is the architect.
6. Banner Health and Select Medical broke ground on the new Banner Rehabilitation Hospital – West in Peoria on April 25. Located at 12740 N. Plaza Del Rio Blvd., the three-story, 56-bed hospital will open to patients next year.
Progress Reports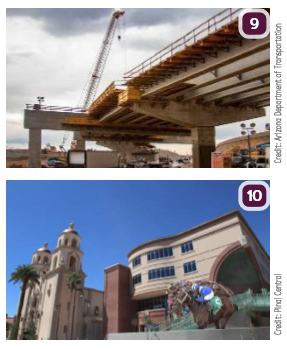 7. The Grand Canalscape Project has reached a major milestone with the installation of two pedestrian bridges located across the Grand Canal between 36th and 37th streets near David Crockett Elementary School and east of 44th St near Pueblo Grande Museum. The entire project is expected to be completed by fall 2019.
8. The first phase of the Apex Motor Club has opened and owner, Private Motorsports Group held a ribbon-cutting ceremony on April 26. The first phase includes 2.3 miles of track and "Phase 1A" will include 48 garage condos and a commercial garage. Construction on the garages will start in July and should be accomplished by the end of the year.
9. Two years after construction began on an interchange connecting Interstate 10 and the Loop 202 South Mountain Freeway, crews have placed the final bridge girders needed for the project. While the final girders are in place, several I-10 closures and traffic restrictions are still needed to complete some of the remaining work, including pouring bridge decks and installing barrier wall. The full project is expected to be complete in 2020.
Completions
10. The Diocese of Tucson celebrated completion of its $20.3M, 55KSF Conference and Educational Center at Cathedral Square with a ribbon-cutting ceremony on Sunday April 28.