360-Unit Lyon's Gate Apartments Planned for Gilbert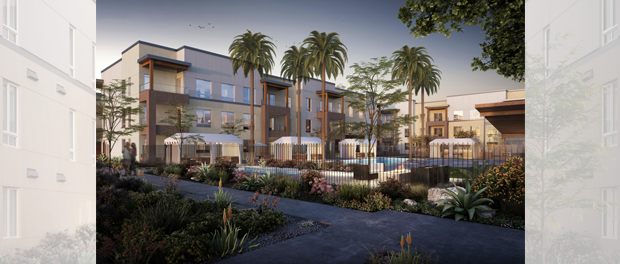 By Jane Stewart for Arizona Builder's Exchange
William Lyon Homes has requested a minor amendment to the Town of Gilbert's General Plan for the Lyon's Gate Apartments project, located at the NWC of South Wade Drive and East Williams Field Road.  This will be the Eleventh phase in the 365-acre master-planned development.
The owner is seeking to increase the permitted density.
Lyon's Gate Apartments is a 360-unit multi-family development on 16 net acres. The design includes 16 residential structures – each at 20-24 units – featuring studios, one-, two- and three-bedroom options. Parking includes 40 canopy structures and seven garage structures. There are two clubhouse buildings featuring game rooms, lounge areas, a bar and kitchen area, and a large exercise facility. These clubhouse buildings are separated by a landscaped courtyard with a decorative perforated metal fence at the entry.
Other outdoor amenities include landscaped areas with multiple ramadas and barbeques; lawns for fitness activities, events and games, and a large pool area featuring resort-style cabanas.
The site is bound to the west by active Union Pacific Railroad tracks. Higley Elementary and Middle School are adjacent to the east and west edges, with Lyon's Gate Phase 10 to the north. Less than one-half mile away is Cooley Train Station and the planned Gateway Village Center.
There are three building types in the proposed development, all of which include stucco in light neutrals with darker tans and taupe-based accent colors and matching brick veneers. Most metals are painted and accented in bronze.
Each building has varying vertical and horizontal changes "with varied corresponding changes in colors and materials to further accent the building." Slider windows in white are different shapes and location from one building type to the next to offer more design variety. Most of the balconies are open, with wood clad and stucco columns and metal railings.
Each building has decorative perforated metal stair screening with Building Types 1 and 3 painted in rust tones and Building Type 2 stair screens painted in blues, "which draws the eye to the main entries." Additionally, all buildings have metal awnings located by solar orientation.
Building Type 3 blends architectural features of both Building Types 1 and 2, but is the only building that has garage doors, which have ash colored wood-like cladding.
The clubhouse buildings, also brick and stucco, "are very low, one with a sloped shed roof and the other with a parapet. They are joined by a framed perforated metal decorative fence-like feature," which is painted with bronze accents.
The free-standing garage buildings are accented in brick and paint colors, and like Building Type 3, have the same ash colored wood-like cladding on the doors, some of which also have transom-like windows over the top of the door.
The 40 carports are also painted metal with bronze accents.
The design indicates a 182-foot buffer between the railroad tracks and the development area, which includes 102 feet from the railroad tracks to the site's property line and with an additional 80 feet of landscaping and utility easements. This includes a 40-foot easement for a high-pressure gas line along Williams Field Road that then turns to follow the railroad tracks. Because of the easement, the main entry will be off Wade Drive. Secondary access will be off Williams Field Road to the south.
Founded in 2004, Lyon's Gate is a master planned community encompassing 365 acres with multiple housing types, floorplans and builders. Lyon's Gate Apartments is Parcel 11 of the plan, which is proposed on the southeastern-most portion of the community.
The request for the Minor General Plan Amendment went before the planning commission at its Feb. 7 meeting.
NOTE: Paid subscribers receive additional project details in our twice-weekly PDF publication, including project stakeholder information and valuable project bidding leads. Find out more about AZBEX subscriptions or contact Rebekah Morris at rmorris@azbex.com or (480) 709-4190.