By Roland Murphy for Arizona Builder's Exchange
JLL Project and Development Services recently released its U.S. and Canada Fit Out Guide: Office Cost Benchmarking Report, and Phoenix rates well compared to most other markets.
For the purposes of the study, JLL assigned "fit out" guidelines as a space "in its second generation and will be provided by the landlord in a condition ready for tenant improvements."
To assemble the data, JLL looked at 2,800 project budgets in 59 markets across 17 industries.
In 2017, the report states, approximately 69MSF of new office product was delivered to market in the U.S. This has led landlords for second generation spaces to be more generous with the tenant improvement allowances to make their properties more attractive. As construction costs and rents increase nationwide, tenants are also becoming more demanding about package details.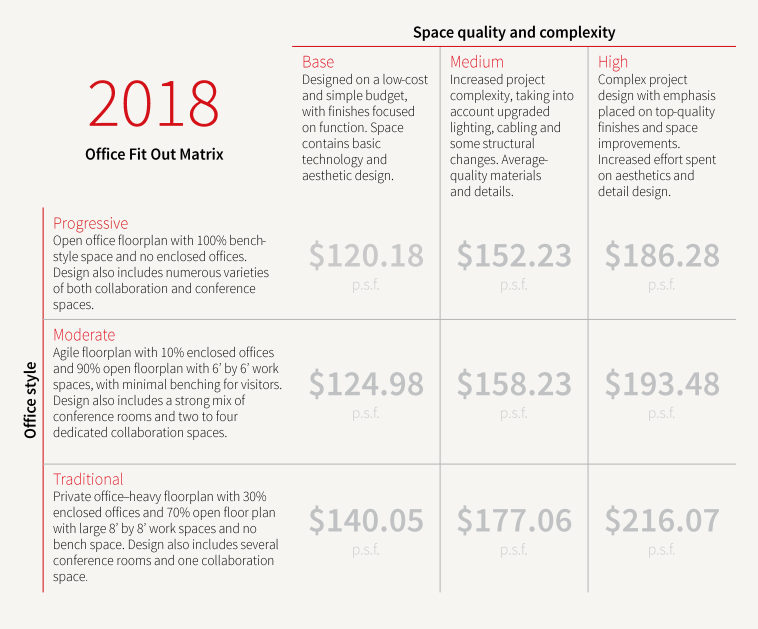 Office styles examined were Traditional (a private office-heavy floorplan with 30 percent enclosed offices, 70 percent open floor and 8'x8' workspaces), Moderate (10 percent enclosed office, 90 percent open and 6'x6' workspaces), and Progressive (100 percent open floorplan with bench-style workspace).
Average costs/SF were $177.06 for traditional, 158.23 for moderate and 152.23 for progressive.
The space qualities and complexities were Base (low cost, simple budget, basic technology and aesthetics), Medium (average quality materials and details with enhanced lighting, cabling/other structural changes), and High (complex project details, top quality finishes and space improvements).
The standard fit out budget breakdown was 54.4 percent for hard costs; 12.3 percent for design and fees; 20.2 percent for furniture, fixtures and equipment; and 13.1 percent for tenant factors (audio/visual, IT, security, etc.)
The most expensive market was New York City, with a 28.5 percent premium over the national average. Charlotte was lease expensive, coming in at -13.7 percent of average.
For Progressive spaces, the national average fit out cost was 152.23/SF. Phoenix came in at $143.56.
Moderate spaces averaged $158.23/SF nationally. Phoenix averaged $148.96.
Traditional office space had a national average cost of $177.06/SF. In Phoenix, the average was $166.18.