Industry Professionals 11-10-20
Giving Back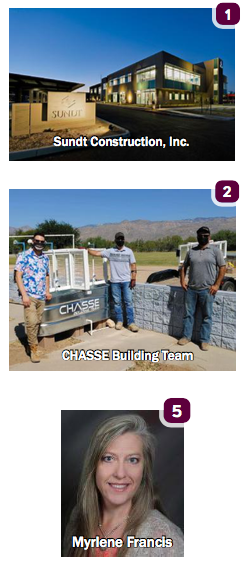 1. The Sundt Foundation awarded grants to nine Southern Arizona nonprofits, totaling more than $25K, during its fourth quarter giving round. The Foundation awards grants each quarter to local charities that support disadvantaged children and families. Nonprofits are selected through an application process and reviewed by a committee of Sundt employee-owners. 
2. Throughout October, CHASSE Building Team built and installed custom hand-washing stations at 13 elementary schools across Pima County. The project was thanks in great part to partners RG & Sons Plumbing, Ferguson Plumbing Supply and Santa Rita Landscaping, who contributed materials toward the build. Each station allows for students to wash while safely separated and has a hose hook-up so it can be moved virtually anywhere on campus. 
Awards & Accolades 
3. U.S. News & World Report and Best Lawyers recognized Withey Morris PLC in its 2021 edition of Best Law Firms. Firms receive recognition for, "professional excellence with consistently impressive ratings from clients and peers," according to U.S. News-Best Lawyers. 
4. Queen Creek's Economic Development team is the winner of the Arizona Association for Economic Development's 2020 Medium Organization of the Year Award. The team is being recognized for building strong relationships and community support, their overall impact to AAED and contributions to the economic development profession. 
Boards & Commissions 
5. Tierra's Southern Arizona Right of Way Manager, Myrlene Francis, SR/WA, was elected and has begun her term as the new President of IRWA Chapter 73 in Tucson. Francis has worked in the right of way industry in Arizona since 1996 and is an expert in acquisitions and relocations, utility and transportation planning, and public agency operations. 
Company News 
6. Bellwether Enterprise Real Estate Capital LLC, the commercial and multifamily mortgage banking subsidiary of Enterprise Community Investment Inc., announced the opening of new offices in Phoenix and La Jolla. The expansion comprises a team led by Charlie Williams, Executive Vice President in the Phoenix office, and is expected to add more than $1.5B in loan volume over the next twelve months. 
Promotions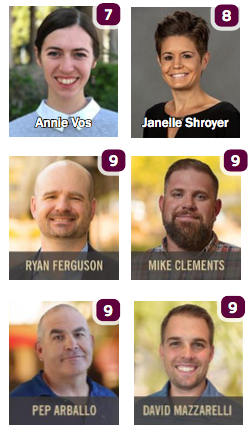 7. RVi Planning + Landscape Architecture has promoted Annie Vos to Project Manager in their Tempe office. Vos is a leader not only in the office but in her community, as she is also a Director of her historic neighborhood organization. Her boundless energy and enthusiasm is contagious, and she is easily able to lift the spirits of everyone she interacts with. 
New Hires 
8. Johnson Carlier recently hired Janelle Shroyer to its roster of talented employees. In her position, Shroyer will be responsible for marketing initiatives including brand awareness, and coordination of planning, developing and producing competitive proposals, and more. In her current role, Shroyer hopes to align Johnson Carlier's business strategies and brand awareness initiatives through social media platforms, community give-back proposals and team building events. 
9. McCarthy Building Companies, Inc. announced four additions to the firm's Mission Critical projects group. The new team members, who are based in the firm's Phoenix office, include Ryan Ferguson, Director; Mike Clements, Preconstruction Manager; Pep Arballo, Senior Superintendent; and David Mazzarelli, Senior Project Manager.