Industry Professionals 09-29-20
Giving Back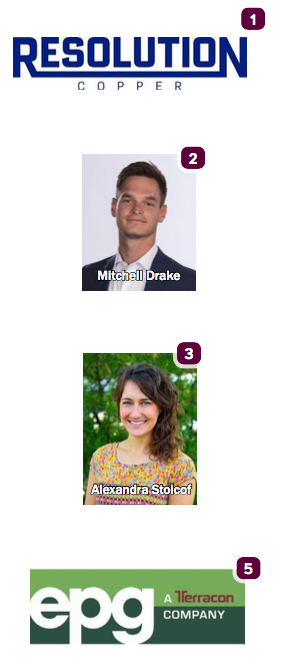 1. Resolution Copper has awarded more than $185K in grants to five area school districts for the upcoming school year. Along with supplying personal protective equipment (PPE) for teachers and students, the funds will ensure that up to 600 students in the Superior, Globe, Hayden, Miami and Ray school districts will receive technology to support distance learning. 
Awards & Accolades 
2. ABI Multifamily Vice President Mitchell Drake has been named a winner of the Connect Commercial Real Estate (CRE) Next Generation Award recognizing outstanding real estate professionals age 35 and younger in the Phoenix/Southwest Category. 
3. Alexandra Stoicof passed the licensure exam and became a Professional Landscape Architect (PLA) for the State of Arizona. She has worked for Wheat Design Group for the last four years. Her project experience includes parks and natural resources, urban design, and a wide range of transportation-related projects such as complete streets, bike boulevards and large RTA projects.   
4. Associated Builders and Contractors has received the Pledge to America's Workers Presidential Award. Among nine recipients, ABC was selected based on its achievements in workforce education and fulfilling its 2018 pledge to recruit and upskill at least 500K workers by 2023. 
Company News 
5. Terracon has announced the acquisition of Phoenix-based Environmental Planning Group (EPG), to provide additional regional support to existing Rocky Mountain Division offices and to provide greater opportunities for EPG employees. The organization will continue to serve clients locally as Environmental Planning Group, A Terracon Company. 
6. Synergos announced the acquisition of Austin Electric Services LLC, Austin Concrete & Stone LLC and Austin HVAC LLC (Collectively referred to as "Austin Companies"), a premier Arizona residential electrical, concrete and HVAC group working with an emphasis on energy efficiency and construction innovation. 
Promotions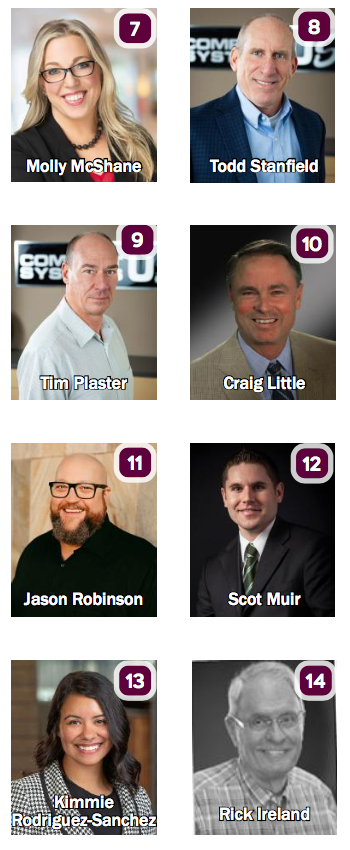 7. The McShane Companies announced that its Board of Directors has appointed Molly McShane as Chief Executive Officer effective October 1st, 2020. McShane previously held the position of Chief Operating Officer. 
8. Todd Stanfield has been promoted to Vice President of Construction Sales for Comfort Systems USA Southwest. He has been with the CSUSA-SW team since 1992. Todd will split his time between serving on the CSUSA-SW executive team, managing the Estimating Department, business development, and providing conceptual preconstruction estimating to clients. 
9. Tim Plaster has been promoted to Vice President of Building Services for Comfort Systems USA Southwest. Tim has been with the CSUSA-SW team since 1994 and has more than 40 years of industry experience. As Vice President of Building Services, Tim will be responsible for the overall operations of the three branch offices in Chandler, Tucson, and Albuquerque. 
New Hires/Transitions 
10. Comfort Systems USA Southwest welcomed Craig Little as their new President. Little brings with him over 35 years of experience in the industry, having formerly worked for Lennox, Mitsubishi & Hill Phoenix (a Dover Company). His background includes working in R&D, sales and marketing, and operations. 
11. Achen-Gardner Construction announces the addition of Jason Robinson, PMP as Director Water/Wastewater Plants. Robinson brings 17 years of industry experience and his expertise increases Achen-Gardner's ability to install, upgrade, and modify water and wastewater treatment and conveyance systems. 
12. VBFA Consulting Engineers welcomes Scot Muir, P.E. LEED AP, Principal, to the firm's Tempe office. He has been with the firm for 14 years and has relocated to Arizona from the Logan, Utah office. 
13. LGE Design Build has hired Kimmie Rodriguez-Sanchez as Business Development Manager for its new Residential Design Build Division. Previously, Rodriguez-Sanchez was an account executive for the Phoenix Suns. 
14. TankGirl Marketing welcomed Rick Ireland to the team as a Business Development Specialist. Ireland has more than 50 years of experience in sales, marketing, business, and economic development and will assist clients with his business development know-how. 
In Memory 
15. Jim Cronk, the retired Planning Director from the City of Flagstaff (2005 – 2014) passed away on the morning of September 21st, 2020 after several days in hospital. Cronk's skill as a negotiator, manager, and leader resulted in many positive changes in the City's planning department. Jim retired from Flagstaff in 2014.