Industry Professionals 05-12-20
Giving Back 

1. Habitat for Humanity has a program designed to produce the next generation of skilled craft construction workers to address workforce demands. The CIT pre-apprenticeship program is a 16-week, fast track, on the job training program. The program is uniquely designed as an immersive and intensive curriculum that specializes on basic core construction fundamentals, leadership and soft skills development for participants ages 18 and over. 
2. Over the last several weeks, Resolution Copper has been actively working with communities to address the COVID-19 crisis and its impacts. They recently partnered with United Food Bank and White Mountain Apache Tribe to deliver 75K meals to tribal members, and now they are partnering with the Mesa Chamber of Commerce and the United Food Bank to provide more than 50K cans of safe, clean drinking water to vulnerable communities in Arizona. 
Boards & Commissions 
3. The Arizona Private Lender Association (APLA) recently announced its 2020-2021 Board of Directors and Officers. Board officers are President, Jack W. Hilton, Hilton Financial Corporation; Vice President, Phil Sollomi, Scottsdale Private Lending; Treasurer, Aaron Zeese, PAJ Financial; Secretary, Becky Young, Evergreen Note Servicing; and Statutory Agent, Jeff Craven, The Craven Law Firm.  
Company News 
4. Prominent environmental, natural resources and energy attorney Michelle De Blasi is pleased to announce the formation of her own firm, the Law Office of Michelle De Blasi. De Blasi focuses on business strategy by helping clients in a broad array of industries complete their projects from start to finish, overseeing all aspects of permitting, assessing business risks and meeting deadlines on time and on budget. 
5. First Solar signed a deal with Minnesota-based Geronimo Energy to supply that company with 415 megawatts of panels in 2022. Financial terms of the deal announced May 5th were not disclosed. The deal is part of a huge pipeline of development First Solar leaders disclosed with the release of the company's first quarter earnings on Thursday. 
6. Alignment Realty Capital has been formed by real estate platform incubator WestHawk Capital, Gary Linhart, owner, and emerging managers Jake Gallagher and Ben Sacks to pursue new opportunities in single-tenant real estate. Alignment provides a framework for landlords and operators to unlock the value in their real estate, or to use real estate as a tool for continued expansion. 
Promotions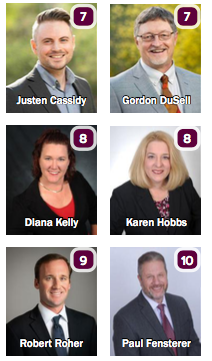 7. Cawley Architects has announced the appointment of RoseAnn Linsmeyer, Justen Cassidy and Gordon DuSell to Associate status within the firm. 
New Hires 
8. Wood, Patel & Associates, Inc. (WOODPATEL) announced their newest team members Karen Hobbs, PE and Diana Kelly, PE. Hobbs will lead the Transportation department as a Senior Project Manager with over 25 years of regional industry experience. Kelly also joins the Transportation department as a Senior Project Manager with over 23 years of related experience. 
9. Lee & Associates Arizona announced the addition of Robert Roher as its newest Associate specializing in Retail Properties. 
10. Civil & Environmental Consultants, Inc. recently hired Paul Fensterer as Senior Principal-Civil Engineering within their Public Sector group. Paul is responsible for the development and implementation of CEC's initiatives to pursue and support design engineering and related services within the federal market sector.