Commercial Real Estate Transactions 04-07-20
Sales Transactions 

1. Tower Capital, an independent structured finance firm, arranged two acquisition loans totaling $26.19M for multifamily properties in Phoenix. Tower Capital arranged $21.5M for San Marina, a 400-unit, affordable housing apartment complex. The second acquisition loan, amounting to $4.69M, is for Arcadia Palms, a mid-century modern, 34-unit multifamily community located in the Arcadia submarket.  
2. CapRock Partners announced its acquisition of the newly constructed 7200 W. Roosevelt Street, a 216.8KSF Class A industrial building in Phoenix, for an undisclosed amount. CapRock Partners acquired the industrial building in an off-market transaction. The private industrial real estate investment and development firm was represented by Payson MacWilliam and Don MacWilliam of Colliers International. 
3. RDM Tucson, LLC, an entity formed by Element Property Company, purchased Rancho Del Mar Apartments, 312-unit multifamily community located near Campbell Avenue and South of Drexel Road in Tucson, for $19.1M. NorthMarq Capital's Phoenix Investment Sales team led by Trevor Koskovich, president; Jesse Hudson, vice president; and Bill Hahn, executive vice president, brokered the sale and represented both buyer and seller, Atlantic Development & Investments. 
4. NAI Horizon's Senior Vice President Lane Neville and Associate Logan Crum represented buyer in the $7M acquisition of the Corbins Electric corporate headquarters building, a 52.7KSF industrial property at 4829 S. 38th Street, Phoenix. Clint Hardison and Blake Hardison with Keyser Commercial Real Estate Advisory represented the seller. 
5. Leon Capital purchased a 1.74-acre property at 7111 E Tierra Buena Lane, Scottsdale, for $6.54M. Senior Managing Director Mark Forrester of Berkadia's Phoenix office completed the sale. The seller was a local Arizona investor. 
6. Crowne Pointe Equity has purchased a 32.4KSF, Class A office/flex building located at 914 S. 52nd Street in Tempe, for $5.9M. Geoff Turbow, Matt Pourcho, Anthony DeLorenzo, Gary Stache, Bryan Johnson and Doug Mack of CBRE Investment Properties – SoCal/Phoenix/Vegas and Pat Feeney, Dan Calihan, Rusty Kennedy and James Cohn of CBRE's Phoenix office represented the seller, A joint venture between ViaWest Group and a capital partner. 
7. A private investor from California purchased Big O' Tires in Las Plazas at Old Vail, a 6.2KSF build-to-suit on a 12.6KSF pad at 10061 E. Old Vail Road, Tucson, for $2.885M. The seller was Old Vail Rd, LLC, an affiliate of RHK Holdings. 
8. Rio Equity Group, LLC purchased 27.2KSF of industrial space at 3650-3700 S. Palo Verde Road, Tucson, for $2.6M. ITW Polymers Sealants North American, Inc., a worldwide manufacturer of sealants, adhesives, coatings, lubricants and cutting fluids occupies the property. Cushman & Wakefield | PICOR handled this transaction. Brandon Rodgers, SIOR, CCIM, and Stephen D. Cohen, Principals and Industrial Specialists represented the seller, Black Rock Ventures, LLC. Thomas J. Nieman, Principal and Office Specialist, represented the buyer. 
9. Nogales-Texas Properties, LLC purchased 11.02 acres of industrial land from Baca Float #3, LLC. Lot 5, located in the Rio Rico South Industrial Park Expansion in Rio Rico, AZ, was purchased for $2.55M. Jose Dabdoub, Industrial Specialist with Cushman & Wakefield | PICOR, represented the seller. 
Lease Transactions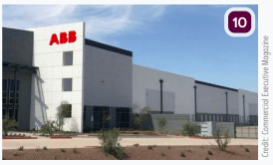 10. ABB signed a lease on a 400KSF building in Phoenix, Arizona, that will serve as the West Coast Distribution Center for the company's Electrification Installation Products business. The company plans for the distribution center to be fully operational during the third quarter of 2020. 
11. Yada Yada, LLC leased 34.7KSF of industrial space at 777 E. MacArthur Circle in Tucson, from MacArthur Investments, LLC. Cushman & Wakefield | PICOR Principals and Industrial Specialists handled this transaction.  Brandon Rodgers, SIOR, CCIM, represented the landlord; Robert C. Glaser, SIOR, CCIM, |represented the tenant. 
12. NAI Horizon's Isy Sonabend represented the tenant, MasTec Network Solutions, in a 62-month industrial lease for 20.6KSF at 330 E. Germann Road, Gilbert. The landlord, Park Lucero1, LP, was represented by Pat Harlan with JLL. 
13. NAI Horizon's Isy Sonabend and Drew Eisen represented the tenant, Elliot Electric, in an 87-month industrial lease for 11.7KSF at 425 E. Germann Road, Gilbert. The landlord, EastGroup Properties was represented by Paul Sieczkowki with Colliers International. 
14. Red Bull Distribution Company, Inc. leased 13.4KSF of industrial space, located at 3741-3745 N. I-10 EB Frontage Road. in Tucson, from Peacock Investment Builders Tucson I, LLC. Robert C. Glaser, SIOR, CCIM and Stephen D. Cohen, Principals and Industrial Specialists with Cushman & Wakefield | PICOR, and Robin Dodson with Cushman & Wakefield, Los Angeles handled the transaction.