Sales Transactions

1. Cushman & Wakefield completed the $44.5M sale of Lakeside Drive, a 150-unit Class A, luxury rental community at 500 W. 1st Street in Tempe. Lakeside Drive Apartments, LLC, purchased the property from Broadstone Lakeside, LLC, an entity formed by Alliance Residential and Cottonwood Residential. Executive Managing Directors David Fogler and Steven Nicoluzakis of Cushman & Wakefield represented the seller.
2. Larsen Baker, through its affiliate Manzanita Investment Group, LLC, purchased Manzanita Plaza, a 116.4KSF neighborhood center at the NWC of Valencia and Cardinal Rd in Tucson, for $15.15M. David Murphy and David Bernstein of Bernstein Murphy represented the seller, Community Centers of America-Glendale, LLC. Larsen Baker represented the buyer.
3. Cushman & Wakefield completed the sale of the former P.F. Chang's headquarters at Miller Rd and Pinnacle Peak Rd in Scottsdale. Lennar Homes purchased the property from P.F. Chang's for $12M. Brooks Griffith with Cushman & Wakefield's land advisory group, along with Mitch Chilton and Tom Jacobs with Cushman & Wakefield's tenant advisory group represented the seller in the transaction.
4. CBRE arranged the $4.85M sale of the newly constructed, 17-unit townhome-style multifamily community called The Alan, located at 2340 E. McKellips Rd. in Mesa. Regency Park, LLC, acquired the property from 2400 E. McKellips, LLC, in a 1031 exchange transaction. CBRE's Brian Smuckler and Jeff Seaman completed the sale on behalf of both the buyer and seller.
5. ORION Investment Real Estate represented both the buyer and seller in the $4.051M sale of the Shalimar Sands, a 26-unit apartment complex located in Old Town Scottsdale.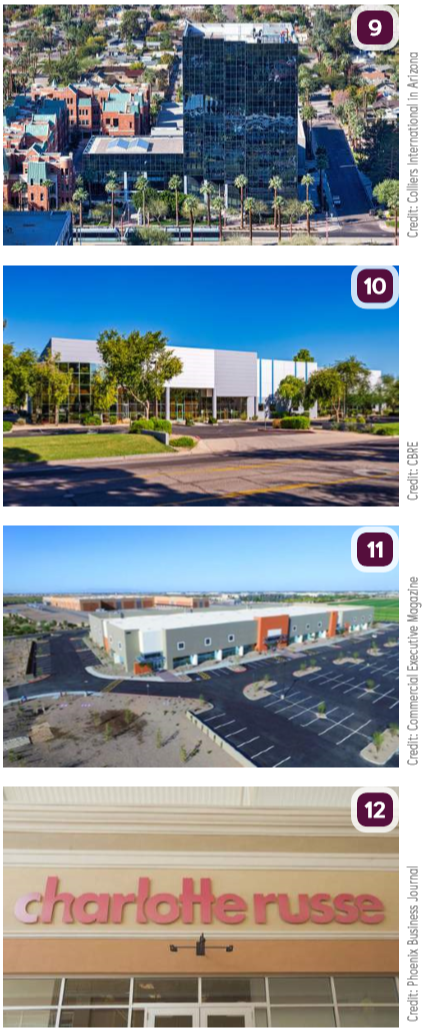 6. Park Brokerage announced the sale of Black Rock RV Village in Brenda was completed on March 4 for $3.826M. John Sheedy represented the seller the transaction and procured the buyer.
7. Barbara Lloyd, Lane Neville and Logan Crum of NAI Horizon represented the seller, 2052 Main Properties, LLC in the $2.75M sale of an RV park at 2052 W. Main St., Mesa. The buyer, Treehouse Communities, LLC, represented itself.
8. A 25KSF building at 3662-3692 S. 16th Ave., Tucson, has sold to CRE Strategic Investments, LLC for $2.475M. Craig Finfrock of Commercial Retail Advisors, LLC represented the seller, SAFCO Capital. The buyer represented itself.
9. Sperry Equities has purchased the Midtown Phoenix high-rise at 2020 N. Central Ave for an undisclosed price. Mindy Korth, Charles Miscio and Kirk Kuller of Colliers International in Arizona negotiated the sale on behalf of Arizona Central Credit Union.
Lease Transactions
10. CBRE announced that it has signed a 42.1KSF lease at 1405 N. Fiesta Blvd. in Gilbert, bringing the multi-tenant industrial building to full occupancy. CBRE's Evan Koplan and Serena Wedlich represented the landlord, Abington Emerson Investments, LLC. NAI Horizon's Isy Sonabed and Joseph Howell represented the tenant.
11. Rockefeller Group announced it has signed two tenants at Chandler Crossroads, a 100KSF flex industrial building at Gilbert and Queen Creek roads. Valin Corporation will occupy approximately 32KSF and Caltrol, an Emerson Impact Partner will lease approximately 18KSF.
Closures
12. Charlotte Russe Holdings Corp., a women's clothing retailer, is going out of business and closing all its remaining stores including nine in Arizona.