Sales Transactions


1. JLL Income Property Trust announced the acquisition of Fountainhead Corporate Park, a 300KSF, two-building Class A office portfolio comprised of two 6-story buildings located in Tempe. The property was acquired for $61.5M.
2. Triumph Properties Group purchased Deer Creek Village, a 308-unit multifamily complex north of the Loop 101 at 31st Avenue, Phoenix, for $49.5M. Cliff David and Steve Gebing with Institutional Property Advisors (IPA), a division of Marcus & Millichap, represented the seller, a private family/operating partner, and procured the buyer.
3. Green Courte Partners purchased The Aspens at Mariposa Point, a 202-unit seniors housing property in Gilbert. The price was not disclosed.
4. Storm Properties, Inc. purchased Del Mar, a 144-unit garden-style multifamily property at 8550 W. McDowell Road, Phoenix, for $27M. Senior Managing Directors Mark Forrester and Ric Holway and Senior Director Dan Cheyne of Berkadia's Phoenix office represented the buyer. The seller was RK Del Mar Apartments, LLC.
5. First American Exchange Company purchased Rancho Santa Fe Center, a 74KSF suburban medical/dental office complex at 13033-13075 W. McDowell Road, Avondale, for $17.8M. Eric Wichterman and Mike Coover of Cushman & Wakefield represented the seller, HH RSR, LLC (a company formed by Holualoa Companies and The Plaza Companies).
6. Bascom Arizona Ventures purchased Dolce Villaggio, a 37-unit, Class A multifamily property in Tempe for $11.5M.Chris Roach, Matt Roach and Brad Cooke of Colliers International advised the buyer and seller.
7. SPRE Riverview, LLC purchased the 69-unit Riverview Park apartment complex at 745 N. Dobson Road, Mesa, for $11.2M. Brian Smuckler, Jeff Seaman, Derek Smigiel and Bryson Fricke of CBRE in Phoenix represented the buyer and the seller, Riverview at Wrigleyville West, L.P.
8. QuikTrip purchased Oakplace, a 53.3KSF, 3-story office building at 2255 N. 44th Street, Phoenix, for $5.4M, with plans to demolish the building and redevelop the site into a gas station facility. Newmark Knight Frank's Executive Managing Director Tom Adelson and Associate Director Erin McClure represented the undisclosed seller.
9. An Arizona-based private investor purchased the Ocotillo Apartments, a 24-unit garden-style complex at 1712 – 1724 East Ocotillo Rd., Phoenix. ABI Multifamily's Mitchell Drake and Ryan Smith represented the seller, a Ney York-based private investor. ABI Multifamily's Dallin Hammond and Rue Bax represented the buyer.
10. 2033-35 W. Mountain View, LLC purchased a freestanding 6,568-square-foot retail building at 4461 E. Baseline Road, for $2.94M, from MORCL AZ 02, LLC. Bill Bayless at CBRE represented the buyer and Chris Hollenbeck, an Executive Director in Cushman & Wakefield's Phoenix office, represented the seller. The building is leased to CarLife Auto Repair.
11. A limited liability company purchased Oracle Canyon, a 36-unit apartment community at 331 W. Pastime Road, Tucson, for $2.825M. Hamid Panahi and James Crawley, investment specialists in Marcus & Millichap's Tucson office represented the seller, also a limited liability company.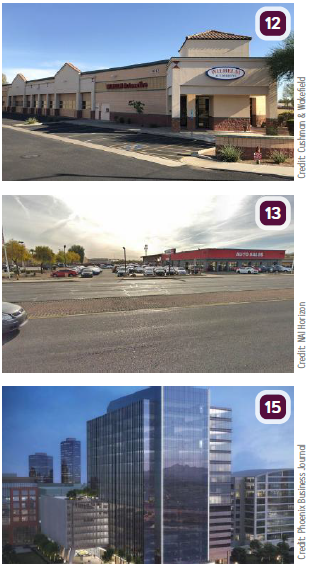 12. P&A Investment, LLC purchased a 7,317-square-foot retail building at 14297 W. Grand Avenue, Surprise, for $2.5M, from SASC Investments, LLC. Chris Hollenbeck, an Executive Director in Cushman & Wakefield's Phoenix office, represented the seller. The building is leased to Wilhelm Automotive.
13. Mark Wilcke with NAI Horizon represented the seller, 1731 Arizona Warner LLC, in the $2.15M sale of a 9,974-square-foot retail building. The property is located at 1731 N. Arizona Avenue, Chandler. The buyer, Mesa Campus LLC, represented itself.
Lease Transactions
14. Dash II Investments purchased Fort Lowell Place, a 40-unit apartment complex at 3475 E. Fort Lowell Road, Tucson, for $2.05M. Joseph Chaplik of Joseph Bernard Investment Real Estate represented the investor. The seller, Winged Foot Investment Services Limited Partnership, LLLP & JHR Investment Services Limited Partnership, LLLP were self-represented.
15. Global business consulting and accounting giant Deloitte has leased the top floor of 100 Mill, a planned mixed-use development to be built at Mill Avenue and Rio Salado Parkway in Tempe. The lease totals about 35KSF.