Arizona Projects 09-27-19
Awards & Accolades

1. The American Planning Association (APA) has named Pioneer Park in Mesa, one of six Great Public Spaces on APA's annual Great Places in America list, which starts the countdown to National Community Planning Month in October.
Groundbreakings
2. Evergreen Devco Inc. has started construction on its latest 172KSF multitenant retail center, called the Post at Cooley Station, which will be built at the SEC of Recker and Williams Field roads in Gilbert. The project is expected to complete construction in the third quarter of 2020. Butler Design Group, Optimus Civil Design Group, Kraemer Engineers and Laskin & Associates are the design consultants. Alexander Building Co. is the site contractor.
3. A groundbreaking ceremony was recently held for the first hotel in Maricopa, the La Quinta Inn, 44345 W. Martin Luther King Jr. Boulevard. The hotel is to open by Thanksgiving of next year. The developer is Andy Bhakta, the architect is Suina Design + Architecture and the general contractor is Adanac Builders.
4. The Town of Queen Creek recently broke ground on the $7.3M, three-bay Fire Station 4, on Signal Butte Road, just north of Queen Creek Road. Perlman Architects designed the station with FCI Constructors completing the construction. The station is anticipated to open in the fall of 2020.
Progress Reports
5. The Power Apartments, a Federal Revival Style building on N. Third Avenue, is going back to its historic roots in what is being called an "adaptive restoration" showcase. Originally developed in 1914 as an apartment building, this redeveloped office building will have its grand opening in October, coming back to the market as 12 apartment units. SBD Ventures LLC worked in collaboration with architecture firm Tomecak Design and general contractor Creative Edge Stoneworks LLC.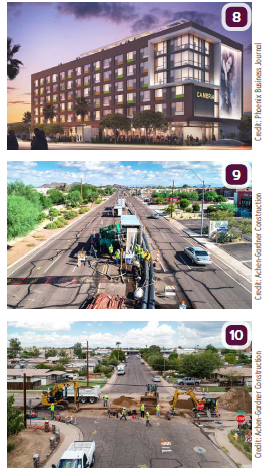 6. Chason Affinity Companies began construction earlier this year on Trailside Apartments, a new 111-unit multifamily apartment complex at the corner of Beulah Boulevard and University Heights Drive. The development should be open by the end of next August, with construction finishing shortly before that.
7. White Castle announced the long-awaited opening date for its first Arizona restaurant at 9310 E. Via de Ventura will be on October 23rd. A ribbon-cutting ceremony will be held.
8. The $26M, 127-room Cambria Downtown Phoenix hotel, 222 E. Portland Street, will open on Roosevelt Row in late November and has moved into the hiring phase. The project was developed by True North Studio, LLC.
9. Achen-Gardner Construction is working on the rehabilitation of sewer lines and manholes in various locations in the northern part of the City of Phoenix as part of the PVC-Lined Concrete Sewer Pipe and Manhole Rehabilitation – North CMAR project. Construction is expected to be complete by October 2020.
10. Achen-Gardner Construction is working on the Watermain Replacement Package 1 DBB project for the City of Glendale. The project includes water line replacement of more than 10,000 LF of 4", 8", 10", and 12" ductile iron pipe in various locations. Construction is expected to be complete by April 2020.
Completions
11. Digital consulting company Infosys recently cut the ribbon for a new Technology and Innovation Center in the SkySong ASU Scottsdale Innovation Center. Infosys' hub at the new SkySong Building 5 includes labs that produce prototypes in virtual reality, augmented reality, and robotics.