Groundbreakings

1. Optima real estate development firm is underway with its third and fourth luxury residential towers, including the $5M 7180 Optima Kierland. Optima Kierland Center has been named a pilot project for the city of Phoenix's newly-adopted International Green Construction Code. Master-planned community embodies the design WIPof architects David Hovey, Sr. FAIA, Optima's founder/CEO, and David Hovey, Jr. AIA.
2. Toll Brothers Inc. is moving dirt in Surprise for an 800-acre community it has named Sterling Grove. The company will invest about $250M to develop Sterling Grove, which is within the 3,200-acre Prasada master-planned community being developed by a partnership composed of Suburban Land Reserve Inc., Macerich Development, WDP Partners and RED Development.
3. George Smith Partners has secured $67.2M in senior construction financing for the ground-up development of a multifamily property in Phoenix. Located immediately north of Phoenix's central business district, the 17-story high-rise will feature 254 apartments.
4. Towne Storage Broadway has broken ground and is expected to be completed May of 2020. The $6.1M, 86.7KSF storage facility with a rental office was designed by Robert Brown Architects, the GC is A.R. Mays Construction.
Progress Reports
5. Casa Grande Union High School will be finishing a repainting within a few weeks. The total cost of the project is just under $600K.
6. HonorHealth, a leading Valley healthcare system serving an area of 1.6 million people, is commemorating the last major milestone before the three-story Sonoran Medical Center is complete. Slated to open in September 2020, the $170M new facility is expected to bring 200 jobs to the Valley in the first year.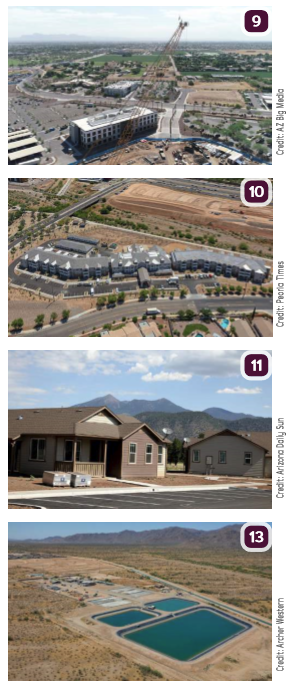 7. Fairmont Scottsdale Princess has been working to remodel and update all 458 guest rooms and 20 suites. Construction began in May, and the entire project is expected to be finished in September.
8. Free Arts for Abused Children of Arizona is transforming a dated office building in central Phoenix into a "center for hope and healing." Construction began on the building in April and is expected to be completed by the end of the year. Point B Inc. worked pro bono as a representative for Free Arts in the real estate process and is serving as the project manager for the renovation. Venn Construction is the general contractor and Studio Ma is the architect for the project.
9. Dignity Health Mercy Gilbert Medical Center and Phoenix Children's Hospital celebrated a major milestone Tuesday in the construction of the new Women's and Children's Pavilion on the Mercy Gilbert campus as the final steel beam of the structure was set into place. The five-story facility is expected to be completed in late 2020 and begin treating patients in the spring of 2021.
Completions
10. Peoria's newest independent living facility, Arrowhead Valley Retirement Resort, for adults ages 55 and older is now open. Still in soft-opening stage, a grand-opening event is slated for September. The facility features 128 rental apartments in studio, one-, two- and three-bedroom options. Floor plans range from 566 to 1,206 square feet.
11. After construction began in 2017, the second phase of the Pine Cliff Bungalows development is beginning to wrap up on McMillan Mesa. While much of McMillan Mesa was protected as permanent open space by voters in 2016, the 15 acres of land the second phase of the Pine Cliff Bungalows is located on only covers a small portion of the 100 acres.
12. The Haviland Rest Area along Interstate 40 west of Kingman has reopened after $3.6M in improvements, according to the Arizona Department of Transportation. The popular rest stop, which is located at milepost 23 about 30 miles west of Kingman, has upgraded restrooms, ramadas, vendor kiosks and utility infrastructure. New well equipment and a water transmission line were also part of the upgrades. Septic tanks and sewer lines were also replaced.
13. Archer Western recently completed the expansion and process upgrades at the EPCOR White Tanks Regional Water Treatment Plant in Surprise. The project features the first CoMag® ballasted clarification system on the water supply end in Arizona. The project engineer was Water Works Engineers.
14. HCW announces the opening of the 100-room, four-story Aloft Glendale at Westgate Hotel located at the southwest corner of West Glendale and North 93rd Avenues in Glendale. Aloft Hotels owned by Starwood Hotels & Resorts has taken the lodging industry by storm offering urban, modern design and a hip social experience all at an affordable price.
15. The Lot: What Should Go Here? Is an evolutionary pop-up park that served the Roosevelt Row and Downtown Arts District as a gathering and sustainable space that connects people with place and purpose. DAVIS worked closely with community developer Dorina Bustamante of Continental Shift, as well as the local artist community, Arizona State University students, businesses, and sustainability experts to create a temporary oasis featuring short-term improvements, including box trees, green grass, park benches, sculpture, and murals to create a dynamic gathering space.