Awards & Accolades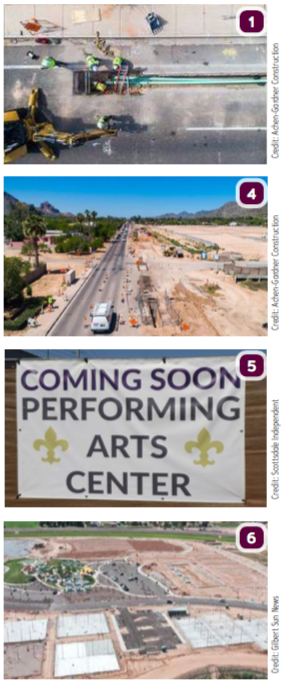 1. Achen-Gardner Construction's Beardsley WRF Solids Pipeline Rehabilitation project for the City of Peoria and Salt River Siphon Repair Design-Build project for Central Arizona Project have both been selected as the AZ Water Association's 2020 Wastewater System Project of the Year and Water System Project of the Year. The Beardsley project involved the installation of the longest section of slip lined fusible PVC pipe ever completed in Arizona. The Salt River project included the most detailed assessment and coating repairs ever performed on a CAP steel siphon. 
Groundbreakings 
2. The Arizona Department of Transportation is set to begin a $13.5M project to improve the I-17 bridge over Central Avenue in Phoenix. The project is scheduled for completion in fall 2021. 
3. A project fast-tracked by the Arizona Department of Transportation will add 38 truck parking spaces to the Haviland Rest Area along I-40 west of Kingman. The State Transportation Board awarded the $3.98M project to Fann Contracting. The project is scheduled to start in the next week and is expected to be complete by July. 
4. Achen-Gardner Construction has begun work on the Roadway Improvements Related to the Ritz-Carlton CMAR project for the Town of Paradise Valley. This second phase of the project includes roadway and wet utility improvements to Lincoln Drive, Mockingbird Lane, and Indian Bend Road near and adjacent to the Ritz-Carlton development. Crews will complete a full roadway reconstruction including a new signalized intersection at Lincoln Drive and Quail Run Road and a roundabout at Indian Bend Road and Mockingbird Lane. 
5. Notre Dame Preparatory in Scottsdale began construction on the 20KSF St. Catherine of Bologna Performing Arts Center, named for the patron saint of the arts. The anticipated construction timeline is about 12 months. The architect is HDA Architects and Willmeng Construction is the general contractor. 
Progress Reports 
6. Construction of Phase 1B at Gilbert Regional Park is moving forward despite the pandemic wreaking havoc everywhere else. The 16 pickleball courts, 16 tennis courts and two basketball courts are scheduled to open in late June with the event lawn and lake opening in early fall.