Awards & Accolades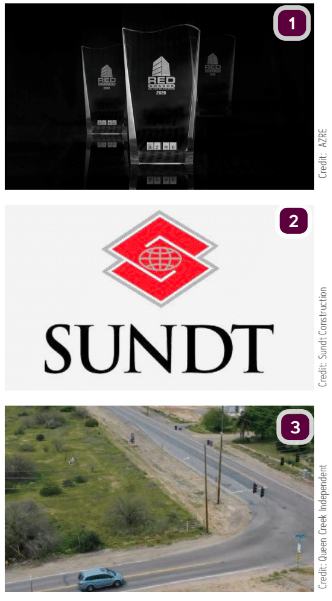 1. AZRE Magazine has announced the winning projects for the 2020 Real Estate Development (RED) Awards via a virtual ceremony. AZRE magazine received a record number of nominations for the RED Awards this year, and 17 were for projects away from the Valley, making it a truly statewide event. Click here to see the list of finalists and to watch the award ceremony. 
Groundbreakings 
2. Sundt Construction, Inc. recently started work on the $9M, two-story, 28KSF Sunstate Training Office Building located on the corner of 56th and Washington Streets in Phoenix. 
3. Queen Creek has started a new capital improvement project at Queen Creek and Signal Butte roads, with a virtual groundbreaking. The project has multiple components, including a full intersection improvement, extending Signal Butte Road north with five lanes from Queen Creek Road to Ryan Road, and widening Queen Creek Road from Signal Butte to Benjamin Franklin, adding a center turn lane. 
Progress Reports 
4. The Arizona Department of Transportation is accelerating a project to widen and improve the Interstate 17 bridge over McConnell Drive entering Flagstaff by closing McConnell Drive until early May, followed by other restrictions through mid-August. ADOT and FNF Construction decided to start full closures of McConnell Drive this month instead of waiting for summer. This will allow the project to finish ahead of schedule and potentially eliminate the need for intermittent closures originally planned during the fall semester at NAU.