Industry Professionals 11-05-19
Giving Back

1. On Friday, October 25th the BEX team volunteered their time on a horticulture project with the Phoenix Zoo's volunteer program.
2. The American Cancer Society held their 2019 Phoenix Big Dig in the Desert event on Saturday, November 2 in Downtown Phoenix. The Big Dig gives local sponsors & kids, including those with cancer, the opportunity to operate heavy machinery & experience a day in the life of a construction worker.
3. On Saturday, November 9, 2019 Urban Land Institute will be hosting a volunteer event at the Guerrero Rotary Park in Mesa from 9am-1pm. The community is invited to work alongside 12 local muralists to enhance the community through creativity and art. Volunteers from the east valley, arts and development communities are requested.
4. Arizona Department of Transportation Motor Vehicle Division Director Eric Jorgensen donated a kid-sized Tesla and U-Haul to the Phoenix Children's Hospital Foundation.
5. The Moenkopi Developers Corporation (MDC), a 501(c) (3) nonprofit economic development entity, has received a $150K grant from USDA Rural Development to support Hopi Villages and communities to successfully advance community facilities projects.
Awards & Accolades
6. Craig Finfrock, CCIM, was selected to be in the 2020 Class of Jay W. Levine Leadership Development Academy by the CCIM Institute. The selection was made from dozens of applications across the country and was announced by the CCIM Board at its annual Governance Meeting and Global Conference October 16, 2019 in San Diego.
7. U.S. News & World Report and Best Lawyers recognized Withey Morris PLC in its 2020 edition of Best Law Firms. Firms receive recognition for "professional excellence with consistently impressive ratings from clients and peers," according to U.S. News-Best Lawyers.
8. Caliente Construction Inc. Superintendent Dave Eatinger was presented the Spotlight Award by the Maricopa County Air Quality Department. Eatinger, who has been with Caliente for almost 20 years, was recognized for his exemplary work in dust control at Caliente's project at the Tempe Fire Medical Rescue Station No. 7.
9. Brad Cooke, executive vice president, Colliers International wins Commercial Executive Magazine's 2019 Broker of the Year.
Boards & Commissions

10. BOMA Greater Phoenix elected its 2020 officers and board members via paper ballots at the recent annual meeting. Robert Vincent, RPA, Cordia Capital Management, was elected President. He is joined by Vice President Michael Chadwick, ViaWest Group; Secretary/Treasurer Marty Brook, CPM, R.E., Metro Commercial Properties; and Allied Chair Chris Gannon, Transcend Security Solutions. Board members for 2020 are:
Patti Brown CPM, RPA, Ryan Companies;
Dan Porter, Paragon Services;
Kathryn Rhinehart, CPM, RPA, LEED, Southwest Davis Management;
Gilbert Romero, Transwestern;
Melissa Scott, CMCA, AMS, Sunbelt Holdings;
and Nate Williams, Pro-Serv Commercial Cleaning.
Company News
11. Focal Point Security (FPS) of Mesa rolled out its first fully automated pole system. Designed exclusively for FPS, their new system can be outfitted with cameras, lighting, long range speaker and microphone and/or anything else that needs to be mounted and elevated.
Promotions
12. Skanska USA has announced that Nick Pemper, an industry veteran with nearly a decade of experience in commercial construction, has been promoted to project executive in Arizona.
13. Lyrit Edmunds has been promoted to chief operating officer at Mark-Taylor Companies. Edmunds will oversee strategy, development and enterprise-level execution for all areas of business within the company.
New Hires
14. Sundt Construction, Inc. recently hired Ted Chamberlain as a project director in its Transportation Group. Chamberlain joins Sundt with 21 years of experience in heavy civil construction management, supervision, and estimating. He has expertise in the transportation and industrial sectors and alternative delivery methods.
15. Energy Systems Design, Inc. (ESD) announced the addition of two new employees to their team. Rick Baca has joined the Scottsdale office as associate/senior electrical designer, and David Empey has joined the electrical team as a systems integration specialist. Baca has over 20 years of experience working within the electrical design and construction field with a focus on complex electrical, power, low-voltage, and lighting systems. Empey has over 15 years of experience in theatrical lighting, AV designs, controls, and rigging.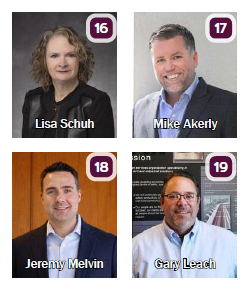 16. Lisa Schuh Services joins the Phoenix office of Newmark Knight Frank (NKF) as associate director of management where she is responsible for the office's property management operations, staff and one million square feet of commercial properties.
17. Mike Akerly has joined Compass Development as managing director, Strategic Development, where he will oversee the delivery of Compass Development's comprehensive range of builder services.
18. Jeremy Melvin joined McCarthy Building Companies as director of human resources for the Southwest region, overseeing all personnel functions in Arizona, Nevada and Colorado.
19. KEAR Civil Corporation announced the addition of Gary Leach as senior project manager, at KEAR's Corporate Office in Phoenix. In this role he will manage KEAR's Bulk Fuel Facility and Hydrant Fuel System construction and maintenance projects.
20. Restoration Builders, Inc. announced it has officially appointed Robert Strecker to a position on its strategic Board of Directors. The Company's Board of Directors, with its latest addition of Strecker, will continue to oversee and provide strategic guidance toward current and future endeavors.