Industry Professionals 09-28-18

Giving Back       
1. Valley Partnership has announced Sunshine Acres Children's Home will be the 2018 recipient of the Valley Partnership Community Project. The annual event brings together hundreds of leaders and members from the real estate and developmental communities for a day of service. This year, join hundreds on November 3 from 8 a.m. – 1 p.m. to build a park, garden, football field and playground for the youth of Sunshine Acres.
Awards & Accolades
2. Phoenix Business Journal has released its list of Top Commercial Real Estate Brokers, determined by the number of local, licensed commercial agents. CBRE takes the top spot with 108 agents. Cushman & Wakefield is #2 with 95. Third, with 65, is Colliers International. The fourth spot is a tie between Commercial Properties Inc. (CPI) and NAI Horizon, both with 58 agents.
Boards & Commissions
3. The Sundt Foundation has updated its board of directors. Terri Pasley, Liz Harvey, Robert Stokes, Joseph Riccillo, Ed Segovia, Lisette Guevara, Nicole Calamaio and Stefanie Teller have all been added to the Foundation's board. The Sundt Foundation Board of Directors is composed of 12 employee-owners, four appointed by the company and eight elected by the membership. The board convenes quarterly to approve grants based on recommendations on funding allocation made by employee committees in each Sundt officiate.
Company News
4. Light Networks, LLC and Cresa recently announced the formation of a strategic partnership to serve real estate clients. The service platform will provide value through communications, colocation and cloud-based technology solutions.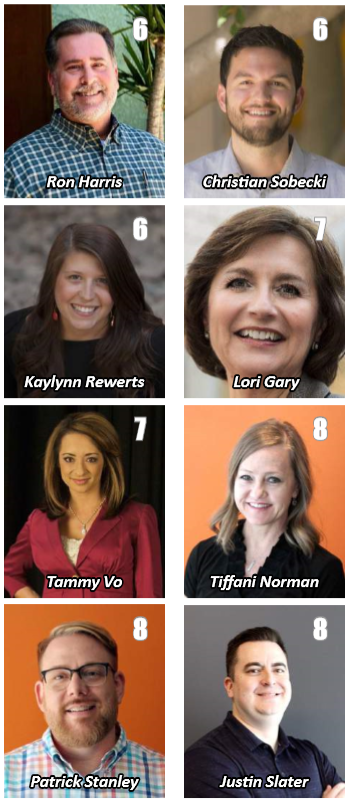 Promotions
5. National law firm Quarles & Brady LLP and its firm chair Kimberly Leach Johnson  announced Leonardo Loo has been selected as Phoenix-office managing partner. His term begins Oct. 1, 2018. Nicole Stanton, who led the office for five years while simultaneously serving as the firm's national associate general counsel, will resume her practice full time and continue on in her role as AGC.
6. Norris Design has announced the promotion of three staff members in their Phoenix office. In his new role as Senior Associate, Ron Harris will continue to apply his 25 years of development planning and project experience. Christian Sobecki has been promoted to Associate. Kaylynn Rewerts has also been promoted to Associate.
New Hires
7. The City of Goodyear has hired Lori Gary as director of the Economic Development Department. She begins on Sept. 25. Earlier this month, Tammy Vo was hired to serve as the city's communications director.
8. Three new project managers have joined the FITCH architectural team in Phoenix. Tiffani Norman, Patrick Stanley and Justin Slater will guide teams to align with client needs and ongoing project programs.