Industry Professionals – 06-04-19
Giving Back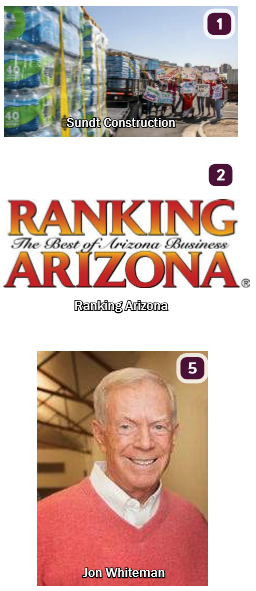 1. Sundt Construction, in the 10th annual Thirst Aid, has teamed up with St. Joseph the Worker to donate water for persons experiencing homelessness. On May 17th Sundt employee-owners loaded pallets of water onto a semi-truck, donated by Sunstate Equipment, at the company's headquarters in Tempe then delivered over half a million water bottles to SJW, breaking their previous record of 296,252 water bottles.
Awards & Accolades
2. Ranking Arizona has released its annual list of the Top 10 Architecture Firms. The top spot for the three categories are:
11 Architects or More: DAVIS
10 Architects or Fewer: Cawley Architects
Landscape Architecture: The Design Element
3. Ranking Arizona has released its annual list of the Top Interior Design Firms. The top spot for the two categories are:
23 staff or more: Gensler
22 staff or fewer: McCarthy Nordburg
4. Ranking Arizona has released its annual list of Top Commercial Real Estate Brokers. The top spot for the given categories are:
24 Brokers or More: CBRE
23 Brokers or Fewer: Avison Young
Industrial: Cushman & Wakefield
Land: Land Advisors Organization
Medical: Avison Young
Multifamily: CBRE
Office: Colliers International
Retail: Zell Commercial Real Estate Services
In Memoriam
5. Jon Whiteman, longtime CEO of Empire Southwest, passed away May 30, 2019, at the age of 79. Beyond his work in the corporate world, he is well remembered for his efforts to improve early childhood education, healthcare for minors, and to protect against human trafficking
Company News
6. Clear Commercial Advisors has moved its Valley headquarters from the Camelback Corridor to Downtown Phoenix, moving into the ground floor of the Summit at Copper Square where it purchased space in 2017.
7. Zoned Properties has recently added brokerage services after years of contracting those services out to other brokerage houses. Zoned Properties specializes in the regulated cannabis industry; the brokerage services will be handled by Joseph Lewis, owner of The Real Estate Brokers.
Promotions
8. Phil Fargotstein has been named Managing Partner of Fennemore Craig's Phoenix office. He has spent the last 37 years with the firm, after serving 15 years in the Marine Corps. His area of practice has been Environmental Law.
9. The Phoenix office of JLL has promoted four senior brokers, advancing Brett Abramson, Keith Lammersen and Steve Larsen to the title of Executive Vice President and Chris Latvaaho to the title of Senior Vice President. Each of the brokers serves as leaders in the industry, from maintaining committee leadership positions with NAIOP and local philanthropic organizations to being recognized as CoStar Power Brokers and JLL Top Achievers.
10. Chris Brown has been promoted at TDIndustries to Senior Vice President of Special Projects. In this role, Brown will oversee prefabrication, purchasing, fleet maintenance, and the warehouse in addition to his current role as leader of TD's renovation and expansion construction division.
11. Jay Layton has been promoted at TDIndustries to Senior Vice President of Arizona Construction and Service. In this role, Layton will continue to oversee project management, preconstruction, virtual design and construction (VDC), and now will have oversight of the Service Team.
Transitions
12. Jim Hillyard joins Valley Metro's executive team as Chief Administrative Officer. Prior to joining Valley Metro, Hillyard served as Deputy Director for Operations at the Arizona Department of Economic Security. He brings more than 20 years of public sector executive experience.
13. Andy Tobin has left the Arizona Corporation Commission to lead the Arizona Department of Administration. Replacing his seat on the Corporation Commission is Lea Marquez Peterson, a former President of the Tucson Hispanic Chamber of Commerce.
14. Virtua Partners has hired Jeremy Hall as the company's first chief development officer. Hall previously worked as the president of MCO Properties.
15. Colliers International in Arizona has hired Ross Peterson as Vice President. Peterson represents tenants in office leasing transactions.
16. CBRE's Tucson office welcomes Alex Demeroutis as Associate with Advisory and Transaction services, Industrial & Logistics. She joins the team partnered with Jesse Blum. Demeroutis recently worked for the Greater Oro Valley Chamber for more than seven years.