Industry Professionals 01-25-19
Giving Back

1. The Tucson office of Terracon presented a $10K check from its foundation to the University of Arizona College of Engineering. The grant will be used to support graduate students studying Geotechnical and Civil Engineering.
Awards & Accolades
2. Small Giants, LLC. was recognized by MarCom with 12 awards, including three platinum awards, five Gold awards and four Honorable Mentions. The MarCom awards were administered and judged by the Association of Marketing and Communication Professionals.
Boards & Commissions
3. Bryan Kuster, vice president of operations for McCarthy Building Cos Southwest was elected to the AZ Chamber of Commerce and Industry's Board of Directors.
Company News
4. Magnum Companies is celebrating its 40th anniversary. Based in Phoenix, Magnum provides metal fabrication solutions for its clients in Arizona and around the country.
Promotions
5. Mark-Taylor Companies has named Chris Brozina as the new Chief Executive Officer effective immediately. Brozina was most recently the executive vice president of Mark-Taylor Companies.
6. Douglas Stingelin, PE, QCxP, LEED AP has been appointed the newest member of the Board of Directors at GLHN Architects & Engineers Inc.
7. Alvarro Parra has been promoted to operations manager at RestorationHQ. He will oversee day-to-day field operations, scheduling, budgets, etc. as well as supervise a team of project managers.
8. AJ Thomas, AIA, ACHA, NCARB, LEED AP, EDAC was promoted to Principal at Corgan in Phoenix, with 18 years of architectural experience with an emphasis on healthcare spaces.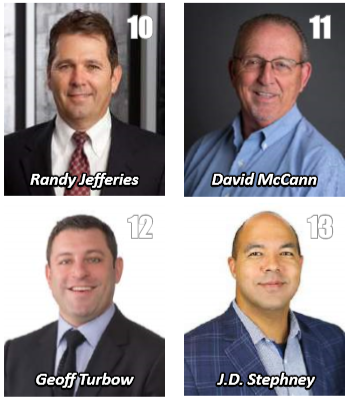 New Hires
9. Brian Rosella and Chris Medill, have joined Kidder Mathews' Phoenix office, where they will specialize in land sales throughout Arizona. Rosella has been named a senior vice president and Medill has been named an associate with the firm.
10. Fennemore Craig PC has recently added Randy Jefferies as director to their team.
11. David McCann has joined DP Electric Inc. as a senior project manager and will be responsible for providing quality leadership by managing the operational and financial aspects of construction projects.
12. CBRE announced Geoff Turbow has joined the firm as First Vice President with Capital Markets, Investment Properties. Mr. Turbow will focus on representing private investors in the acquisition and disposition of office and industrial investment properties throughout Arizona.
13. Henderson Engineers announced they have hired J.D. Stephney as a new associate and project manager in their firm's Phoenix office.