Industry Professionals 01-11-19
AZBEX Staff Announcements
1. Corwyn Geiger – New Hire

We are very excited to announce that Corwyn Geiger has joined the AZBEX team as Account Manager. Corwyn will be spreading the word about our products and services and how they can improve business for those working in the A/E/C arena while taking care of current clients. In his previous roles, he has worked in outside sales and as District Manager for Industrial Facilities Services. Corwyn has a Business Management degree from University of Tennessee-Martin and 15 years of experience in Account Management that he will be bringing to the AZBEX team. In his spare time, Corwyn teaches Youth Basketball and is a licensed Realtor.
2. Kristen Amado – Promotion
Kristen Amado has been promoted to Senior Researcher for AZBEX. She will be taking on the responsibility of researching new public projects & quality control for the AZBEX Database, in addition to researching open solicitations, results, awards and permits for the Digital Magazine.
3. Tasha Anderson – Promotion
Tasha Anderson has been promoted to Editor of the AZBEX Digital Magazine. In her new role, she will be in charge of managing coverage and reporting on A/E/C, development, commercial real estate and trends all around Arizona.
Giving Back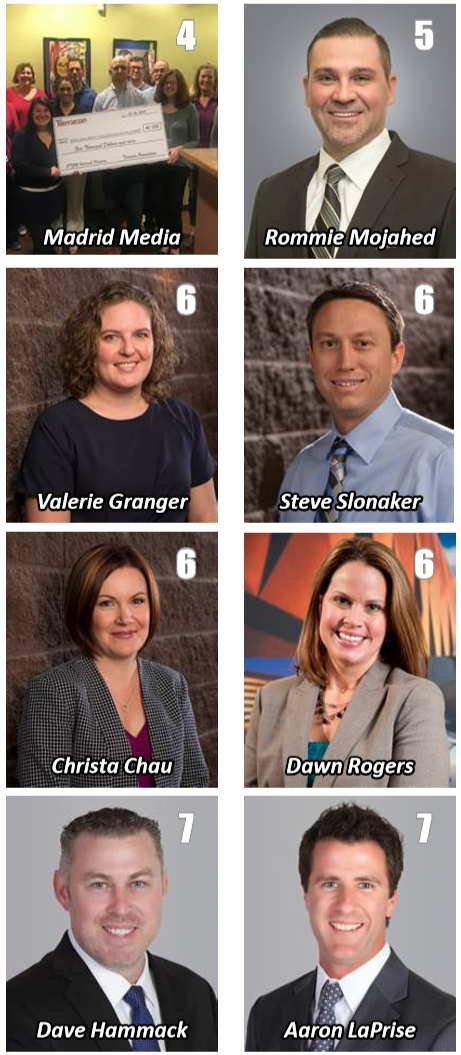 4. The Tucson office Terracon presented a $5K check from its foundation to the Southern Arizona Research, Science, and Engineering Foundation (SARSEF). SARSEF is a 501(c)(3) whose mission is to create Arizona's future critical thinkers and problem solvers through science and engineering. Tucson Office Manager Derek Koller submitted the nomination.
Awards & Accolades
5. Director of Retail Leasing & Sales Investments, Rommie Mojahed was named to the SVNIC's TOP 100 advisors across the nation in every single month of 2018. With approximately 70 deals closed out in 2018, Mojahed was recently named the 2018 Top Producer of the Year.
Promotions
6. PK Associates Consulting Structural Engineers has announced the promotion of four employees. Valerie Granger, P.E., S.E. has been named President; Steven C. Slonaker, P.E., S.E. has been named Director of Engineering; Christa Chau, P.E., S.E., LEED AP, has been named Director of Special Projects; and Dawn Rogers has been promoted to Director of Business Development.
7. Cushman & Wakefield | PICOR has announced Dave Hammack and Aaron LaPrise have achieved shareholder status.

8. Brian Gast has been promoted to Executive Vice President and Principal at Velocity Retail Group. Brian started with Velocity Retail in 2014 and is in his 17th year in the retail commercial industry.
9. Trammel Crow Company announced that Ryan Norris and Cullen Mahoney have both been promoted to Vice President within the firm's Phoenix Business Unit. Both individuals previously served as Senior Associates.
10. Tierra Right of Way Services, Ltd., has announced that Vanessa Martinez was recently promoted to the position of Marketing Manager.
11. Rider Levett Bucknall has promoted Cathy Sewell to Principal and Dave Powers to Associate Principal. Both are based in the Phoenix office.
12. Stirling Pascal has recently been promoted to Associate for Lee & Associates.
New Hires
13. ABI Multifamily has announced the addition of Roland Murphy as their new Director of Research. Prior to joining ABI, Murphy most recently served as Editor and Communications Director for the Arizona Builder's Exchange Digital Magazine.
14. C&S Companies has announced the addition of Joe Dietrick, P.E., to the Phoenix office. Joe brings significant depth to the civil engineering practice in the Southwest through his 37 years of experience with a wide variety of infrastructure projects.
15. CBRE announced that Sean Spellman has joined the firm's Phoenix office as Senior Vice President with CBRE Advisory & Transaction Services, Investor Leasing. He will specialize in office leasing, providing owners of institutional quality office properties throughout metro Phoenix with world-class marketing and leasing strategies.
16. The Phoenix office of JLL has hired Tyler Woodard as Vice President within the Multifamily Finance West Team. In his new role, Woodard is responsible for originating and structuring U.S. debt and equity opportunities for multifamily properties.
17. W.E. O'Neil Construction Company has announced the addition of Jason Van Dyke and Alan Gonzalez to their team of construction professionals in their Phoenix office. Jason will serve in the role of Senior Project Manager and Alan has been added as an intern.
18. The University of Arizona has appointed Carol Stewart as the new leader of Tucson-based UA Tech Parks. Stewart, who is associate vice president for Tech Parks Arizona, will oversee the UA Tech Park at Rita Road, and its Arizona Center for Innovation business incubator as well as developing the UA Tech Park at The Bridges.
19. TEPCON Construction has hired on Hunter Sorenson as Assistant Project Manager.