What do Rising Construction Costs Mean?
By Rebekah Morris for AZBEX
National Metrics Leave Much to be Discussed on this Topic
This week alone, two national metrics were released regarding the level of construction activity and costs nationwide: Marcum Commercial Construction Index rises 2.1 percent Year Over Year, and the 2019 Q1 Rider Levett Bucknall Construction Cost Report (RLB) notes a national Year Over Year cost increase at 5.73 percent. The report goes on to peg the Phoenix market as experiencing a 6.7 percent annual increase to construction costs.
According to Marcum's Q1 2019 Commercial Construction Index, Anirban Basu, the report's author and Marcum's chief construction economist, says, "With lengthy backlogs in hand and given the ongoing momentum apparent in the U.S. economy, contractors have little reason for concern regarding near-term demand for construction services. Accordingly, hiring activity continues to be robust even in the context of large-scale construction skills shortfalls."
Construction activity is undoubtedly on the rise and in some conversations, peaking. In the second-annual BEX Construction Activity Forecast Event, our own research predicted a 14.5 percent annual increase in construction volume statewide from 2018 to 2019. In 2018 the state produced a healthy $13B in construction volume. BEX researchers point to a total statewide construction volume of $14.8B in 2019.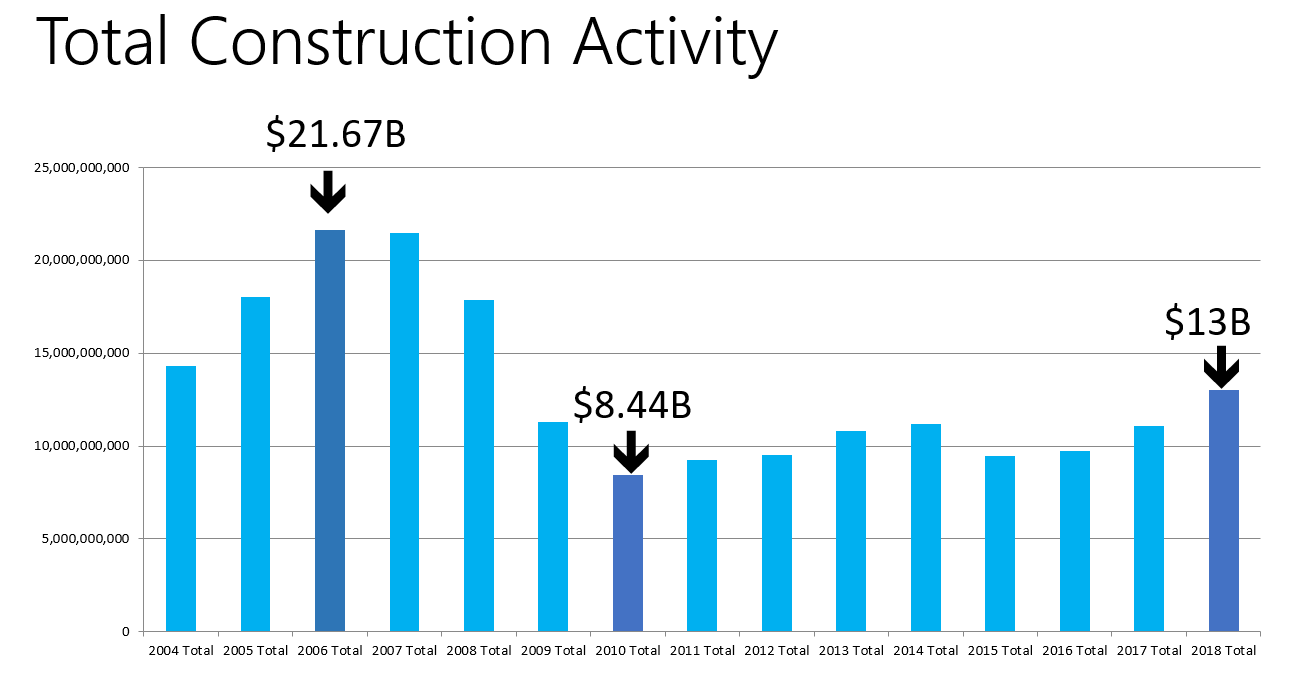 RLB's Q1 Cost Report also compares prices across the nation and Canada. Phoenix has a relatively low cost of construction, especially when compared to cities such as New York, Seattle and Chicago. Additionally, the recent rate of construction price increases is the highest level in the last 10+ years.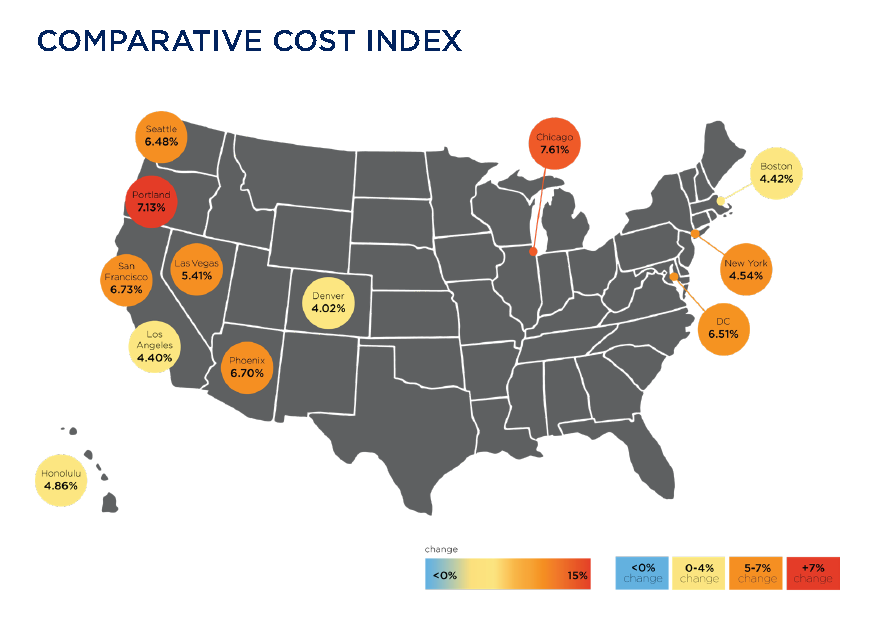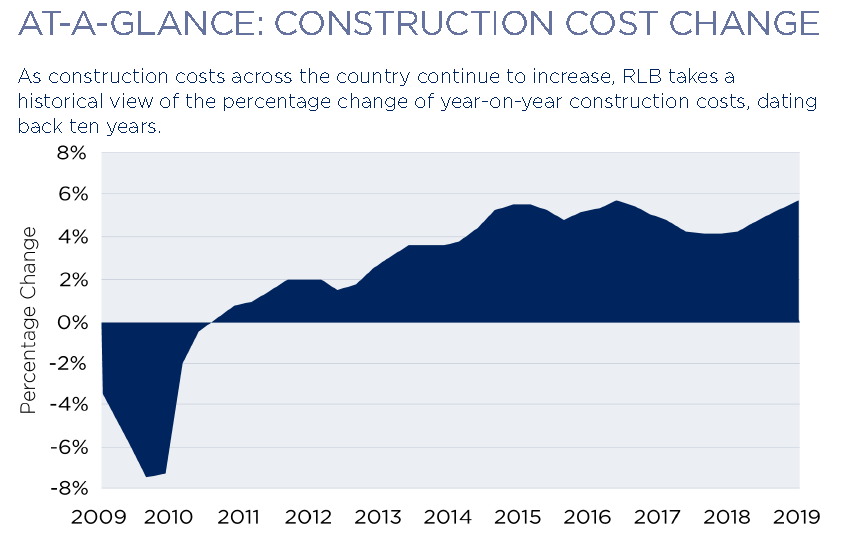 Factors Driving Construction Cost Increases
The basic construction inputs of labor, materials, and overhead/profit are all on an upward climb not only due to high levels of market activity. A shortage in skilled construction labor has been making headlines for the last several years. While highly skilled craft labor can produce a high quality at the same time as producing a large quantity, less skilled labor produces a lower quantity for the same amount of manhours, driving overall labor costs up for the same amount of output.
The cost of construction materials has increased not only due to demand increases, but external factors including tariffs and transportation costs. Tariffs are impacting not only imported materials, but products manufactured in the U.S. as well. U.S. manufacturers have been able to raise prices while remaining competitive when compared to the new higher priced imported goods. Additionally, individual products are not experiencing the impacts of tariffs equally. While steel imported from China may have seen a spike in price last year, lumber products are seeing a slight decline over the same time period.
Not often discussed are the bidding conditions for subcontractors and general contractors: as demand increases, increased profit and margins are coming into play. When bidding to general contractors, subcontractors have to consider a plethora of business concerns. Some might even be submitting artificially high numbers thinking they won't possibly win with that price, but if they do, they can go buy out a competitor's crew to perform the job, move in temporary workers from out of state or pay enough overtime to their current workforce they can still make a profit on the job.
Many Details Left to Explore
If you're like the BEX research and editorial staff, national metrics are great, but we want more. We want to get into the nitty gritty details of where materials are being sourced, how much wages have increased and in which trades, the impacts of procurement methods on contract price, and much more. If you similarly want answers to these questions and many more, consider attending this Thursday's Leading Market Series. We've lined up a wide variety of resources from civil and commercial contractors, subcontractors and manufacturers and distributors of materials.
Below are the roundtable participants:
Mike Bontrager, President, Adolfson & Peterson Construction
Andy Clarke, General Manager, Roofing Southwest
Mike Greenawalt, Senior Vice President, Rosendin Electric, Inc.
Lloyd Hannon, Phoenix Ready Mix Manager, CEMEX
Ben Rathke, General Manager, Ferguson Waterworks
Roger Rowley, Pre-Construction Manager, Hunter Contracting
Brian Scherer, Business Development, Bell Steel
There are only a few tickets remaining, secure your spot here.