Commercial Real Estate Transactions 10-08-19
Sales Transactions
1. Griffin Capital Essential Asset REIT has acquired McKesson III, a Class A office building at 5801 N. Pima Road, Scottsdale. Ryan Cos. sold the asset for $37.7M. Team Toci of Cushman & Wakefield represented Ryan Cos.
2. Sundance Bay, LLC purchased Solano Vista, a 352-unit apartment community at 7102 N. 43rd Avenue, Glendale, for $30.75M. Brian Smuckler, Jeff Seaman, Derek Smigiel and Bryson Fricke of CBRE in Phoenix represented the seller, 3rd Ave Investments, and the buyer.
3. Festival Ranch North LLC, an entity comprised of LKY Development, RC Spurlock LP and Mt. Shaw Holdings LLC, has bought more than 8,900 acres at Patton Road and 243rd Avenue, Buckeye, for $25M.
4. Winfield Apartments of Scottsdale, LLC purchased The Winfield of Scottsdale, a fully renovated 95-unit premier apartment complex at 8021 E. Osborn Road in Scottsdale, for $18.3M, from Winfield Apartments, LLC. David Fogler and Steven Nicoluzakis of Cushman & Wakefield represented the buyer.
5. Arizona State University has sold a 20-acre parcel of land in Phoenix to Treger Financial for $14.2M. Treger Financial intends to build apartments on the 20-acre site after tearing down most of the existing buildings.
6. 20825 W. McDowell SP, LLC and William Warren Pro purchased Dominion Verrado Self-Storage, a high-end 81.3KSF, state-of-the-art storage facility at 20825 W. McDowell Road, Buckeye, for $9.1M. Paul Boyle, Greg Wells and Rick Danis of Cushman & Wakefield represented both the buyer and seller, Dominion Self-Storage, LLC.
7.  Land Advisors Organization Scottsdale team of Greg Vogel, Bret Rinehart, Ryan Semro and Ben Heglie represented the buyer, Rancho Cabrillo Recovery Acquisitions LLC, in the transaction of 63, 55'x115' finished lots located northeast of Dysart Road and Happy Valley Road, Peoria, for $6.4M to Ashton Woods Homes.
8. LevRose Commercial Real Estate announced the sale of a 7.5KSF multi-tenant building a 11220 N. Tatum Road, Scottdale for $2.825M.
9. Freeway Clover, LLC purchased a 32.5KSF industrial, multi-tenant business park from Long Meadow Ranch, Inc. The northwest Tucson investment property, located in Freeway Industrial Park at 3248 & 3260 N. Freeway Industrial Loop, was purchased for $2.495M. Principal Robert C. Glaser, SIOR, CCIM, Industrial Specialist with Cushman & Wakefield | PICOR, handled this transaction.
Lease Transactions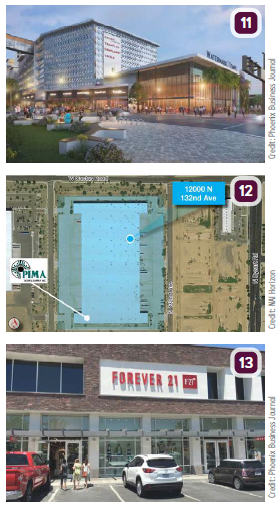 10. Nationwide Realty Investors announced that Choice Hotels International, Inc., will move its technology headquarters to Cavasson, its 134-acre premiere mixed-used project now under development at Loop 101 and Hayden Road in Scottsdale. The company's technology division will occupy a new five-story, 150KSF building with a spacious patio and top-floor balcony space. Fred Darche and Spencer Nast of Lee & Associates represented Nationwide Realty Investors. The leasing agents representing the tenant were Tiffany Winne and Steve London of Savills.
11. Opendoor, which employs 250 people at its Scottsdale location, is vacating its offices at the Quad and moving to Tempe. The company will move into 100KSF of space at the Watermark, 410 N. Scottsdale Road. Ryan Bartos and Kyle Seeger, brokers with JLL, represented Opendoor. CBRE's Mike Strittmatter and Brad Anderson represented Watermark.
12. NAI Horizon Senior Vice President Isy Sonabend represented Pima Door & Supply, Inc., in a long-term 47.3KSF lease totaling $1.326M at West Valley Logistics Center, 12000 N. 132nd Avenue, Surprise. The landlord, Mazal Realty ADA Compliant LP was represented by Bill Honsaker of JLL.
Closures
13. Fashion retailer Forever 21 filed for Chapter 11 bankruptcy Sunday and plans to close 350 stores worldwide, including three in Arizona. The downsizing effort will hit two Macerich-owned Valley malls — Arrowhead Towne Center in Glendale and Scottsdale Fashion Square., and the F21 Red store at the Mariposa Mall in Nogales.