AZBEX Adds 2 New Staffers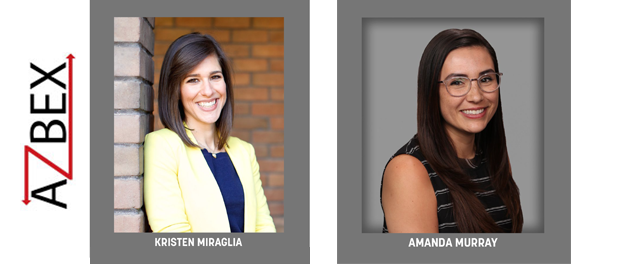 By AZBEX Staff for Arizona Builder's Exchange
We at AZBEX are delighted to announce we have recently added two new staff members to our team.
Amanda Murray has joined the team as Office Administrator to keep Rebekah, Rachel, Roland and the non-alliterative staff on task and running smoothly. She has a background in English and English Education that has already proven useful in terms of assisting with both internal and public-facing communications. When she's not in the office, Amanda enjoys the finer things in life, like chauffeuring her 8 year-old, scheduling hair appointments for her poodle (Nibbler), and tidying up after her husband.
Amanda can be reached at amurray@azbex.com or by phone at 480.600.8693.
The other new addition is Kristen Miraglia, our new Events Coordinator. Kristen has worked as an event professional – primarily with local non-profit organizations – for more than 6 years. Over the past 2 years she has expanded her experience to weddings and now brings her expertise to bear for AZBEX. She loves the thrill of event day when months of hard work culminates in an exciting guest experience.
Kristen loves to travel the world, usually with her husband, though she has been known to leave him behind. Her bucket list includes staying at Giraffe Manor in Kenya and sky-diving in New Zealand. In 2015 she brought a sassy chocolate lab (Shiloh) home, and it hasn't been quiet since.
Kristen is available at kmiraglia@azbex.com or 602.326.4728.