By Rebekah Morris for AZBEX 
On Wednesday, September 30th, 2020, more than 100 people logged on to the most recent Leading Market Series (LMS) event presented by BEX, which explored the topic of Alternative Project Delivery Methods (APDM) contract usage by public owners. Since 2000, HB2340 enabled the usage of APDM, including Design–Build, Construction Manager at Risk (CMAR) and Job Order Contract (JOC). Given these new tools to use in the realm of public procurement of construction services, public owners have been able to deliver construction projects faster with more collaboration, less risk of litigation and higher quality than a traditional Design-Bid-Build approach.  
Panelists included Chris Coulter, Executive Director for Capital Programs Management Group, Arizona State University; Eric Froberg, City Engineer, City of Phoenix; and Sue Gray, Principal, BWS Architects. The panel was moderated by Rebekah Morris, President & Founder, BEX. 
History and Usage of APDM Contracts 
Froberg explained that the City of Phoenix was one of the very first entities to participate in the APDM contract usage, and since implementing in 1999, more than 400 CMAR, 80 Design-Build, and 7,600+ JOC projects have been delivered by the City. There are a variety of reasons for selecting the APDM contracts; Froberg explained that the biggest considerations usually include: time savings, risk management, cost and quality. For example, delivering smaller (<$4M) projects through the JOC program enables a faster completion for projects that have minimal risk and well-defined scope such as a pavement maintenance project. Larger projects with more unknown variables such as renovation projects with unknown conditions tend to go more into the CMAR contract type. Froberg pointed out that although Design-Build only accounted for 1 percent of the total procurements, the volume of construction through that delivery method is 5 percent.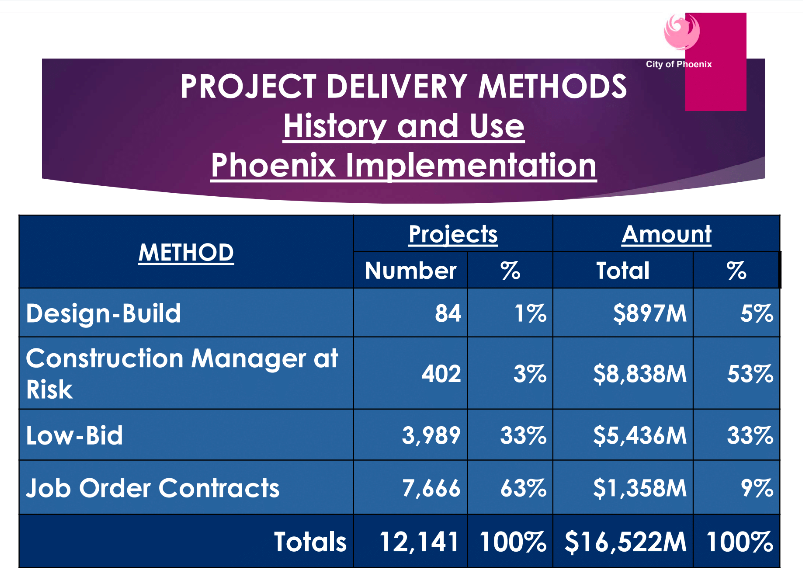 Coulter added context to the discussion, relating how universities are reliant on tuition and student fees as the largest source of revenue for the entity. When looking at attracting students to a university, Coulter pointed out that 62 percent of students base their college decisions on the appearance of the buildings and landscape. Knowing this, the investment in capital assets becomes critical to the long-term success of the higher education institution. He went on to explain that CMAR is the preferred method of contract for most large projects, although ASU does employ a robust JOC program, as well as low-bid contracts for some of the smaller facilities and maintenance type projects.  
Gray explained that from the design perspective, construction contract types absolutely matter. They influence how collaborative the team environment will be throughout the life of the project (low bid projects can lead to a more contentious or adversarial relationship on a project), how much input the contractors have in design assist and early constructability reviews, and both the initial and final cost of construction. She explained that the better the team environment, the more engaged everyone stays in the process and the project is ultimately more successful.  
She sees many of her public sector clients use CMAR as the preferred contract type, with Design-Build rarely being employed by K–12 school districts especially. She explained that the Qualified Low Bid, similar to a select list, is being used for construction projects that are relatively simple and can be fully defined. Using the Qualified Low Bid process, the contract type is still a low bid, and the owner needs to understand that and hold contingencies beyond what they might for a CMAR contract. 
Current and Future Procurements Using APDM 
ASU is in the process of using Design-Build on a large building project, a 143KSF replacement of Wilson Hall that will include academic office space, computer labs, seminar spaces and more. Coulter explained that Design-Build was chosen as the delivery method for this project because the university reviewed the project as a good opportunity to use a single contract, the spaces were not going to be as complex as some of the research and lab buildings they have recently undertaken. That procurement is still in review, as written statements of qualifications were due September 29th, 2020. 
Froberg described an upcoming scenario where the city has identified two nearly identical projects and is testing to identify how contract type influences the end result when comparing: time, quality, initial cost, and final cost. The two projects are in the same location and will be delivered in the same time period. He will use data from these two projects to quantify how the contract type does or does not save the City time, money, and what differences (if any) in quality are realized. 
Construction projects are inherently risky. Public Owners who use taxpayer funds to deliver infrastructure as a public asset employ a variety of contract types to build and maintain critical facilities that are not only utilitarian in nature, but enhance the quality of life and economies of the spaces in which they are built. 
The next virtual BEX event is the 2020 Public Works Conference/Private Development Summit on October 15th. Registration includes both segments and attendees will receive a complimentary ticket to the November and December 2020 Leading Market Series events. Click Here to register.