By Rebekah Morris for AZBEX 
The top 10 Capital Improvement Programs (CIP) in Arizona total $22.5B, a 6.01 percent year-over-year increase over last year's tally. BEX evaluates the internal planning documents produced within more than 30 municipalities each year, identifying funding levels and future trends in public spending for infrastructure and public spaces. This is the fifth consecutive year of increased budget levels for capital spending in Arizona municipalities. 
Top Capital Programs 
The preliminary top capital programs for the state are very similar in order from last year. This year the added instability due to COVID-19 introduced a new layer of risk. By and large, the preliminary CIP documents are not accounting for any projected revenue dip due to the public health epidemic. Rather, statements in the presentation to council and introductions indicate that municipalities budget process are establishing the upper limits of spending allowed by statute. If revenue comes in below projections, the municipality will adjust and reduce spending. Just because a project is in the CIP document, that does not mean the project will move forward. Not this year at least.  
Municipalities with very large increases in their planned capital programs include: City of Phoenix, Town of Gilbert and the City of Scottsdale. In November 2019, Scottsdale voters approved bond questions, resulting in a new infusion of capital for much needed and delayed public works projects. Prior to November 2019, voters had repeatedly voted down bond questions, which led to a long list of unfunded projects the city was unable to complete. Similarly, Phoenix is enjoying additional revenue for capital projects due to a water rate increase passed by Council in January 2019 and T2050, a sales tax measure whose revenue is directed to transportation and transit projects.  
Arizona Department of Transportation projects appear to be some of the least certain this year. What was touted last year as a great Economic Development investment, the I-17 reversible flex lanes between Black Canyon City and Sunset Point, is no longer showing in the Preliminary State Transportation Improvement Plan (STIP).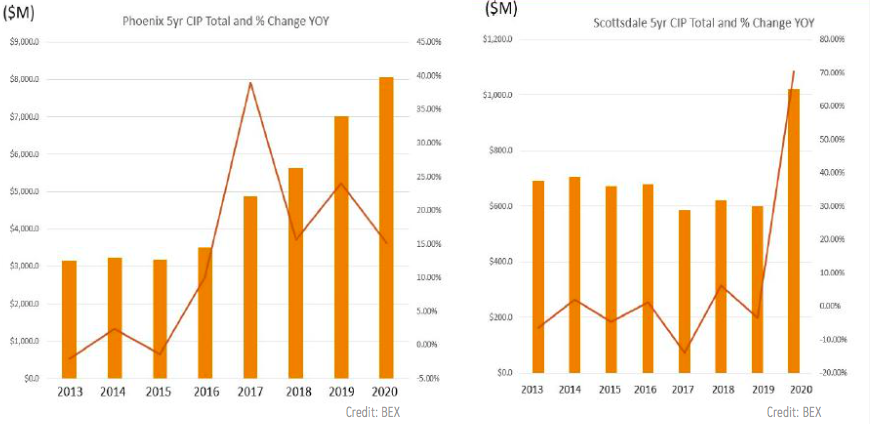 Shift in Funding to Bonds 
Last year, BEX identified a trend of local municipalities using "Pay as you Go" funds, or general fund monies for capital projects. That trend has reversed this year as cities like Scottsdale were able to pass bond questions and take on new debt to fund capital projects. That appears to be a saving grace for many agencies this year, what would have put these capital projects at risk, declining sales tax revenue, is much less of a risk now that cities are able to use one-time funds for one-time expenses. 
Light Rail Projects End in Sight 
While Valley Metro continues on with some of the largest projects across the Valley, when these expansions are complete, there are no new segments being added to the list. In 2021 both the OMC and Tempe Streetcar are projected to complete construction. Then the South Central and Northwest Phase II expansions will wrap up in mid-2025. The last light rail extensions are the I-10 Capitol West, Phases I and II.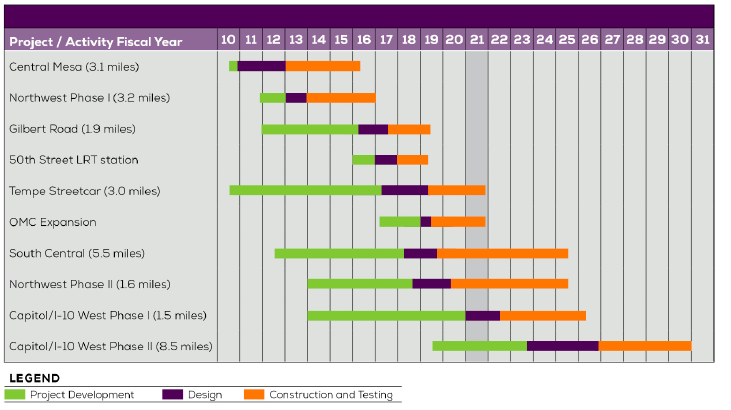 Conclusion & Outlook on Public Works Projects 
Local agencies in Arizona continue to invest in infrastructure and public works, as shown by the totals in their preliminary CIP documents. For the last nine years, BEX has observed that between the preliminary CIP document and the final approved CIP, funds are re-appropriated and the final CIP document is larger than the preliminary. This year might be the first time that does not hold true as municipalities attempt to predict the economic impacts of COVID-19. Because most public works projects are funded from dedicated revenue streams like water user fees or debt including GO bonds, they appear to be more likely to move forward. Additionally, if another economic stimulus package is proposed at the federal level, it may include a large infrastructure component. If that does come to be, the federal infusion of capital spending would more than overcome any reduction in spending at a local level.