Giving Back


1. As the economic impact of the pandemic continues to affect our communities, GLHN Architects & Engineers, Inc. has taken action. A fundraising campaign led by Associate Director of Business Development, Cloriza Lomeli, has raised $5,916 – a total of 41,412 meals for local foodbanks. In addition, the 100 percent employee-owned firm elected to contribute the $13K budgeted for a holiday event to the Community Food Bank of Southern Arizona and St. Mary's Food Bank.
2. Valley Partnership announced the 2020 Community Project Challenge Grant raised more than $89K benefitting St. Vincent de Paul. As the Valley of the Sun's premier advocacy group for responsible development, Valley Partnership has given back with an annual community project for more than 30 years. This year, the organization focused on how the industry can help those most in need through direct donations.
3. The David R. Sellers Foundation recently raised $20K for the Arizona Cancer Foundation for Children. LGE Design Build and Creation, a development partner of LGE, both matched the donation goal, bringing the total raised to $60K. The money will bring assistance and support directly to families as they focus on specific challenges throughout their cancer journey.
4. Achen-Gardner Construction participated with the Young Contractors Forum of the Associated General Contractors in donating to Save the Family. Together they raised more than $12K, allowing us to provide holiday meals and gifts for 14 families.
5. Christopher Todd Communities is collecting non-perishable food donations at their home leasing centers through Thursday, January 7th in support of St. Mary's Food Bank. In Goodyear, donors can drop off items at Christopher Todd Communities at Estrella Commons, 15385 W. Fillmore Street. In Litchfield Park, they can drop off items at Christopher Todd Communities on Camelback, 12350 W. Camelback Road. Most-needed items are peanut butter; canned protein such as chicken, tuna or Spam; canned ravioli; canned fruits packed in 100 percent fruit juice or no sugar added; dry or canned low-sodium beans; whole wheat or whole grain boxed cereal.
Awards & Accolades
6. Phoenix Business Journal has recently named Joseph Zaleski, Safety Director for Sunland Asphalt & Construction, one of the Most Admired Leaders of 2020.
7. AZ Business Magazine has recently named Casey Cartier, President and CEO of Jokake Construction, one of Arizona's Business Leaders to Watch in 2021.
8. Phoenix Business Journal recently named the winners and finalists for the 2020 Best Places to Work. The A/E/C/ finalists include:
Ideation Design Group – Micro-sized company category (10-49 employees)
Chasse Building Team – Mid-sized company category (100-249 employees)
McCarthy Building Companies – Large-sized company category (250-999 employees)
Boards & Commissions


9. Christian Solorio, AIA, NOMA, LFA, LEED AP, an architect with Architectural Resource Team, has recently been appointed to the Trellis and Trellis Community Development Board of Directors.
10. Flinn Foundation President and CEO Tammy McLeod, Ph.D., has accepted the position of Board Advisor of The Utility Customer Research Consortium. She brings private-sector executive and community leadership experience to the role, including 23 years at Arizona Public Service.
Company News
11. Since celebrating its 15th anniversary last year, Solutions AEC (SAEC) has continued its growth and market presence. As 2021 nears, the engineering-led design-build firm is rolling out a refreshed and updated website. The firm employs a workforce of 10 in the Valley and will be moving into a larger space in January 2021 to accommodate its growth.
Promotions
12. Canyon State Electric recently announced the promotion of Robert Hughes to VP of Operations and Andrew Pavey to Senior Project Manager. In his new role, Hughes will continue to oversee construction operations as well as strategic planning and new lines of business. In his new role as senior project manager, Pavey is responsible for participation in design build projects, developing budgets and cost estimates, value engineering activities, and all aspects of project management from initiation to project close out.
New Hires
13. MFRG-ICON Construction recently brought on Peter "Gold" Ezugwu as Director of Community Relations and Partnerships to support the firm's vision and make a lasting impact in the communities in which MFRG-ICON works closely. Ezugwu will work alongside the firm's social impact committee to identify opportunities for the firm to partner with non-profit organizations, clients, and other social and community organizations.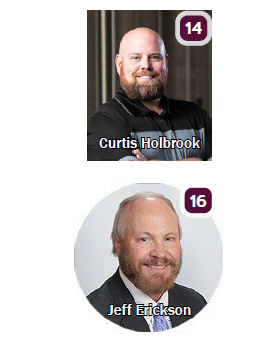 14. Stevens-Leinweber Construction (SLC) has hired industry veteran Curtis Holbrook, marking the latest expansion of the company's rapidly growing ground-up construction division. Holbrook brings more than two decades of experience to his new role, where he will oversee key ground-up industrial projects for SLC and contribute to the overall growth of the company's ground-up division with expertise in healthcare, office, retail and hospitality construction.
15. SVN | SFRhub Advisors expanded its commercial real estate brokerage team focused on the single-family residential (SFR) and Build-for-Rent (BFR) rental investment portfolio segment with the addition of Tom Johnston, who has joined as National Director of Brokerage Services.
Transitions
16. Civil & Environmental Consultants, Inc. announced that Jeff Erickson is retiring. Erickson has spent the past three years at CEC expanding their expertise and capabilities in metropolitan Phoenix and throughout the southwest alongside his business partner Tom Meeks. The two started their civil engineering firm Erickson & Meeks Engineering back in 2000 after working together for seven years. EME operated until 2017 when the firm joined CEC to give their clients new access to environmental services.