Industry Professionals 11-24-20
Giving Back

1. Six volunteers from ABI Multifamily on November 14th joined Habitat for Humanity to work on a home renovation project for a deserving Mesa family.
Awards & Accolades
2. AZ Business Magazine named Sherman Cawley, President and Founder of Cawley Architects, one of the Business Leaders to Watch in 2021. A native Arizonan, Cawley has practiced architecture in Phoenix for 40 years, primarily in the design-build commercial arena. After founding Cawley Architects in 1994 and collaborating with the Valley's foremost builders, Cawley Architects quickly became one of the premier design-build architectural firms in Arizona.
Boards & Commissions
3. Bobbie Lorraine Mastracci, CCIM, SIOR, Designated Broker/Principal of Phoenix West Commercial, was named to the CCIM Institute's 2021 Executive Committee at the organization's Annual Governance Meetings held virtually October 21st-23rd and 26th-29th.
Promotions
4. Sundt Construction, Inc. promoted Melissa Love to project controls manager in its Tempe office. For nearly 10 years, Love has worked on numerous projects across the Southwest region, preparing contract proposal estimates, including determining appropriate project plans and specifications. She served as a senior estimator on the award-winning Union Tempe and Pima County Public Service Center.
5. Sundt Construction, Inc., promoted Tom Bersbach to senior project manager and Courtney Hoyt to project engineer II in its Tucson office.
6. Sundt Construction, Inc. promoted Aaron Bond to project manager, Lance Bemis to project superintendent, Brody Slaugenhoup to project engineer, Emily Tucker to project engineer, and Amulya Raju to project engineer in its Tempe office.
New Hires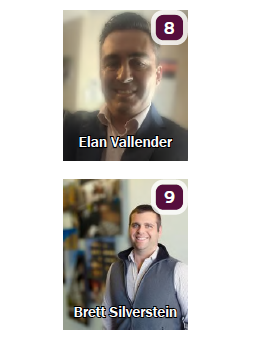 7. Sundt Construction, Inc. recently hired Max Ruhnke as a field engineer in its Tempe office. For the past year, Ruhnke has served as an intern on one of Sundt's data center projects in the Valley.
8. Elan Vallender, senior economic development specialist for the City of Apache Junction, has been hired to be the Town of Florence's new Economic Development Director, taking on a program that hasn't had an official leader for the last several years. Vallender will begin his duties in Florence on December 7th.
9. Brett Silverstein joined Brinkman Real Estate as Director of Acquisitions. His immediate goals will be to identify and close on opportunistic acquisitions throughout the Mountain States.