Giving Back

1. CBRE launched its 9th annual PurSuit of Success citywide business clothing drive on Monday, October 28th. The two-week drive, with 23 convenient drop-off locations, runs through Friday, November 8th and benefits women and men in job training programs with much-needed access to professional clothing. New and gently used items can be donated Monday through Friday, 8 a.m. to 5 p.m. at CBRE's Phoenix office, located within the Esplanade office campus at 2575 E. Camelback Road, or at one of 23 office buildings throughout the Valley.
Awards & Accolades
2. Esteemed architect David Hovey Jr., AIA, president and principal architect of the luxury real estate development firm Optima, was internationally recognized with two prestigious awards honoring his proprietary Optima DCHGlobal modular building system including the 2019 Architecture MasterPrize and the 2019 American Architecture Award.
Company News
3. As woman- and minority-owned environmental consulting firm, Earthworks Environmental LLC celebrates its fifth anniversary, the Mesa-based company now boasts 36 employees and almost 800 projects across the country. Services provided include stormwater pollution prevention, Phase I and II Environmental Site Assessments, dust control, and construction safety compliances.
4. Staging and Design Network (SDN) is excited to announce the opening of its first Arizona location in the Deer Valley Airpark this month. The nearly 25KSF is located at 3055 E. Rose Garden Lane, Suite 140, in north Phoenix.
Promotions
5. Anessa York was recently promoted to Chief Operating Officer at SANTÉ Realty Investments. York was most recently the Company Integrator at SANTÉ, growing substantially over the years by taking on more critical roles and responsibilities.
New Hires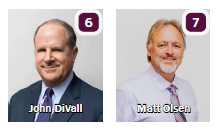 6. Exeter Property Group has hired John DiVall as principal regional head, mountain region. In this new role, DiVall will be overseeing acquisitions, leasing and high-performance development in Arizona, Colorado and Utah.
7. Coe & Van Loo Consultants, Inc. (CVL) announced that Matt Olsen, PE has joined the CVL team as a senior project manager.