Giving Back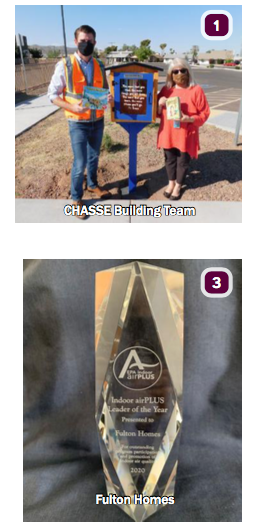 1. CHASSE Building Team partnered with the Tempe Elementary School District in October to assemble and launch "Little Free Libraries" at four local elementary schools: Laird, Thew, Nevitt and Scales. The general contractor both assembled the four 4-foot structures at the schools as a team, as well as donated books to each Little Free Library to get the sharing started. 
Awards & Accolades 
2. WESTMARC's 28th Annual Best of the West Awards Dinner on October 22nd honored the West Valley's best leaders, investments and programs. The winners are: 
Economic Engine: 

Desert Microsoft

 

Excellence in Innovation: 

Ottawa University

 

Quality of Life Enhancement in the Community: 

Verizon Wireless

 

Quality of Life Enhancement in Education: 

Abrazo Healthcare Residency Program

 

Inspiration Leadership Award: 

City of Buckeye Mayor Jackie 

Meck

 

Regional Advancement Award: 

West-MEC

, 

Western Maricopa Education Center

 

President's Choice Award: 

Bobbi 

Magdaleno

, 

Arizona State University

 
3. Fulton Homes has been recognized by the U.S. Environmental Protection Agency (EPA) as the recipient of three top homebuilder awards: the 2020 Indoor airPLUS Leader of the Year – Builder; the 2020 ENERGY STAR® Partner of the Year – Sustained Excellence Award; and the 2020 WaterSense Builder Partner of the Year.   
4. The International Economic Development Council is bestowing five big honors on the Surprise Economic Development Department. The department won five IEDC Excellence in Economic Development Awards during its annual conference on October 12th through 16th. Surprise's winners include: 
Gold Award ­— City of Surprise and Ottawa University Collaboration, a project in the Partnerships with Educational Institutions category.

 

Silver Award — "5 Elements of Surprise Recovery" community campaign, a project in the Innovation in Economic Development Week category.

 

Silver Award — "Costco, It's Your Birthday" retail attraction campaign, a project in the Multi-Year Economic Development Program category.

 

Bronze Award — City of Surprise Virtual Ribbon Cutting Program, a project in the Digital Media category.

 

Bronze Award -— COVID-19 Business Help website, a project in the Special Purpose Website category.

 
5. The city of Goodyear Economic Development team also won awards including the International Economic Development Council Gold Award for its Foreign Trade Zone Program in the Multi-Year Economic Development Program category and a Bronze Award for Economic Development Organization of the Year, in the category of EDO of the Year. 
Boards & Commissions 


6. Molly Ryan Carson, a former NAIOP Arizona Board Chairman, has been selected as Chair of NAIOP Corporate Board for 2021. Carson, Senior Vice President of Real Estate Development, Market Leader Southwest Region for Ryan Companies US, Inc. succeeds 2020 Board Chairman Larry Lance of EVP Asset Services, EverWest Real Estate Partners. 
7. Arizona Self-Storage Association (AZSA) recently announced new leadership and two new board members for 2021. AZSA's new leadership comprises Diane Gibson, Cox Armored Mini Storage Management, President; Jeff Gorden, Eagle Commercial Realty Services, Vice President; Martin Lorch, BPI Capital Management, Treasurer; and Anne Mari DeCoster, Storelocal, Secretary. New members on the board of directors for 2021 are Alonna Ross, StorageAuctions.com; and DeCoster. 
8. Kurt Nishimura, a sales associate affiliated with the Biltmore-Paradise Valley office of Coldwell Banker Realty, the founder of the Greater Phoenix Chapter of the Asian Real Estate Agent Association, and the owner of KN Realty Group, has been elected the 2023 national president of the Asian Real Estate Association of America. 
Company News 
9. Dibble Engineering announced changes to its name, brand and website. Dibble Engineering is now Dibble to reflect its growth and expanded service offerings of civil and structural engineering, program management, land surveying, GIS and planning. Dibble's legal name remains, "Dibble & Associates Consulting Engineers, Inc." 
10. Meyer Borgman Johnson, a 100-person structural engineering firm established in 1955, will be moving its Tempe office on November 1st to 116 E. University Drive, Suite 500, Tempe, AZ 85281. MBJ's Tempe office is led by Kurt Kindermann, PE, SE Managing Principal and Lindsey Schultz, PE, Office Leader. 
11. Marcus & Millichap, Inc. announced that it has entered into a definitive agreement to acquire Mission Capital in a transaction expected to close in the fourth quarter. The addition brings 40 capital markets professionals to MMI including producers, analysts and support personnel. 
12. Roscoe Property Management (RPM), a national leader in multifamily property management, announced its expansion into the Arizona market through a merger with Maverick Residential, and the opening of a new regional office in Phoenix where plans are underway to aggressively expand the company's Southwest portfolio. 
13. Neighborhood Ventures, a company founded by Jamison Manwaring and John Kobierowski that utilizes crowdfunding to raise capital for redevelopment projects, is celebrating its three-year anniversary. 
14. Residential real estate firm Corcoran Group LLC is entering the Arizona market in a partnership with Scottsdale-based Platinum Living Realty. Jay and Michelle Macklin will remain in their positions as Platinum Living Realty changes its name to Corcoran Platinum Living. Financials for the affiliate agreement were not disclosed. 
Promotions 
15. Travis Nestor was promoted to regional safety director for McCarthy Building Companies Southwest Region. In his new role, he is responsible for overseeing regional and company-wide safety initiatives as well as providing training, communication, case management, policy and procedure improvements in connection with McCarthy's safety-driven culture in AZ, CO and NV. 
16. Kohl Eisenhour has been promoted to Senior Vice President of Operations at Avenue5 Residential. Eisenhour will oversee an accomplished regional team comprised of 11 vice presidents, associate vice presidents, regional managers, and district managers, who in turn support a portfolio of more than 55 multifamily properties and nearly 13,000 units. 
New Hires 
17. John R. Burns has joined Colliers International in Arizona as a Senior Vice President in the Capital Markets group of the company.  A 35-year veteran of the commercial real estate industry, Burns recently relocated to Phoenix from Chicago.