Boards & Commissions 


1. The Central Arizona Chapter of CCIM has announced its leadership and board for 2021. Todd Hamilton, CCIM, SIOR, Citywide Commercial Real Estate, will serve as 2021 President. The leadership team includes Marina Hammersmith, CCIM, ORION Investment Real Estate, Vice President/Immediate Past President; and Sabrina Walters, SLW Realty Group, Treasurer. The 2020 board comprises: 
Jenette Bennett, CCIM, Kidder Mathews

 

Bettina Hunt, Healthcare Trust of America

 

Chad 

Kirkorsky

, Citywide Commercial Real Estate

 

Nicole 

Marucci

, Kensington Vanguard

 

Michael Marsh, CCIM, Lee & Associates

 (Now Colliers International)

 

Bobbie 

Mastracci

, CCIM, SIOR, Phoenix West Commercial

 

Belinda 

Rosthenhausler

, CDC Small Business Finance

 

Kaitlyn Shepard, CCIM, Bay Area Health Trust

 

Brian 

Teske

, CCIM, Casita Capital Realty

 
Company News 
2. On October 2nd, 2020, Builders Guild, Inc. celebrated its 40th anniversary as a full service general contracting firm.  Since 1980, BGI has delivered hundreds of commercial, public, and institutional projects via JOC, CMAR, Design-Build, and CM/GC delivery methods. 
3. Award-winning and long-time public engagement firm Gunn Communications, Inc. has completed a change in ownership. Theresa Gunn transitioned ownership of GCI to the firm's Chief Operating Officer, Brock Barnhart, effective October 1st. 
4. Harvard Investments announced the launch of FirstStreet™, a single-family rental community brand slated for growth in the Southwest. Currently, Harvard Investments has two joint venture single-family rental communities under construction, in Phoenix and Las Vegas. In addition, the company has six FirstStreet™ communities in the planning stages for the Phoenix, Austin and Albuquerque markets. 
5. James Capital Advisors is opening a Phoenix office and hired Ken Johnson II and Jonathan Eckerd, previously with Marcus & Millichap, to lead the office. The firm will solely focus on net lease and multifamily transactions in the beginning but has plans in the works to expand to other likes of service. 
Promotions 
6. Scott Salyer has been appointed Regional Manager of Adolfson & Peterson Southwest. Salyer joined AP in 2017, and during his short and successful tenure, he has led multiple teams in executing over $200M of highly profitable projects. 
7. The City of Avondale recently promoted longtime staff member, Charlene Penilla to Deputy City Manager. The city also voted to make Nicholle Harris, the previous interim city attorney, its permanent in-house legal counsel. 
New Hires/Transitions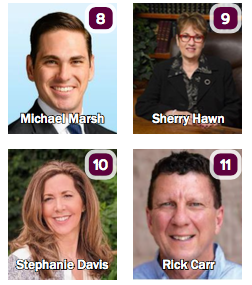 8. Michael Marsh, JD, MBA, CCIM has joined Colliers International as Associate Vice President in Office Properties. As a member of Todd Noel's team, Marsh will handle landlord representation work for the group's owner clients, as well as institutional and owner/user sales. 
9. Sherry Hawn, Esq., CPA, has joined Sun Health as Vice President, Comptroller. Hawn will be responsible for finance and accounting, daily fiscal operations, and business planning of vibrant senior living communities in the West Valley. 
10. SRS Real Estate Partners welcomed Stephanie Davis as Senior Vice President in the Phoenix office focusing on tenant and landlord representation. With a background on both the service provider and retailer side of the business, she brings a breadth of knowledge to the Phoenix team. 
11. The City of Avondale has hired Rick Carr as the new Assistant Director of the Engineering Services Department.