Awards & Accolades 


1. Paul Johnson Drywall, Inc. announced that it was named to Walls & Ceilings Magazine's 2020 Top 50 Contractors list for the sixth consecutive year and is the only drywall contractor with a presence in Arizona and Nevada to make the list. 
2.The 2021 edition of Best Lawyers in America includes the following Withey Morris attorneys and practices: 
William Allison

 – Government Relations Practice and Land Use and Zoning Law

 

Adam Baugh

 – Land Use and Zoning Law

 

Jason Morris

 – Land Use and Zoning Law

 

Benjamin Tate

 – Land Use and Zoning Law – "Ones 

t

o Watch" award

 

Michael Withey

 – Land Use and Zoning Law and Real Estate Law; "Lawyer of the Year" in Land Use and Zoning Law

 
Promotions 
3. CCS Presentation Systems announced the promotion of Laura Watson, CMA, CPA to the role of Chief Financial Officer. Laura has been with CCS' Scottsdale headquarters for more than 14 years and was previously their Chief Operations Officer. 
4. Walton Global Holdings, the Scottsdale-based subsidiary of the Walton Group of Companies, has named Rebecca Bruce as the new CFO. Bruce previously served as corporate controller then senior vice president of finance and accounting. 
5. Sundt Construction, Inc. promoted Curtis Smith to project manager in its Tempe office. Smith has been in the construction industry for over 15 years, five of those with Sundt. He has been involved in multiple projects within the Southwest region and is currently working on the Sunstate training facility in downtown Phoenix. 
New Hires/Transitions 
6. Johnson Carlier recently hired Laura Shivers, a 17-year industry veteran as the company's director of business strategy. Shivers will be responsible for developing long-term partner relationships and modeling initiatives to drive sales efficiency and productivity, along with executing go-to-market strategies while promoting the century of excellence Johnson Carlier offers. 
7. Kevin Miller is joining Kitchell Development Company as a Senior Director of Development. Miller comes to Kitchell with 20 years of diverse industry experience, most recently overseeing a $500M national portfolio of retail, multifamily, office and land assets for Phoenix-based Seldin Family Office.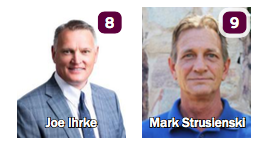 8. VanTrust Real Estate announced the addition of 30-year real estate veteran Joe Ihrke as Executive Vice President. Leading the Phoenix-based Southwest regional office, Ihrke will step into the role previously held by Keith Earnest, who was recently promoted to Executive Vice President of National Accounts. 
9. Integrity Building Corp announced Mark Strusienski has joined their team as Project Superintendent.