Awards & Accolades 


1. Mark Taylor, Senior Vice President of WestLand Resources, Inc., received AZ Water's Engineer of the Year. The award recognizes individuals that have gone above and beyond in the water industry. 
2. ENR Southwest Top Design Firms 2020:  
AECOM

 

HDR

 

Kimley-Horn

 

Stantec

 

Burns & McDonnell

 

WSP USA

 

Carollo

 Engineers

 

Gensler

 

Bohannan Huston Inc.

 

EPS Group Inc.

 

Dekker/

Perich

/Sabatini LTD. 

 

SmithGroup

 

Terracon Consultants Inc. 

 

Wilson & Co., Engineers & Architects

 

Atkins, Member of the SNC-Lavalin Group

 

Souder, Miller & Associates

 

Gannett Fleming

 

SWCA Environmental Consultants 

 

Atwell LLC

 

Stanley Consultants 

 
For a complete list click here. 
3. Phoenix Business Journal: 40 under 40 2020:  
Boards & Commissions 
4. Sunbelt Holdings Chairman and CEO John Graham has been appointed to FirstBank's Board of Directors. Graham, who has an extensive background in asset management, development, and real estate investment, has held positions in executive leadership at Sunbelt Holdings since 1990. 
Company News 
5. FPS Civil, LLC has received the Gold Safety Award. This award is presented to companies that register a safety score between 85 percent – 95 percent in the Safety Assessment Program administered by ConstructSecure. 
Promotions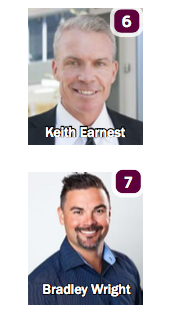 6. VanTrust Real Estate announced the promotion of Keith Earnest to Executive Vice President of National Accounts. Previously leading the Southwest Regional Office of VanTrust. Earnest joined the firm in 2014, bringing his expertise in all phases of real estate development to the Arizona, Nevada and California markets. 
7. MFRG-ICON Construction recently promoted Chief Operating Officer Bradley Wright to president after he led the general contracting firm to expand its presence into four additional markets across the nation. 
New Hires/Transitions 
8. Edward Junod, P.E. has joined WestLand Resources.