Industry Professionals 06-09-20
Awards & Accolades 

1. Ranking Arizona published the Top Ten Best Places to Work in Commercial Real Estate in Arizona. They are: 
Colliers International

 

CBRE

 

Ryan Companies US

 

Canyon State Electric

 

DAVIS

 

JLL

 

Cawley Architects

 

MSA Engineering Consultants

 

LGE Design Build

 

Agave Environmental Contracting

 
Boards & Commissions 
2. The Arizona Association for Economic Development (AAED) has announced its new officers for 2020-2021.  Mignonne Hollis, AZED Pro, executive director of the Arizona Regional Economic Development Foundation in Sierra Vista, is AAED's new president. Lori Collins, deputy economic development director for the City of Mesa is the organization's president-elect. Wendy Bridges, AZED Pro, business development manager for the City of Avondale, is vice president. Skip Becker, AZED Pro, president and CEO for La Paz Economic Development Corporation, is secretary/treasurer, while Nicole Snyder, AZED Pro, healthcare business development and marketing lead for Orcutt Winslow, is immediate past-president. 
Company News 
3. Greystar Real Estate Partners, LLC announced the acquisition of the property management business of Alliance Residential Company. The combined businesses will continue to deliver best-in-class services for clients, partners and residents under the Greystar brand. 
Promotions 
4. K2 Electric announced the promotion of Jared Kredit to president and Matt Kuiper to vice president. Kredit and Kuiper will continue to position the company for growth, while Founder, Dean Kredit will remain involved in the client management aspect of the business and offer his expertise in providing solutions for clients.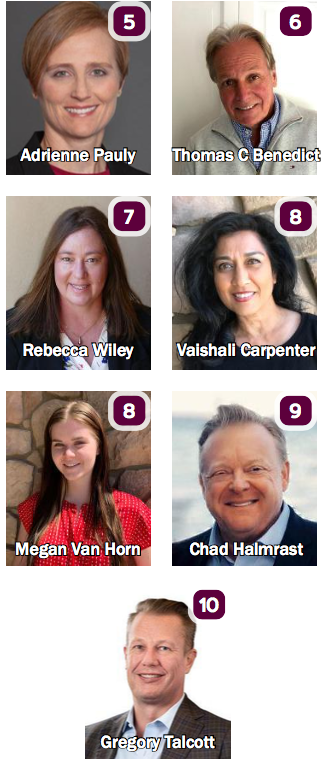 5. Adrienne Pauly has been promoted to lead the Energy Mechanical and Process team in Phoenix for Burns & McDonnell. 
New Hires 
6. Artisan Colour announced the hiring of industry veteran Thomas C. Benedict, who joins the firm as Director of Business Development to increase Artisan's visibility among retailers to drive catalog and enterprising multi-channel initiatives. 
7. Land Advisors Organization announced that Rebecca Wiley has been hired as marketing manager for the firm's 23 offices located across the country 
8. Emc2 Group Architects Planners, PC announced that design industry veteran Vaishali Carpenter has joined the firm as Project Manager. Vaishali brings 25 year of design experience to the firm. Megan Van Horn has also joined the firm as Intern. 
9. Chad Halmrast comes to TDIndustries to lead TD's Arizona preconstruction efforts. As Preconstruction Director, Chad will be heavily engaged in design-build and design-assist project pursuits and execution.  
10. Real estate investment capital specialist Gregory Talcott recently accepted a senior-level position with local real estate investment firm Caliber as its Senior Vice President-Private Client after two years with area competitor Virtua Partners.