Giving Back
1. Danny Gumm, Operations Manager at Sundt Construction, has shaved his seven-year-old beard for charity. A GoFundMe campaign called "Shave it or Save it" where donors could cast a 'save it' or 'shave it' vote has raised $67K with an original goal of $50K. Which Sundt later matched for a total of over $129K to be donated to the Sundt Foundation. You can watch the event highlights here.
Awards & Accolades
2. AZ Big Media has announced the list of CRE's top producers of 2018. The full list is available here.
3. Denise Airheart, Maricopa's economic development director was recently named Economic Developer of the Year for small communities by the Arizona Association for Economic Development.
4. Maricopa County's Department of Transportation Engineer/Director Jennifer Toth, as well as the City of Mesa's Engineer Beth Huning, have been awarded the prestigious American Public Works Association's (APWA) Top Ten Public Works Leader of the Year for 2019.
Promotions
5. CBRE announced that Dana Summers has been promoted to Senior Vice President with CBRE Capital Markets Debt & Structured Finance in Phoenix.
6. Corporate Interior Systems (CIS) has promoted Stephanie Bourland to Chief Operating Officer and Kara Johnson to Director of Sales.
7. Accelerated Development Services announced the promotion of Trey Eakin to Executive Vice President effective immediately. A 33-year veteran in the retail development arena, Trey's experience includes acquisitions, oversight, strategic analysis, project management, and lease up of retail and mixed-use projects totaling over $1B in value.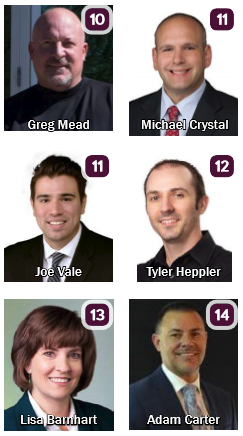 8. BFL Construction Co., Inc. promoted Isaac Figueroa to Chief Commercial Officer. Figueroa will be responsible for spearheading BFL's commercial strategy, business development and marketing efforts along with managing client, community and government relations.
9. Sixteen-year CRE veteran Steve Berghoff, CCIM, has been promoted to Senior Vice President at Menlo Group Commercial Real Estate.
New Hires
10. Rural Electric, Inc., welcomed Greg Mead to the team as a Senior Project Manager, where his strength in general engineering and construction will be utilized to strengthen their Divisions, as well as expand Rural into other markets and regions.
11. Cushman & Wakefield announced that Michael Crystal has rejoined the firm's Phoenix office as a Managing Director. With him, he brings Joe Vale as a Senior Associate and Tarryn Fountain as a Brokerage Coordinator.
12. Tyler Heppler, PE joins Schaefer's Phoenix office as project manager focused on delivering smart, innovative designs for structures in diverse markets.
13. Lisa Barnhart has recently been hired as Vice President of Human Resources at CBRE | FacilitySource.
14. Specializing in construction, healthcare and technology, Adam Carter has joined Lovitt & Touché, A Marsh & McLennan Agency LLC Company as a Sales Executive.