Giving Back 


1. The Russ Lyon Charitable Foundation, a subsidiary of Russ Lyon Sotheby's International Realty, will be donating $10K to nine food banks across Arizona in the wake of the coronavirus outbreak. 
2. The CoreCivic Saguaro Correctional Center offers inmates a construction program where the inmates design and build a perfectly scaled dollhouse detailed exactly the way a human house would be built. Participation in the course depends on behavior and whether the inmates have either a GED or high school diploma. 
Awards & Accolades 
3. WTS Metropolitan Phoenix Chapter has announced the winners of the 2020 WTS Metropolitan Phoenix Annual Awards. The annual awards ceremony will be held on September 18th at the Clayton House on Downtown Scottsdale. The winners are: 
Woman of the Year: 

Jennifer Donaldson

, 

Stacy and 

Witbeck

 

 

Man

 of the Year: 

Andrew Haines

, 

Jacobs 

 

Employer of the Year: 

City of Phoenix Public Transit

 

 

Innovative Solutions Project of the Year: MCDOT's Bell Road Adaptive Signal Technology Project 

 
Rosa Parks Diversity Leadership Award

: Archaeological Consulting Services

 (ACS)  

 

Member of the Year: 

Heather 

Honsberger

 

 

New Member of the Year: 

Stephanie Stearns

 
4. Thomas Loomis, PE, received the Government Civil Engineer of the Year award at the American Society of Civil Engineers Phoenix Branch luncheon on March 11th. Loomis is a long-term employee with the Flood Control District of Maricopa County. 
5. Michael Withey and Jason Morris, founding partners of prominent Phoenix land use and zoning firm Withey Morris, were named two of Arizona's 2020 Top 100 Lawyers by AZ Business Magazine. Withey Morris is the only firm with two land use attorneys with this prestigious honor. 
New Hires 
6. Wilson & Company, Inc. Engineers & Architects hired Todd Cencimino, PE, as the Arizona Transportation Operations Manager. Todd will be expanding transportation services throughout Arizona as he builds a team of professionals and develops business opportunities.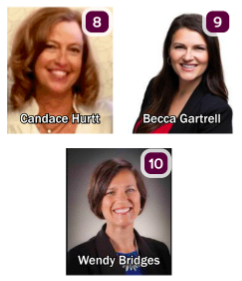 7. Arizona Builders Alliance hired Tricia Schmidt as Director of Apprenticeship. In this new role, she will be responsible for program design, outreach and compliance for the ABA. In addition, Schmidt is looking towards incorporating synergy and structure which will in-turn elevate program awareness, funding, participation, retention and diversity. 
8. Candace Hurtt has joined Allegion as Integrator Sales Consultant in the Southwest Market. Candace comes to Allegion after 11 years with Interlogix with roles as Regional Sales Manager and District Manager specializing in the security and safety markets. 
9. INSURICA has welcomed producer Becca Gartrell to their Employee Benefits team. In her new role, Becca will educate employers and employees on navigating medical care to best avoid large financial impacts.  
10. The City of Avondale hired Wendy Bridges as its new business development manager for the city economic development department. She joined the city Monday, March 23rd.