Industry Professionals 01-26-21
Boards & Commissions 

1. Libby Ekre, principle and certified property manager with MEB Management Services, will be elected to the national position as secretary and treasurer for 2022 with the Institute of Real Estate Management (IREM) at their annual meeting held in Las Vegas, Nevada in October 2021. 
Company News 
2. Civic CM is proud to establish roots in Phoenix. Originally founded in 2014, Civic CM provides construction management, CPM scheduling, 4D/5D scheduling, claims, cost management, dispute resolution, expert witness and advisory services for contractors, owners and attorneys. Clients trust Civic CM to champion their most difficult construction challenges. Their goal is to keep the client's best interest a top priority while delivering exceptional service and quality work in a timely manner. 
3. Cambridge Companies announced that as of January 1st, 2021, company ownership has transitioned to the next generation. Jeff Eriks, longtime partner, and son of company founder Ray Eriks has purchased the company with business partner Bryan Young. Ray and Linda Eriks will be consulting for Cambridge as it continues as well as enjoying new personal projects and well-deserved rest and relaxation. Jeff Eriks will serve as President and will continue in his current role of leading marketing and pre-construction activities. Bryan Young will serve as Vice President and lead the administrative functions of the company. 
4. Neighborhood Ventures launched the Neighborhood Ventures Fund, opening their projects to accredited investors across the country. With the addition of a national investment fund, Neighborhood Ventures will now offer Community-based Investment, a continuation of the crowdfunding model that allows all Arizona residents, whether they are accredited or non-accredited investors, to invest in properties with a minimum investment of $1,000. The Neighborhood Ventures Fund will coinvest with Arizona residents, or Community-based Investors, on select projects. Investors in the Fund will receive a target preferred annual return of 12 percent IRR, and their investment will be pooled among 5-10 projects over a five-year closed period, scheduled to end in December 2025. 
5. The University of Arizona Center for Innovation (UACI) has received an additional three-year award from the National Renewable Energy Laboratory (NREL) to support a variety of the Department of Energy's (DOE) American-Made Challenges. This comes in addition to UACI's 2020 appointed commitment as a Power Connector for NREL's American-Made Solar Prize Challenge.   
6. Tri Pointe Homes has consolidated its six regional home building brands under a single name—Tri Pointe Homes—effective as of January 15th. All of the builder's divisions will operate under the new name, and the publicly traded entity will change its name from TRI Pointe Group, Inc., to Tri Pointe Homes, Inc. The other brands include Maracay Homes in Arizona, Pardee Homes in California and Nevada, Quadrant Homes in Washington state, Trendmaker Homes in Texas, and Winchester Homes in Maryland and Virginia. 
7. The International Economic Development Council (IEDC) announces that the Scottsdale Economic Development Department was once again recognized as one of 68 economic development organizations accredited by IEDC as an Accredited Economic Development Organization. 
Promotions 

8. AZTEC Engineering Group, Inc. recently announced three promotions. Carlos Tarazaga has been promoted to Senior Vice President and joined the firm's Management Board; Chad Huber was recently promoted to Survey Division Leader in the Field Services; and Mike Myers was recently promoted to Vice President. Myers will continue his role as Environmental Services Division leader. 
9. Adolfson and Peterson Construction (AP) recently promoted Scott Salyer to Regional Manager of its Southwest division. With more than 18 years of construction management experience, Salyer will be responsible for developing business plans and risk management programs, as well as driving business results and operational decisions. 
New Hires 
10. Land Advisors Capital, a wholly-owned subsidiary of Land Advisors Organization, announced that Rory Hansen has joined its capital advisory services team as Director for the Western U.S. Hansen is leading the Western Regional Capital Advisory Services team as a liaison, facilitating relationships for the capital markets with builders and developers seeking to align on investment opportunities in the region's surging real estate sector. 
11. Adolfson and Peterson Construction (AP) recently welcomed Regional Director of Business Development Melissa Bennett to its Tempe office. With more than 12 years of business development experience in the construction and insurance industries, Bennett will be responsible for fostering strong partnerships with existing clients and identifying new business opportunities. 
12. Adolfson and Peterson Construction (AP) recently welcomed Regional Marketing Director Amara Boesch to its Tempe office. With more than 19 years of marketing experience in the architecture, engineering and construction industries, Boesch will be responsible for enhancing the visibility of AP Southwest, driving culture and shaping its strategic planning efforts. 
13. Evergreen Devco, Inc. recently hired Mitchell L. Lorenz as Director of Construction for retail development. Lorenz had a long and successful career as a consulting project-construction manager for more than 20 years prior to joining Evergreen.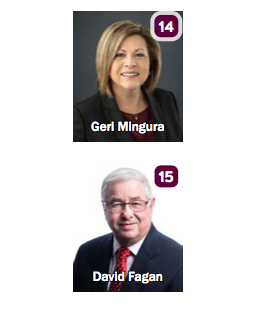 14. Geri Mingura joins SRP as Associate General Manager and Chief Human Resources Executive. SRP is Arizona's only community-based, not-for-profit power and water company. Workforce is a critical part of SRP's 2035 Corporate Goals. 
Transitions 
15. Cannon & Wendt Electric Co. recently celebrated the 33-year career of CEO and former-President David Fagan, a life-time veteran of the electrical contracting industry. During his career at Cannon & Wendt, Fagan served in a multitude of roles while overseeing some of the Valley's most notable projects, including, State Farm Stadium, Gila River Arena, Talking Stick Resort Arena, Phoenix Convention Center, and the Terminal 3 Renovation at Phoenix Sky Harbor Airport. Fagan's retirement has been part of the firm's strategic succession plan. Shane Snyder, current Cannon & Wendt President, has been with the firm for the past 26 years and continues to build upon Fagan's legacy as he leads the company toward continued success on into the future.