Giving Back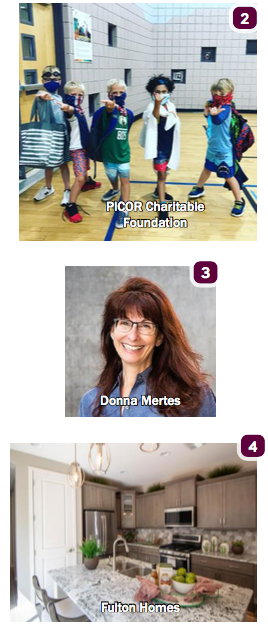 1. Each year, the WTS Metropolitan Phoenix Chapter offers seven scholarships to assist qualified candidates aspiring to transportation careers. The scholarships are:  
2. Because of the COVID-19 pandemic, the PICOR Charitable Foundation was unable to come together in a traditional way to stage its 26th annual Pancake Feed in Reid Park; however, with help from their donors and partners, they still raised more than $80K for Tucson's youth programs. 
Awards & Accolades 
3. GLHN Architects & Engineers, Inc. announced that Donna Mertes, PE, Civil Engineering Department Manager, has been awarded GLHN's 2020 Employee Owner of the Year. Donna represents GLHN's motto of "Our Success Comes from Helping Others Succeed." Her attitude, efforts and daily practices promote the collaboration of their integrated architectural engineering team, directly impacting their bottom line. 
4. Fulton Homes was recognized in 2020 by the U.S. Environmental Protection Agency (EPA) as the recipient of three top homebuilder awards: the 2020 Indoor airPLUS Leader of the Year – Builder; the 2020 ENERGY STAR® Partner of the Year – Sustained Excellence Award; and the 2020 WaterSense Builder Partner of the Year. 
5. AZ Business Magazine has announced the finalists and winners of the AZ Business Angel Awards. The A/E/C finalists include: 
Chris 

Maderazzo

, 

Canyon State Electric

; AZ Business Angel of the Year – individual

 

Cannon & Wendt Electric

; AZ Business Angel of the Year – Business

 

Freddie Dobbins, Jr

., 

SRP

; 

Volunteer of the Year

 

CHASSE Building Team

 and 

Heidi's Village

; 

Collaboration of the Year

 

Kitchell

; 

Outstanding Corporate Responsibility

 

Brokers 

For

 Kids

; 

Fundraising Event of the Year

 

6. AZ Business Magazine announced a list of 20 Young Commercial Real Estate Leaders to Watch in 2021. They are: 
Jake 

Baratz

, 

Vice President of Investments

; 

Taylor Street Advisors

 

Boston 

Chauthani

, 

Investment Advisor

; 

Taylor Street Advisors

 

Kyle Campbell

, Associate Vice President; 

Colliers International in Arizona

 

Dominique 

Damerell

, Vice President; 

CBRE

 

Ann Donnelly

, Associate Senior Designer; 

McCarthy 

Nordburg

 

Chase Dorsett

, Associate; 

Newmark

 

Benjamin Farthing

, Associate; 

CBRE

 

Brian Fitzpatrick

, Director of Operations; 

Mortenson

 

RoseAnn

 

Linsmeyer

, Associate, Interior Designer, Senior Project Manager; 

Cawley Architects

 

JP Malham

, Business Development; 

SiteWorks Landscape

 

Ashley Zimmerman Marsh

, Shareholder; 

Tiffany & Bosco

 

Jessica Morin

, Director of Market Analytics; 

CoStar Group

 

Ashley Brenden Nye

, Development Manager; 

Trammell Crow Company

 

Stephanie 

Oleksa

, Interior Designer; 

SmithGroup

 

Bob Olson

, 

Project Manager

; 

Ryan Companies US, Inc

.

 

Chelsea Porter

; Director of Marketing; 

The Renaissance Companies

 

Charlie Thompson

, 

Project executive

;

 

DPR Construction

 

Lauren Tomlin

, 

Marketing Coordinator

;

 

Ryan Companies US, Inc.

 

Andrew Warner

, 

Associate, Manufactured Housing Specialty Team

;

 

NAI Horizon

 

Jesse Zwick

, 

Project Engineer

;

 

Jokake

 Construction

 
 
Boards & Commissions 
7. The Greater Phoenix Chapter of the Institute of Real Estate Management (IREM) has announced its leadership and council members for 2021. Rosalinda Bridges, CPM, with NLR Management/Haan Development, will serve as President. The leadership team includes Tyrel Williams, CPM, MEB Commercial Management Group, President-Elect; Ed Valerio, CPM, Knight Management, AMO, Treasurer; and Melissa Boyle, CPM, bkm Management Company, Past President. The 2021 council comprises Ann Boomsma, CPM, MEB Management Services, AMO; Tom Coughlin, CPM, Everest Commercial Services; Kristin Gibbons, CPM, Lillibridge Healthcare Services; Lauren Lacasse, CPM, Lincoln Property Company; Debbie Mitten, CPM, ViaWest Group; Donna Olcavage, CPM, NaPali Management Inc.; Brent Penrod, CPM, Eisenberg Company; Carrie Temple, CPM, ViaWest Group; Eduardo Ugalde, CPM, ARM, MEB Management Services, AMO; and Kelsie Whipple, CPM, ACoM, Lillibridge Healthcare Services. 
8. Snell & Wilmer announced that Tucson associate Courtney Henson is one of 12 people who has been selected to participate in the second cohort of the Civic & Political Leadership Academy.  
Company News 
9. LF Capital Acquisition Corp. and Landsea Homes Incorporated, jointly announced that they have closed their previously announced business combination. The transaction was unanimously approved by the board of directors of LF Capital and was also approved at a special meeting of LF Capital's stockholders on December 14th. 


10. MC Residential, the property management arm of MC Companies adopted new, innovative ways of doing business and overcoming obstacles by implementing SmartRent self-guided tour technology, smart thermostats to reduce utility usage, and keyless entries. 
Promotions 
11. Martin, White & Griffis Structural Engineers, Inc. announced their newest principal, Andy DiLeo, P.E., S.E. Since joining MWG in 2005, Andy has had a significant impact on the collaborative design process while leading the project team throughout the construction phase. 
12. Coreslab Structures (ARIZ) Inc. announced the promotions of Rick Reichenberg to General Manager and Phil Richardson, SE, to Sales Manager for the Phoenix office effective January 1st, 2021. 
13. RED Development has promoted Stephanie Aleman from Director of Human Resources to Vice President of Human Resources where she will lead and implement a strategic vision designed to improve efficiency and strengthen company culture. 
New Hires 
14. VanTrust Real Estate announced the addition of 30-year commercial construction veteran, Cindy Olsen, as Senior Director, Development Services. Olsen works alongside Joel Wage, Vice President of Development Services, to lead all aspects of development for VanTrust's Phoenix Team. With a background in architecture, construction, and land development, Olsen brings diverse experience to the firm.  
15. W.E. O'Neil Construction announced the addition of Alyce Neal to their team as part of their strategic initiatives in the Arizona market. Neal brings more than 26 years of experience in the building industry, is LEED AP, and holds a B.S. degree in Architecture from the University of Maryland College Park. Neal will help W.E. O'Neil Construction continue to diversify into the higher education, municipal, and healthcare market sectors.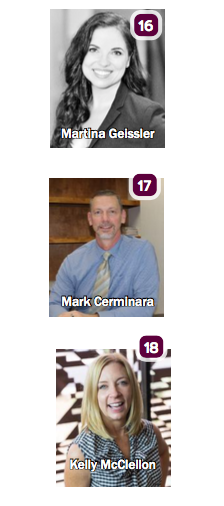 16. W.E. O'Neil Construction recently hired uberstark, an A/E/C marketing consulting firm led by Martina Geissler, to support their Arizona offices in strategic marketing pursuits. Geissler has been part of the Arizona building industry for 14 years, providing marketing support for several companies, including Adolfson & Peterson Construction, Haydon Building Corp and EPS Group, holding both the positions as Marketing Manager and Business Development Manager, which provides her a unique understanding of Marketing and Business Development. 
17. Coreslab Structures (ARIZ) Inc. announced that Mark Cerminara, S.E., has returned to Coreslab as Sales Engineer / Project Consultant, supporting the sales team and clients with developing precast design solutions. Cerminara has focused his career on structural engineering in the precast industry for more than 35 years. 
18. Kelly McClellon joined Corporate Interior Systems as Director of Sales Interior Construction. McClellon is responsible for new business development and sales for digg, the Interior Construction division. 
19. Jason Nau was recently hired as the City of Yuma's new Parks and Recreation Director. He has a background in commercial recreation and tourism. Most recently Nau owned and operated Oahu Private Tours in Honolulu.