Industry Professionals 01-05-2021
Giving Back 

1. Johnson Carlier and ACE Asphalt teamed together to bring Christmas cheer to families from Madrid Neighborhood School. Together the team members purchased over 200 gifts including family baskets, grocery gift cards, toys, jackets, clothes and a new pair of shoes for each child. 
2. The Arizona Builders Alliance (ABA) brought the local construction industry together to make Christmas a magical time for hundreds of children. Approximately 100 Arizona construction companies and their employees donated almost $50K to the 11th Annual ABA Community Service Board's 2020 Toy Drive to purchase toys and gifts for five nonprofits serving 900 children in Phoenix Metro area. The ABA teamed up with member construction companies including McCarthy Building Companies, FCI Constructors, The Weitz Company, Sundt, Kitchell, CORE, and Rosendin to collect and wrap presents for over 100 children at Sunshine Acres Children's Home in Mesa. 
Awards & Accolades 
3. In 2020, Rosendin expanded training at its Tempe office and sponsored three emerging leaders to participate in the Arizona Builders Alliance's (ABA) 2020 Leadership programs. This month, Chad Constance, Jason Karseboom, and Andrew Speer graduated from the ABA's management education programs designed to prepare them for advanced leadership roles. These young, emerging leaders were celebrated, along with all of this year's graduates, during the ABA's 27th Annual Leadership Lunch, held December 10th at the Camelback Inn and Resort in Scottsdale. 
Boards & Commissions 
4. Arizona Multihousing Association announced the election of its 2021 officers and board members. AMA's 2021 Board Chair is Reid Butler, Owner, Butler Housing Company. Joining Butler in the leadership group is Scott Hines, vice chair, PEM Real Estate Group; Linda Coburn, treasurer, NexMetro Development; Kim Pacheco, immediate past president, Scotia Group Management; and Sue Campbell, AMC executive, Redi Carpet.  
5. AZCREW has elected the officers and directors that will lead Metro Phoenix's premier women's real estate organization's in 2021. The 2021 officers are Lindsey Carlson, Colliers International, President; Heather Cox, CBRE, supporting MUFG Union Bank, N.A., President Elect; Amy Ferrari, Mode Commercial Real Estate Management, Treasurer; Samantha Pinkal, City of Surprise, Secretary; and Terry Martin-Denning, CEO/Designated Broker, NAI Horizon, Immediate Past President. AZCREW's 2021 directors are Jenny Liles, Cushman & Wakefield, Membership; Lauren Borgeson, Mark-Taylor Companies, PR Chair; Michelle Rutkowski, MOR Studio, Special Events; and Jessi Levin, HDR, Inc., Foundation Champion. 
Company News 

6. Arizona utility regulators recently approved a controversial deal for EPCOR USA to purchase the troubled Johnson Utilities water and wastewater company in the far East Valley. The contentious decision came after several hours of discussion, with Arizona Corporation Commissioners splitting 3-2 to allow the sale, even though the sale price has yet to be disclosed to the public. 
7. LevRose Commercial Real Estate is expanding its service offerings to include multifamily investment sales. LevRose has specialized in leasing and sales for office, retail, industrial, medical and land since it started in 1992. 
8. HomeServe USA Corp. has acquired Sterling Air Services, which offers a range of cooling, heating, plumbing and water services to residential customers throughout the east Valley area. The financial terms of the deal were not released. 
9. Dallas-based commercial real estate appraisal firm BBG has announced its acquisition of Valley-based Nava Hurd Advisory Group. Nava Hurd includes both Tempe-based Brekan Nava Group and Paradise Valley-based Hurd and Associates. Both companies, like BBG, are commercial appraisers. Terms of the acquisition were not disclosed. 
New Hires 
10. MEB Management Services has bolstered its build-to-rent operations with the hiring of industry expert Jay Dassele as Asset Director. Dassele will oversee part of MEB's build-to-rent properties and operations for large multifamily properties. He will be responsible for directing and providing assistance for all aspects of the operations to ensure ownership objectives are achieved.  
11. The City of Glendale named Jamsheed Mehta as its new Development Services Director. Mehta most recently served seven years as town manager and deputy town manager in Marana. As the new development services director, Mr. Mehta will be responsible for the leadership, direction and management of the development services department, including planning, building safety and code compliance. 
12. M. J. Harris Construction Services recently hired Greg McCormick as Division Manager of its new office in Phoenix, AZ. McCormick brings over 35 years of General Construction and Construction Management experience, extensively focused on Healthcare construction. 
In Memory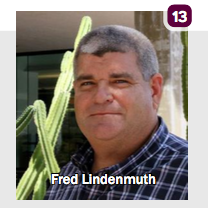 13. It is with heavy hearts that Gilbane Building Company announces the passing of Fred Lindenmuth, a Senior Project Executive in the Phoenix office. He put up a good fight against cancer for more than two years and passed away peacefully in his home on December 28th. Freddie was a good friend, coworker, husband and father. He was an integral part of helping the Gilbane Arizona team establish itself in the healthcare market, thanks to his positive attitude, relationships and reputation. A wake will be held Friday, January 8th from 6-9pm. Cards and flowers can be sent to Hansen's Mortuary in Scottsdale.