By Roland Murphy for Arizona Builder's Exchange
While backlogs and revenue expectations for U.S. contractors remain strong, a recent report shows the ongoing labor shortage is now affecting 90 percent of contractors across the country.
The Q2 2018 Commercial Construction Index, produced and released by USG Corporation and the U.S. Chamber of Commerce, reports more than half of contractors plan/hope to hire within the next six months but 90 percent are having difficulty locating and attracting skilled labor. Additionally, fully half report concerns about available workers' skill levels.
"Contractors will soon enter their busiest months of the year, and while the industry outlook remains high, confidence is tempered by a narrow talent pipeline and a lack of workers. … These results affirm over 12 months of data that show skilled worker shortages have not improved in the commercial building sector – an important corner of the U.S. economy," the report's introduction states.
Despite the ongoing (and, potentially, deepening) labor issues afflicting the industry, contract confidence and other market indicators remain strong.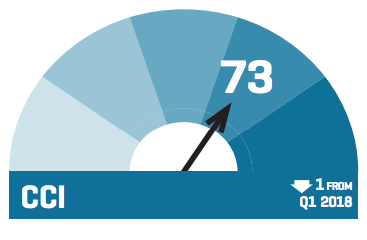 Backlogs
Seventy-nine percent of contractors surveyed reported steady or increasing backlogs, and 41 percent reported an increase from the preceding three months. The ratio between the reported backlog and the industry's perceived ideal level remained at 73, unchanged from Q1.
Individual respondents quoted in the report said the opportunities are available at the moment, and there is a strong drive to lock in projects and commitments now.
Revenue
Contractors are more optimistic about revenue increases over the coming 12 months in general than they were for Q2 in particular. Q2 optimism stood at 40 percent, Q3 at 41 percent and Q4 at 47 percent. However, the report states, "This reveals a sustained, strong outlook for revenue in 2018 and meshes with contractors' optimistic view of the business climate in the next 12 months."
Additionally, 96 percent of contractors expect to see profit margins increase or remain the same over the coming 12 months.
One potential note of caution, however, is of the 4 percent of contractors who expect to see revenues fall, nearly all are small companies with annual revenues of less than $10M. These companies are, generally, the least able to absorb downturns and losses.
Financing
Despite pledges and action by the Federal Reserve to incrementally increase interest rates, contractors remain optimistic about their ability to obtain financing. Eighty percent believe access to working capital will remain the same or get easier.
A majority – 70 percent – of contractors believe owner access to financing will get easier or remain the same over the next six months. This is an increase of 6-15 percent from the less optimistic responses of Q1.
Materials Concerns
In addition to the availability and cost of skilled labor, one other point of concern was the potential for fluctuations in materials prices. (See "May Materials Prices: Biggest Surge in a Decade", page XXX)
"Contractors in Q2 2018 worry about the impact of material price fluctuations on their businesses," the report says. "Steel tops the list of materials concerns, with 86 percent of respondents expecting to see at least moderate to severe impacts on their business in the next three years from recently imposed tariffs. The percentage of respondents who reported concern about material costs doubled quarter-over-quarter. Almost half expressed concerns about the possibility of new tariffs on other construction materials. Some contractors even suggest that price increases could eventually have a negative impact on the volume of projects available."
Conclusion
Optimism remains high, with 96 percent of respondents reporting high to moderate confidence for the next 12 months. For the next 24 months, 34 percent report high confidence. "(This) suggests do not expect major disruptions to the market through the first half of 2020," the report states.