Commercial Real Estate Transactions 10-27-20
Sales Transactions 

1. TA Realty acquired Alta North Central, a 229-unit four-story apartment complex at 777 E. Stella Lane, Phoenix, for $75M. The seller was an entity tracing back to Wood Partners. 
2. Kennedy Wilson Multifamily acquired Apache Station Apartments, a 400-unit gated apartment complex at 2323 E. Apache Boulevard, Tempe, for $69.75M. The seller was Green Leaf Partners. CBRE Capital Markets delivered $38.9M in new debt for the acquisition. 
3. A discretionary fund managed by CBRE Global Investors has purchased a 368.5KSF multi-tenant warehouse at 4450 N. 45th Avenue, Phoenix, for $41.1M. JLL's Tony Lydon and John Lydon assisted in the sale. 
4. Two LLCs affiliated with the McMillin Companies purchased Nine90, a 72-unit apartment community at 990 E. River Rd, Tucson, and Ten50, a 120-unit apartment community at 1050 N. Camino Seco, Tucson, for an aggregate of $19.45M. Art and Clint Wadlund of Berkadia Real Estate Tucson represented the seller, Radium Investments V, LLC. 
5. Agave Center OR, LLC, an entity formed by CAMCO, purchased the Agave Corporate Center, an 86.1KSF multi-tenant office property at 1711 W. Greentree Drive, Tempe, for $16M. Mike Coover, Eric Wichterman, Keith Lambeth and Patrick Schrimsher with Cushman & Wakefield in Phoenix represented the seller, DIG Agave Center, LLC, an entity controlled by Dornin Investment Group. 
6. A private investor purchased Northern Palms Apartments, a 50-unit apartment property at 2835 W. Northern Avenue, Phoenix, for $5M. Richard Butler and Sean Connolly with Marcus & Millichap procured the buyer and had the exclusive listing to market the property on behalf of the seller, a limited liability company. 
7. A limited liability company purchased Winter Cove, a 35-unit apartment property at 2010 N. Lazona Drive, Mesa, for $4.25M. Marcus & Millichap's Darrell Moffit and Paul Bay procured the buyer had the exclusive listing to market the property on behalf of the seller, an individual/personal trust.  
8. An undisclosed partnership purchased Highland 24, a 24-unit apartment property at 1340 E. Highland Avenue, Phoenix, for $4.175M. Paul Bay, vice president investments in Marcus & Millichap's Phoenix office, procured the buyer. 
9. Cypress West Partners purchased Tatum Highlands Medical and Dental, two single-story medical office buildings totaling 32.9KSF located at 2264 and 26232 N. Tatum Boulevard, Phoenix, for an undisclosed amount. Cypress West represented itself in the joint venture transaction with private investors. The seller, a public REIT, was represented by Aaron Kuhl, designated broker, Medical Office Brokers. 
10. An out-of-state investor purchased Hayden's Ferry III, a townhome-style multifamily community at 720 S. Roosevelt Street, Tempe, for $2.3M from an undisclosed seller. Brian Tranetzki and Anton Laakso of Taylor Street Advisors represented the buyer. 
Lease Transactions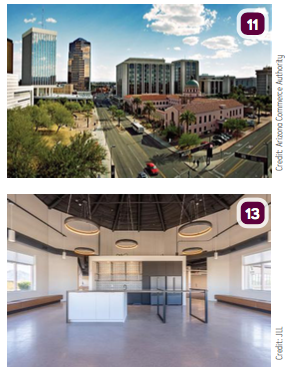 11. WOW Studios, a Seattle-based luxury technical sportswear company will lease 17.5KSF at One East Toole Avenue, former home of SinfoniaRx. The relocation will add 50 jobs primarily in engineering, marketing, design and sales with an economic impact of $252M over the next 10 years. The facility is scheduled to be operational in January 2021. 
12. Sprouts Farmers Market is set to take over a 15KSF space at 4255 W. Thunderbird Road, Phoenix at the Deer Valley Center shopping plaza. According to the landlord, Arizona Partners, The Sprouts is expected to open in late 2021. 
13. The Phoenix office of JLL has completed a new anchor tenant lease at LOFTS at the District, a recently completed project by George Oliver and Kootenay Holdings. Serving as an anchor tenant, Solidifi Title & Closing will take 12.7KSF at the project for a new-to-market regional office. JLL Managing Director Ryan Timpani and Senior Associate Nick Bialkowski represented George Oliver. Holly Ellis of West USA represented Solidifi. 
14. Lake Pleasant Towne Center, 9940 W. Happy Valley Parkway, will welcome Five Below to its lineup of tenants in spring 2021. The store will have 10.8KSF of shopping space and will be located between Tuesday Morning and Ulta on the west side of the center.