Commercial Real Estate Transactions 10-20-20
Sales Transactions 

1. Western Wealth Capital acquired Onnix Apartments, a 659-unit multifamily property at 1500 E. Broadway Road, Tempe, for $117.5M. The seller was Bridge Investment Group Partners. Institutional Property Advisors Arizona's Cliff David and Steve Gebing handled the transaction. 
2. An entity affiliated with Cortland Partners acquired The Angela, a 253-unit Class A multifamily community at 2727 E. Camelback Road, Phoenix, for $117M. CBRE's Tyler Anderson, Sean Cunningham, Asher Gunter, Matt Pesch and Mark McFate represented the sellers, StreetLights Residential and Nexpoint Advisors. 
3. Tides Equities LLC purchased the 472-unit Midtown on Main apartment complex at 2121 W. Main Street, Mesa, for $86.5M. 
4. An undisclosed buyer purchased Elux at Tramonto, a 138-unit garden-style multifamily property at 35035 N. North Valley Parkway, Phoenix, for $34.7M. Managing Directors Ric Holway and Mark Forrester and Senior Director Dan Cheyne of Berkadia's Phoenix office represented the seller, Snowden Partners. 
5. A private investor purchased Arizona Storage Center, a 424-unit, 55KSF self-storage facility at 18211 W. McDowell Road, Phoenix, for an undisclosed amount. Executive Directors Paul Boyle and Rick Danis with Cushman & Wakefield's Self Storage Advisory Group in Phoenix represented the seller, an entity operating under the name of FRC Goodyear LLC. 
6. An individual/personal trust purchased Berridge Villa, a 40-unit apartment property at 2040 W. Berridge Lane, Phoenix, for $3.9M. Paul Bay and Darrell Moffitt, senior vice president investments at Marcus & Millichap, procured the buyer and had the exclusive listing to market the property on behalf of the seller, a developer. 
7. Top Ten Partners LP, a local 1031 buyer, purchased the Commonwealth Business Park, a three-building, 34.7KSF industrial warehouse portfolio at 116 N. Roosevelt Avenue, Chandler, for $3.5M. The Leroy Breinholt Team at Commercial Properties Incorporated represented the buyer and seller, Elbert L. Adams Trust. 
8. R5 Investments, LLC purchased a newly completed, 7.1KSF triple net leased Big-O-Tires at 2250 S. 75th Avenue, Phoenix, for $3.2M. Chris Hollenbeck and Shane Carter with Cushman & Wakefield's Phoenix office represented the seller, HH-Estrella, LLC. 
9. Pomona Properties, LLC purchased a 10.5KSF freestanding office building at 5220 N. Dysart Road, Bldg. C, in Litchfield Park for $2.5M. The Menlo Group team assisted in the sale and Kurt Nishimura of Coldwell Banker Biltmore represented the buyer.  
10. Abe & Nancy Porter, 1031 buyers, purchased The Lido, an 11-unit, two-story apartment complex at 27th Street and Thomas Road, Phoenix, for $2.189M. Zack Mishkin of ORION Investment Real Estate represented the Seller Joseph Risi of Risi Companies, while Jeffrey Sibbach represented the buyers. 
11. An limited liability company purchased the Red Rock MHP & OK RV Park, a 17-acre RV park with attached mobile home park at 1576 Roadrunner Road, Holbrook, for $2.05M. Michael Escobedo, an investment specialist in Marcus & Millichap's Phoenix office, procured the buyer. 
Lease Transactions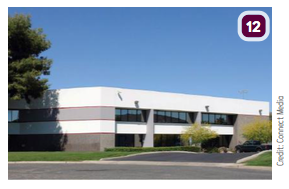 12. DAUM Commercial Real Estate Services arranged the 7.5-year lease of a nearly 16.5KSF flex/industrial building at Metro Industrial Center, 2424 W. Desert Cove Avenue, Phoenix. CBD Emporium, a health and wellness company specializing in hemp-derived CBD products, will use the facility as its new corporate headquarters. Daum's Carter Wilson and David Wilson represented both the tenant and landlord, an unnamed California-based private investor. 
13. Hopebridge, a national autism therapy center, recently signed two leases. One was for 12.8KSF on the first floor of Baywood Health Center, 6550 E. Broadway Road, Mesa. The landlord is Legend Real Estate Management. The second was for an eight-year lease at 5220 N. Dysart Road, Bldg. C, in Litchfield Park. The landlord is Lear Leasing, Inc. Matt Waggoner and Kyle Seeger of JLL represented Hopebridge. Legend Real Estate was represented by Steve Berghoff, CCIM, SIOR and Tanner Milne, MBA, CCIM, SIOR of Menlo Group. Lear Leasing was represented by Berghoff and Stuart Milne, CCIM, of Menlo Group.