Sales Transactions 


1. An unnamed institutional buyer purchased a 50.4KSF Target-occupied building at 1625 Camelback Road, Phoenix, for $20.3M. Newmark Knight Frank Net Lease Capital Markets Executive Managing Director Matt Berres and Director Samer Khalil, in cooperation with Managing Director David Guido, represented the seller, an affiliate of Menin Development, Inc., and procured the buyer. 
2. SB Real Estate Partners purchased Verona Court, a 141-unit community at 17646 N. Cave Creek Road, Phoenix, for $20M. Institutional Property Advisors, a division of Marcus & Millichap, brokered the transaction. Executive Directors Cliff David and Steve Gebing represented the seller, A partnership between Dalan Management and VM Management, and procured the buyer. 
3. A private investor purchased Safeway Center at Lake Powell, a 100.5KSF Safeway-anchored shopping center in Page, for an undisclosed amount. Hanley Investment Real Estate Advisors represented the seller, Phillips Edison & Company, Inc. The buyer was represented by Kalen Rickard of Western Retail Advisors. 
4. Continental 472 Fund, LLC purchased 15 gross acres at the NEC of Recker and Williams Field Road, Gilbert, for $5.88M, and is planning to develop 276 luxury apartments. Senior Managing Directors Mark Forrester and Ric Holway, Senior Director Dan Cheyne and Director Andrew Curtis of Berkadia's Phoenix office completed the sale and represented the seller. 
5. Dry Desert, LLC purchased The Beverly on Fifth, a 33.2KSF multifamily property located at 5601 E. 5th Street, Tucson. The 35-unit apartment complex was purchased from Wildcat 5601, LLC for $5.3M. Allan Mendelsberg, Principal, and Conrad Martinez, Multifamily Specialists with Cushman & Wakefield | PICOR, represented both parties. 
6. The Graymont, LLC purchased 18.3KSF of multifamily space located at 1125-1129 E. 7th Street, Tucson. The Graymont, a 32-bed, upscale student-housing property, was purchased from Wildcat 32, LLC for $4.55M. Allan Mendelsberg, Principal, and Conrad Martinez, Multifamily Specialists with Cushman & Wakefield | PICOR, represented both parties. 
7. A buyer based out of Santa Clara, Calif. and represented by Joel Owens of All World Realty, purchased Glendale Towne Center, a 9.8KSF multi-tenant freestanding building, for $3.8M. ORION Investment Real Estate represented the seller, who is affiliated with DeRito Partners. 
8. A California investor completing a 1031 exchange acquired The Alamos Building, a 21.7KSF, multi-tenant office building at 8787 E. Pinnacle Peak Road, Scottsdale, for $3.8M, from George Dipp. Geoff Turbow of CBRE Investment Properties – SoCal/Phoenix/Las Vegas along with Mark Trueblood with Trumark Real Estate Management and Services represented the buyer.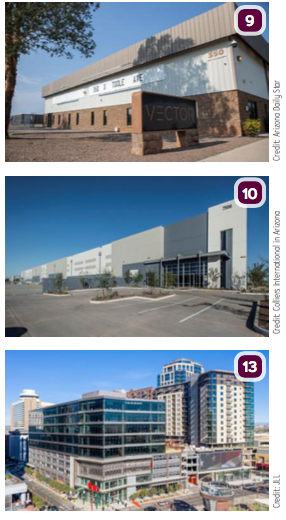 9. Pima County has acquired a 43.5KSF warehouse at 350 S. Toole Avenue, Tucson, for $3.4M, that housed a failed space technology startup. The purchase was approved by the Board of Supervisors during a recent meeting, with the added agreement that the county will renegotiate a lease with what, if anything, is left of Vector Launch Inc. 
Lease Transactions 
10. MiTek is expanding its presence in the Valley with a new 10-year lease of 153.7KSF at 7506 W. Lincoln St. The company also renewed its lease for 259.2KSF at 7890 W. Lincoln St. for a term of eight+ years. The two Class A facilities are both located within Tolleson Corporate Park and owned by California State Teachers' Retirement System (CalSTRS). MacWilliam, Don MacWilliam and Chris Reese of Colliers International in Arizona worked with Kevin Gallagher of the Colliers St. Louis office representing MiTek in both lease negotiations. John Werstler, Cooper Fratt and Pat Feeney of CBRE represented the landlord in the lease at 7506 W. Lincoln St. 
11. Amazon.com will lease 90KSF of space in a building under construction at 100 S. Mill Avenue, part of the Hayden Ferry Lakeside development. They will hire 500 people over the next two years. 
12. Parts Authority leased 34.6KSF of industrial space, located at 777 E. MacArthur Circle, Suites 131 and 141 in Tucson, from MacArthur Investments, LLC. Cushman & Wakefield |PICOR Principals and Industrial Specialists handled this transaction. Brandon Rodgers, SIOR, CCIM, represented the landlord; Stephen D. Cohen, represented the tenant. 
13. CVO Holding Company LLC will lease 31.6KSF of space at Block 23 in downtown Phoenix, to relocate and expand its corporate headquarters. JLL Managing Director Ryan Timpani and Senior Associate Nick Bialkowski represented RED Development in the lease agreement. Chuck Nixon of CBRE represented CVO.