Sales Transactions
1. Tucson-based HSL Properties has purchased two local multifamily, garden-style properties, Casas Lindas Apartment Homes and Springhill Apartment Homes, for $37.43M from California-based MG Properties. The deal closed on June 28.
2. EverWest Real Estate Investors, in partnership with CenterSquare Investment Management, has completed the sale of The Madison, a Class A office campus located in Phoenix's Camelback Corridor for $33.1M. The sale marks a $165M, 24-month transaction and renovation push within metro Phoenix by the real estate investment, management and operating company. Kevin Shannon, CJ Osbrink, Paul Jones, Ken White, Brunson Howard and Rick Stumm of NKF Capital Markets represented EverWest and CenterSquare in the transaction. The Madison totals 177KSF in two four-story buildings.
3. 6455 Box Springs Blvd., LLC purchased a 161KSF industrial building at 705 E. Ajo Way in Tucson, from Golden Eagle Distributors, Inc. for $13.3M. The property was fully occupied by Hensley Beverage Company at time of sale. Stephen D. Cohen and Michael Hammond with Cushman & Wakefield | PICOR, represented the seller; Art Day with CBRE, represented the buyer.
4. Caliber – The Wealth Development Company recently closed on its ninth hotel property, Holiday Inn Ocotillo-Chandler. The property features 106 guest rooms and more than 2,000SF of multi-use meeting space. The $11.6M acquisition brings Caliber's total assets under management to more than $375M. The property will be managed by HMC Hospitality. The property was financed with the help of ALFIE.
5. The iconic Scottsdale Tennis Club will soon be redeveloped into Revel Scottsdale – a 159-unit senior community. The approximately 5.54-acre site sold for $9M to The Wolff Company. Larry Kush, Senior VP of ORION Investment Real Estate, exclusively represented the seller, Robert Hing.
6. Cushman & Wakefield completed the sale of Goodyear Central Marketplace, at 13530-13650 W. Van Buren in Goodyear. Dhir Capital LLC purchased the property from 6601 Convoy Ct, LLC, an entity formed by CIRE Equity, for $7.04M. Chris Hollenbeck of Cushman & Wakefield Phoenix represented the seller.
7. CBRE has completed the sale of Camelot Apartments, an 80-unit garden-style apartment community at 1022 E. Narramore Avenue in Buckeye. Aztec Properties, LLC acquired the property from Camelot Condominiums, LLC for $6.25M. Brian Smuckler, Jeff Seaman and Derek Smigiel with CBRE Phoenix represented both the buyer and seller in the transaction.
8. A three property portfolio of Dollar General stores sold for an aggregate $5.16M and more land was purchased in Amado and Red Rock for additional new stores. DCM Development is the developer for Dollar General.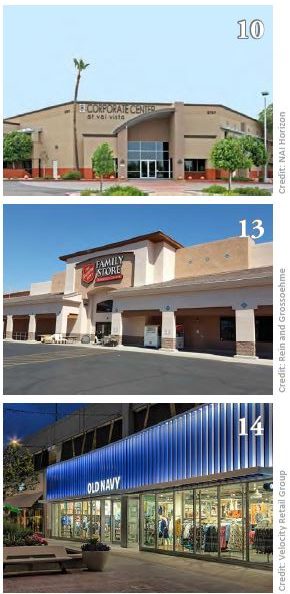 9. CBRE has completed the sale of a single-tenant, 3,243SF Freddy's Frozen Custard and Steakburgers in Marana Marketplace at 3725 West Orange Grove Road in Marana. The property commanded a sale price of $2.38M. Joseph R. Compagno with CBRE's Phoenix office represented the seller, BLT Marana Properties, LLC. Steven Fontes with Mission Property Advisors represented the buyer, Hyrosen Properties Inc. c/o Inland Pacific Advisors.
Lease Transactions
10. Laurel Lewis, Barbara Lloyd and Lane Neville represented the landlord, Old Town Val Vista, LLC, in a long-term office lease for 59.4KSF at 3707 E. Southern Avenue, Mesa.
11. Gorbel Inc. has leased space for its third North American manufacturing facility at FLITE Goodyear, 1300 S. Litchfield Rd. Brian Gleason, Bonnie Halley and Melissa Marks of Colliers International in Greater Phoenix serve as exclusive leasing agents for FLITE Goodyear.  They represented the project owner in the lease negotiations. John Wurstler of CBRE represented Gorbel.
12. Isy Sonabend of NAI Horizon represented the tenant, Elliott Electric Supply, in an 89-month industrial lease for 19KSF at 2250 W. Broadway Rd., Mesa. Mike Haenel with Cushman & Wakefield represented the landlord, Western B West AZ, LLC.
13. A lease for 16.6KSF in Greenway Plaza to Royal Kids Indoor Playground was recently consummated. The location of the property is 1849 W Greenway Rd in Phoenix. The owner of the center is RPM Greenway Plaza, LLC. Jake Ertle and Nic Chavira of Rein and Grossoehme Commercial Real Estate represented the owner and the tenant.
14. Dave Cheatham, Darren Pitts and Bonnie Arlia of Velocity Retail Group recently finalized a lease of 12.5KSF on behalf of Old Navy. The store will be located in the Queen Creek Marketplace shopping center located at the SWC of Rittenhouse Road and Ellsworth Road in Queen Creek. The Landlord, Vestar QCM, LLC, was represented by Matt Milinovich of Strategic Retail Advisors.