Commercial Real Estate Transactions 06-09-20
Sales Transactions 

1. The Carlyle Group purchased four older Mesa mobile home parks for a total of $230M. Carlyle, through its Delaware CPI LLC, purchased these parks: 
Citrus Gardens

 at 4065 E. University Drive for $80M.

 

El Mirage

 at 305 S. Val Vista Drive for $60M.

 
Mesa Shadows

 at 317 S. Higley Road for $46M.

 

Aspenwood

 at 245 S. 56th Street for $44M.

 
2. Cush Enterprises purchased the Perimeter Parkview Corporate Center, a two-story, 105KSF Class A office asset at 8377 E. Hartford Drive, Scottsdale, for $30M. Chris Toci, Chad Littell, Tim Whittemore, Greg Mayer, and Patrick Schrimscher of Cushman and Wakefield's Phoenix office represented the seller, The Roxborough Group. 
3. An international investor paid $22M for a 280-unit apartment complex in Phoenix. The transaction was handled by Sheila Hunter, Vice President and Senior Commercial Escrow Officer, in Thomas Title & Escrow's Scottsdale office. 
4. Harrison Properties purchased 10-building portfolio totaling approximately 357.9KSF of Class B and C industrial space in Phoenix for $18M, from Hibernia Capital Advisors, LLC. Don MacWilliam and Payson MacWilliam of Colliers International in Arizona negotiated the transaction. 
5. A California-based private investor purchased The Collective Sedona, a six-building, 52.5KSF shopping center at 7000 AZ-179, Sedona, for $11.7M. SRS Real Estate Partners' National Net Lease Group Vice President Sean Thomas represented the seller, an Arizona-based private investor. The buyer was represented by Jim Ashcraft of Ashcraft Investment Company, Inc. 
6. A fund managed by a Chicago-based investment management firm purchased a 61.3KSF single-tenant office building at 16212 N. 28th Avenue, Phoenix, for $7.65M. Barry Gabel, Chris Marchildon and Will Mast of CBRE in Phoenix represented the seller, Merit Properties Group. 
7. A California-based private investment firm purchased Modern Retro Living, a 23-unit garden-style property at 2122 E. Fairmount Avenue, Phoenix, for $4.47M. ABI Multifamily's Carson Griesemer, Dallin Hammond, and Mitchell Drake represented the seller, a Washington State-based private investor. 
8. Vico Partners, LLC purchased a 5.6KSF single-tenant retail property triple-net leased to Wilhelm Automotive at 15275 N. 35th Avenue, Phoenix, for $2.69M. Joseph R. Compagno, R. Max Bippus, and Benjamin Farthing of CBRE's Net Lease Property Group in Phoenix represented the seller, Evergreen Devco, Inc. Dylan Brown and Andrew Fosberg of CBRE in Phoenix, and California-Based Chris Van Keulen of CBRE, represented the buyer. 
9. New Era Holding, LLC purchased a 2.4KSF, newly constructed single-tenant retail property leased to Starbucks at 5905 W. Olive Avenue, Glendale, for $2.66M. Andrew K. Fosberg, Christopher Ackel and Dylan A. Brown of CBRE in Phoenix represented the seller, SimonCRE Robert, LLC, an entity formed by SimonCRE. The buyer was represented by Samir Sawhney of XCD Realty & Property Management.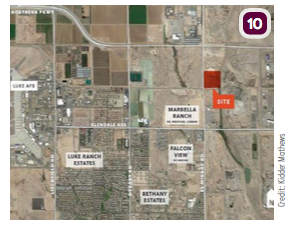 10. Midwest Land Trust purchased a 35-acres development site at El Mirage Road and Northern Avenue in Maricopa County for $2.6M. SMT Investors Limited Partnership was the seller. Kidder Mathews land broker, Brian Rosella, represented the buyer. 
Lease Transactions 
11. NAI Horizon's Isy Sonabend represented the landlord, City of Phoenix/Aviation, in a 24-month land lease for 1.60 acres at 149 S. 27th Street, Phoenix. The tenant, Sandhill Management, was self-represented.   
12. NAI Horizon's Mark Wilcke and Dylan Whitwer represented the landlord, ICC Tempe, LLC in a 24-month industrial lease for 11.3KSF at 2415 W. Erie Drive, Tempe. The tenant, Dynamic Water Technologies, LLC was self-represented.