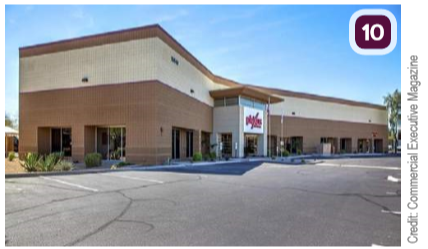 Sales Transactions
1. Continental Realty Advisors (CRA) has completed the sale of Courtney Village Apartments, a multifamily property in Phoenix, for $62.2M. Additional terms of the transaction were not released.
2. Trammell Crow Company purchased an 8.24-acre site at the SWC of Raintree Dr and 87th St in Scottsdale for $11.5M. Barry Gabel, Chris Marchildon, Will Mast and Mitchell Stravitz of CBRE represented the seller, Liberty Property Trust.
3. United Flea Markets recently purchased the 30-acre Tanque Verde Swap Meet at 4100 S. Palo Verde Rd, Tucson, for $7M.
4. Starcorp, LLC purchased two Carl's Jr.'s for a total of $3.4M. The properties located at 1880 E. Broadway Blvd, Tucson and 5775 W. Northern Ave, Glendale, were sold by Strata Equity Corporation. Chris Hollenbeck and Brad Douglass of Cushman & Wakefield represented the seller.
5. A private, Scottsdale-based investor represented by Victoria Miachika of Real Estate Intelligent Marketing, LLC, recently purchased two adjacent apartment complexes, totaling 16 multifamily units, located at 4401 North 21st Street and 4405 North 21st Street, Phoenix, for $3M. The Vestis Group multifamily brokerage team of Natan Jacobs and Matt Morrell worked in conjunction with Jeff Seaman of CBRE, Inc., who negotiated the transaction on behalf of the seller, MODE Apartments + Homes.
6. Tides at Scottsdale, a 24-unit mid-century modern apartment community at 4020 N. Parkway Ave., Scottsdale, was acquired by 5209, LLC for $3M. CBRE's Brian Smuckler, Jeff Seaman and Bryson Fricke represented the buyer and the seller, Tides at Scottsdale, LLC.
7. CapPlus Technologies has purchased a state-of-the-art manufacturing and distribution facility within the Spectrum Ridge Business Park, 905 East Salter Drive, Phoenix for $2.925M. The seller was United Heating and Cooling. Kidder Mathews commercial real estate brokers, Mike Ciosek, Eric Bell and Dylan Scott represented both parties.
8. Labrador Capital, LLC purchased a 10.1KSF office building located in Camp Lowell Corporate Center, 4544 E. Camp Lowell Dr. (Building. K) in Tucson, from RLP Building, LLC for $2.37M. Brandon Rodgers, SIOR, CCIM, Principal and Industrial Specialist with Cushman & Wakefield | PICOR, represented the buyer. Mark Irvin, SIOR, CCIM with Mark Irvin Commercial Real Estate Services, LLC, represented the seller.
Lease Transactions
9. A string of major leases by national credit tenants has pushed the Harvard Investments / Lincoln Property Company (LPC) Waypoint Mesa office development to 98 percent leased. Beazer Homes has leased 15KSF for a division headquarters and Design Center. Cognizant, who moved into 50.7KSF at Waypoint Four in mid-2018, has also doubled its presence at the building, expanding to take the entire second and third floors with a total 101KSF lease.
10. Cutler Commercial announced the 24.3KSF long-term lease of 15649 N Greenway-Hayden Loop to Whish Body Products. Cutler Commercial Associate Broker Jim Lieberthal and Senior Associate Eric Ferber represented Whish Body Products. Mark Linsalata of Lee & Associates represented the landlord, GHL Frontage LLC.
11. EMC Insulation leased 11.4KSF of industrial space in Broadbent Business Center, 2165 N. Forbes Blvd., Suite 103 in Tucson, from Forbes Tucson, LLC. Robert C. Glaser, SIOR, CCIM, Principal and Industrial Specialist with Cushman & Wakefield | PICOR, handled this transaction.