Commercial Real Estate Transactions 03-17-20
Sales Transactions

1. Institutional Property Advisors (IPA), a division of Marcus & Millichap, announced the $123M sale of West Sixth, a core-plus, condo-quality 375-unit/625-bed student housing community located just steps from Arizona State University (ASU) in Tempe. Peter Katz, IPA Executive Managing Director, alongside Steve Gebing and Cliff David, IPA Senior Managing Directors, had the exclusive listing to market the property on behalf of the seller and procured the buyer.
2. Inland Real Estate Group of Cos. recently closed on three Christopher Todd single-family rental communities in the West Valley for $110.86M. The three that closed are Christopher Todd Communities On Greenway in Surprise, Christopher Todd Communities At Country Place in Tolleson and Christopher Todd Communities On Camelback in Litchfield Park. Escrow is expected to close in April.
3. Maracay, a wholly owned company of the TRI Pointe Group, has closed on 266 premium homesites located in the Madera master planned community at Signal Butte Road, south of Queen Creek Road in Queen Creek for $11.46M. The transaction between Maracay and the two sellers, Delaware entities owned by Communities Southwest, was brokered by Nate Nathan of Nathan & Associates. The land parcel is being developed into a single-family community and is expected to open to the public by late 2021.
4. The Voit Company purchased the Progressive U.S. 60 Commerce Center, a 73.2KSF, Class A industrial building at 1405 N. Fiesta Boulevard, Gilbert, for $10.09M. Phil Haenel, Director and Will Strong, Executive Managing Director, with Cushman & Wakefield's Phoenix office represented both buyer and seller, Abington Emerson.
5. Grovers East, LLC purchased Grovers East, a 21.6KSF, 30-unit apartment complex at 1641 E. Grovers Avenue, Phoenix, for $3.8M. Vice President, Investment Advisor with SVN | Desert Commercial Advisors, Danny Lee represented the seller.
6. Quesnell International Ltd purchased Doubletree Centre, a 22.3KSF, multi-tenant industrial building at 9525 E. Doubletree Ranch Road, Scottsdale, for an undisclosed amount. The seller, Doubletree Partners, LLC, was represented in the transaction by Kidder Mathews commercial real estate broker, Michelle Gardner.
7. Marcus and Millichap announced the $2.615M sale of Sherwin-Williams, a 4.4KSF net-lease property at 663 W. Warner Road, Gilbert. Chris Lind, Jamie Medress and Mark Ruble, investment specialists in Marcus and Millichap's Phoenix office, had the exclusive listing to market the property on behalf of the seller, a limited liability company.
8. Industrial Outdoor Ventures purchased a heavy industrial facility with storage yard at 4800 W. Pasadena Avenue, Glendale, for an undisclosed amount. Kerri Scott and Bob Broyles of Colliers International represented the seller, WHAL Properties.
9. Blue Hat, LLC purchased the 7.2KSF multi-tenant Santa Cruz Plaza shopping center at 3782 S. 16th Avenue, Tucson, for $2.5M. Chris Hollenbeck and Shane Carter of Cushman & Wakefield's Phoenix office represented the seller, Santa Cruz Center, LLC.
Lease Transactions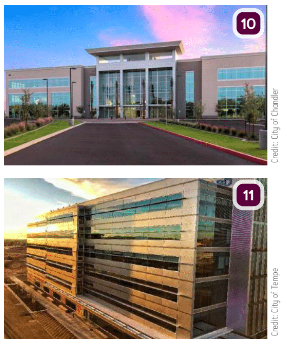 10. Root Insurance was the first to sign a lease in 2625 at Chandler Freeway Crossing, a recently-delivered, 153.4KSF office building in Chandler. The tenant is using the 38KSF spaces as its first office expansion outside of its Columbus, OH headquarters. Tom Adelson, Erin McClure and Cory Kooperman, CCIM, with Newmark Knight Frank, represented the tenant in its lease at 2625 W. Geronimo Place. Dave Seeger with JLL represented the landlord, Mark IV Capital.
11. BD Peripheral Intervention became the first company to move into the new I.D.E.A (Innovation, Discovery, Education and Arts) Tempe campus.
12. U.S. Customs and Border Protection will move to a new location at Tucson International Airport's old executive terminal, 7081 S. Plumer Drive, perhaps by year's end, under a lease approved by the Tucson Airport Authority board of directors.