Sales Transactions 
1. TM Equities purchased Watermark at Gateway Place, a 250-unit class A, Big House multifamily community at 4454 E. Ray Road, Gilbert, for $84.35M, from Watermark Residential. Steve Gebing and Cliff David of Institutional Property Advisors brokered the sale. 
2. DPC Development purchased The Park at San Tan, a five-story, 240KSF mixed-use business center at west side of the Loop 101 at Ray Road in Chandler for $65M, from TA Realty. 
3. The Milestone Group purchased the Pavilions at Arrowhead, a 13-building, 248-unit apartment complex at 7400 W. Arrowhead Clubhouse Drive, Glendale, for $43.3M, from Capital Real Estate. PGIM Real Estate issued $28.21M in new debt for the deal. 
4. The Milestone Group purchased the Springs at Alta Mesa, a 20-building, 200-unit apartment complex at 1865 N. Higley Road, Mesa, for $41.9M, from Capital Real Estate. PGIM Real Estate issued $27.69M in new debt for the deal. 
5. L5 Odyssey Management, LLC purchased Tides at East Arcadia, a 181-unit multifamily property at 5401 E. Thomas Road, Phoenix, for $38M. NorthMarq's Phoenix investment sales team of Trevor Koskovich, president, Bill Hahn, executive vice president and Jesse Hudson, vice president represented the seller, Tides Equities, LLC, and buyer. 
6. A joint venture between Ascentris and Cypress Office Properties purchased the 777 Tower at Novus Innovation Corridor, a 168KSF office and retail development constructed in July 2020, for an undisclosed amount. Ryan Companies US, Inc. and joint venture partner University Realty LLC were the sellers. The property is currently 83 percent leased to ASU and Infosys. 
7. Casa Anita Apartments, LLC purchased The Sterling, a 13-building, 107-unit multifamily community in Gilbert for $30.9M, from Pathfinder Partners. 
8. Cohen Asset Management Inc. purchased the Cactus Distribution Center II, a 376.8KSF distribution facility at 4747 W. Buckeye Road, Phoenix, for an undisclosed amount, from Nuveen Real Estate. 
9. 3rd Ave Investments LLC purchased the Meadows Apartments, a 165-unit apartment community at Cave Creek Road and north of Bell Road, Phoenix, for $25.55M. NorthMarq's Phoenix Investment Sales team led by Trevor Koskovich, Jesse Hudson, and Bill Hahn, brokered the sale and represented both buyer and seller, GFT Investments I LLC. 


10. JFDM 16 PC LLC purchased the 73.1KSF global headquarters for Plexus Worldwide, 9145 E. Pima Center Parkway, Scottsdale, for $22M. Eric Wichterman, Steve Lindley, and Peter Menna with Cushman & Wakefield in Phoenix represented Plexus Worldwide. Jim Sadler of Keyser assisted with tenant advisory. 
11. YMC Arizona Properties, LLC purchased Portico I and II, an 89.2KSF Class A office complex at 2121 & 2195 W. Chandler Boulevard, Chandler, for $21.68M. Eric Wichterman and Mike Coover with Cushman & Wakefield in Phoenix represented the seller, Chandler Portico, LLC, a company formed and sponsored for the past seven years by Irgens Partners, LLC. The buyer was represented by Erik Marsh of Kidder Mathews. 
12. APT Capital Group purchased Bella Vista Townhomes, a 176-unit central townhouse development at 3201 E. Seneca Street, Tucson, for $13.6M. ABI Multifamily's Alon Shnitzer, Ryan Kippes, John Kobierowski, Rue Bax, Doug Lazovick and Eddie Chang represented the buyer and seller, The Wolcott Group LLC. 
13. Equity LifeStyle Properties Inc. purchased the Meridian RV Resort, a 252-site 55+ senior community at 1901 S.Meridian Road, Apache Junction, for $11.6M. NorthMarq's national manufactured housing team of Don Vedeen, vice president, Jared Bosch, senior associate and Chris Michl, senior associate represented the buyer and seller, GlassRatner Advisory & Capital Group, LLC. 
14. YERF-DOG Geneva 444, LLC purchased a 58KSF industrial building at 444 W. Geneva Drive, Tempe, for $6.1M. Steve Grossoehme of Rein & Grossoehme Commercial Real Estate LLC represented the buyer. Tom Jacobs of Cushman and Wakefield represented the seller, West Geneva LLC. The buyer plans to occupy the property March of 2021. 
15. Crossroads, Inc purchased a two-building, 33KSF behavioral health facility at 1200 N. 77th Street, Scottsdale, for $5.5M, from The New Foundation. Alexandra Loye of Colliers International in Arizona represented the buyer. This facility will serve as Crossroad's ninth Valley inpatient facility. 
16. A 1031 exchange investor purchased Adelante Healthcare Plaza, a two-tenant, 15.6KSF medical and retail building at 15525 N. 83rd Avenue, Peoria, for $4.8M. Newmark's Senior Managing Directors Steve Julius and Jesse Goldsmith and Associate Chase Dorsett represented the private seller. The buyer was represented by Geoffrey Turbow of CBRE. 
17. Equity Land Group announced it has closed on one more property and is set to close on another in Arizona for a combined purchase price of $3M, making it the firm's largest raise to date in one transaction. Equity Land Group adds two Buckeye properties including a 19-acre parcel off of Miller Road and Interstate 10 as well as a 9-acre property located off Yuma and Palo Verde Roads. 
18. TruVista Development purchased 8.8 acres at the SEC of Gilbert and Riggs Roads, Chandler, for $2.95M. Judi Butterworth and Larry Kush of ORION Investment Real Estate represented the Sellers, William Dinneen and Michael Brown. The site sold subject to zoning for single-family homes. 
19. Alliance Consolidated Group of Companies, LLC purchased a single-tenant, NNN, medical office building at 2490 N. Litchfield Road Bldg. 13, Goodyear, for $2.6M. Newmark's Managing Directors Trisha Talbot and Kathleen Morgan represented the seller, Anderson Torzala, LLC. The buyer was self-represented.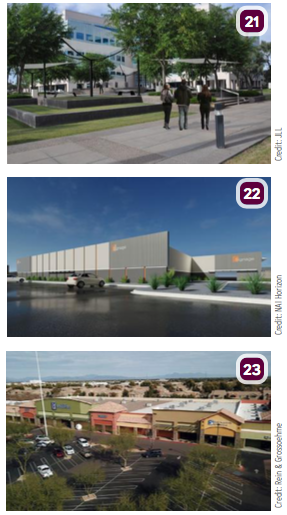 20. Boomerang 2000, LLC purchased 2000 Medical Plaza, a 3.5KSF, one-story garden-style multi-tenant medical office building at 2000 E. Southern Avenue, Tempe, for $2.3M. Newmark's Managing Director Kathleen Morgan and Trisha Talbot represented the seller, Garnett Capital Corporation. 
Lease Transactions  
21. Taiwan Semiconductor Manufacturing Company moved forward with its official market entry by leasing 46.7KSF and two full floors in Canyon Corporate Plaza's 2510 building, located at 2510 W. Dunlap Avenue. TSMC is scheduled to begin occupancy of their new space by January 1st, 2021. Managing Director John Bonnell, Executive Vice President Brett Abramson, Senior Vice President Chris Latvaaho and Managing Director Ryan Timpani from the Phoenix office of JLL represented the owner, ViaWest Group. David Barrett of CBRE represented TSMC. 
22. NAI Horizon Senior Vice President Isy Sonabend and Agent Drew Eisen represented the landlord, Industrial Outdoor Ventures, in a long-term lease to Bragg Crane worth $7.9M at 2600 W. McDowell Road in Phoenix. Bragg Crane was represented by Chris McClurg of Lee & Associates and the expansion will establish a new Arizona headquarters in the IOV-owned building that will house its administration services, 11 acres of land for outside storage and more than 40KSF of service, maintenance and warehouse structures. 
23. The French American Academy is relocating and has leased 24.9KSF of space within the Chandler Uptown Square, 2031 N. Arizona Avenue. Jared Lively of Rein & Grossoehme CRE represented the landlord, North Arizona Avenue, LLC, and Nate Bubeck of Lee & Associates represented the tenant.